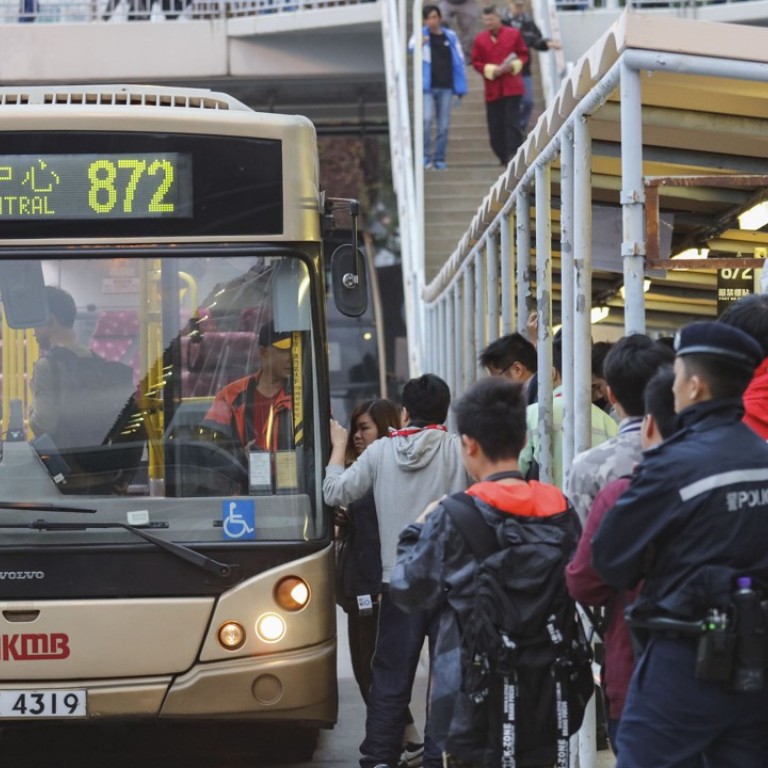 Buses back on route of deadly Hong Kong crash but sense of unease lingers
Operator KMB puts in place several arrangements to provide passengers with peace of mind, including using single-decker buses on route 872 a week after 19 die in accident
Hong Kong racing fans boarded buses from Sha Tin Racecourse to Tai Po Central on Sunday for the first time since a crash on route 872 more than a week ago left 19 passengers dead and 66 injured.
There was a lingering sense of unease among some passengers at the Lunar New Year race day despite bus operator KMB putting in place several arrangements to provide peace of mind, including using single-decker buses rather than double deckers on the crash route.
As of noon on Sunday, 21 passengers remained in hospital, four in critical condition and two serious.
The tragedy occurred on February 10, after the Saturday races, when the Tai Po-bound double decker swerved out of control on Tai Po Road and flipped on its side while making a turn near Tai Po Mei.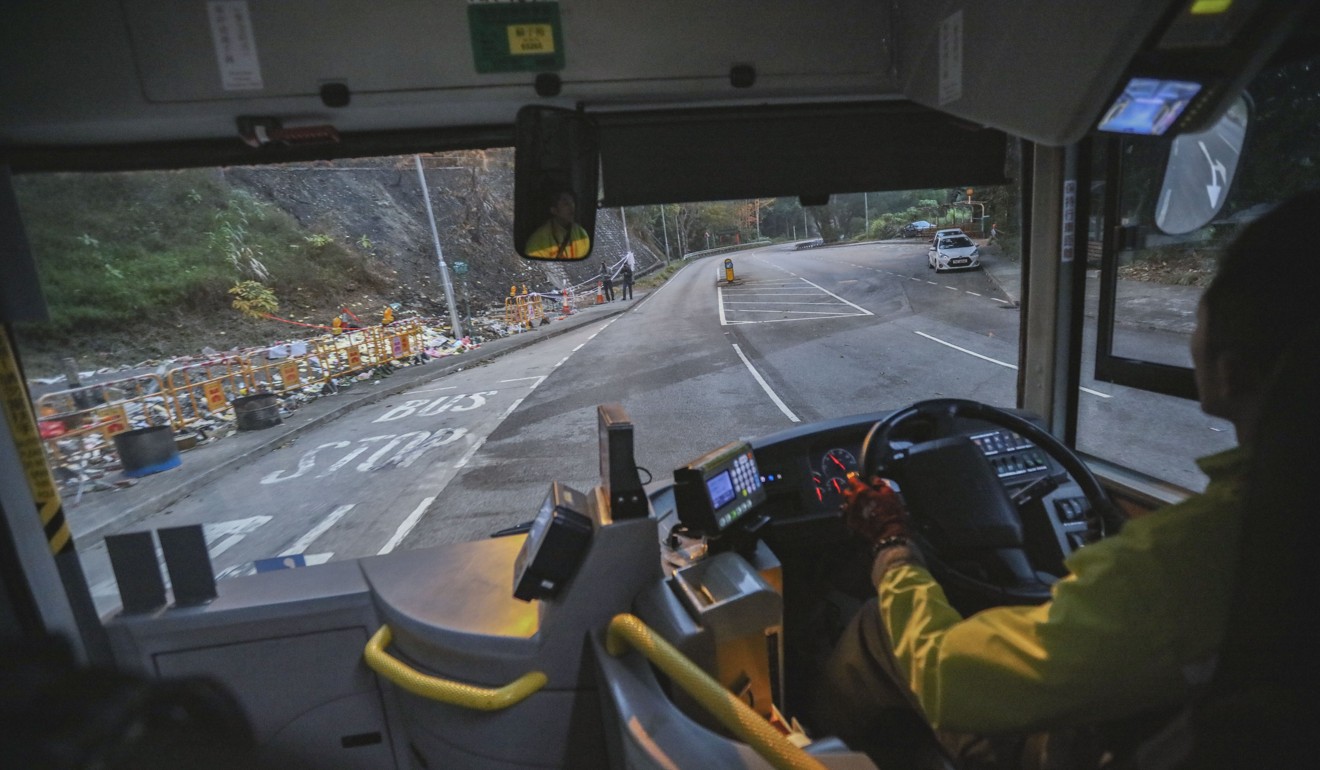 On Sunday, as well as the 872 service, KMB added an express route – 872X – which also ferried racegoers to Tai Po Central, but bypassed Tai Po Road, taking Tolo Highway instead.
There was a morbid sense of excitement at the bus terminus even before the races had ended. Young bus enthusiasts – already camped out to snap photographs – swooped to the front of the queue to take the new route.
As the 11th and final race of the day came to an end, racegoers started to trickle out to the terminus. Extra KMB staff and police officers were on hand to guide passengers to the right buses.
"I'm not taking [the 872] because it goes along Tai Po Road," said one punter, surnamed Chan, a regular user of the service who opted to wait for the 872X.
"I'm not scared but it just doesn't feel right."
While many people shared his unease, others were not bothered.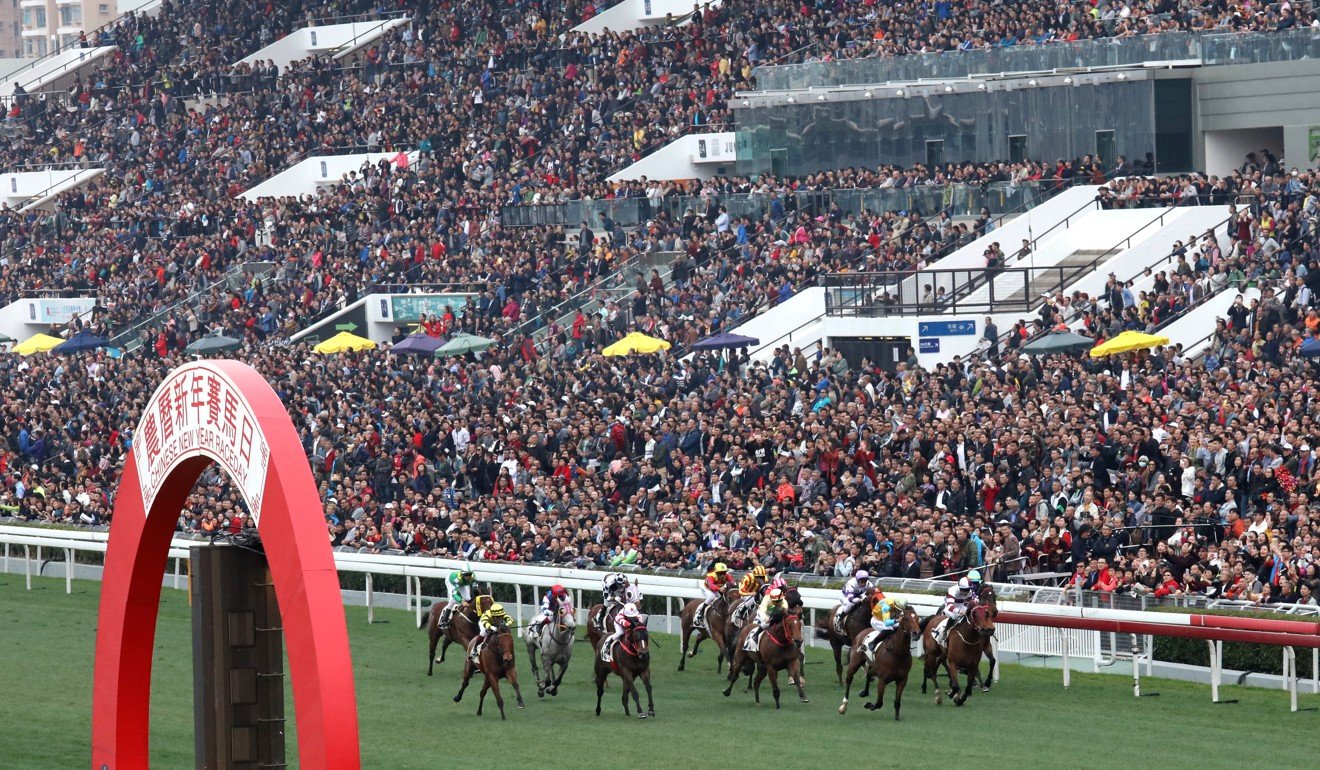 Eva Yeung, who went to the races with her mother to try their Lunar New Year luck, said she wanted to take the bus just to "get a feel" of how rapid the bend near Tai Po Mei was.
"I'm not afraid," said Yeung, whose family included bus drivers. "I am curious to know what the situation is with those turns."
Others were more fatalistic. "You should not worry about everything so often," said one 81-year-old punter, who was also waiting for the 872.
"If the time comes for you to die, you will, and there is no escaping it."
A Mr Tsui, boarding the 872X, added: "Every [means of transport] carries a safety risk. What can you do? Taking an aeroplane can be just as scary."
While most of the 872X buses were relatively full, there were fewer than 10 passengers on the first 872 single decker that left the terminus. The bus slowed slightly at the accident site and passengers turned silently to look at the spot.
The second 872 was the last of the Tai Po-bound buses to leave the racecourse and travelled along Tai Po Road slowly. There were fewer than half a dozen passengers on board.
Transport experts and drivers, meanwhile, continued to press bus companies to address underlying problems of pay, long hours and employee welfare.
On RTHK's City Forum, the discussion centred on the heavy use of part-time drivers.
"With around 200 drivers affected, each bus depot will have over a dozen fewer drivers for services. We can't really see how they will be able to make bus scheduling more flexible," said Lai Siu-chung, deputy director of the Motor Transport Workers General Union's KMB branch.
"When work and school commences [after the Lunar New Year holiday], the problems will start to surface."
Chinese University economist Terence Chong Tai-leung, a member of the Transport Advisory Committee, urged the bus firms to lower working hours from 14 – including 11 behind the wheel – to nine. He also suggested raising the basic pay of full-time drivers.
James Elms, former service quality manager at Citybus, said there was a need to raise the status of drivers and give them more respect as professionals.
"I think it's a bit unfair if because of one incident, you now put a label on all part-time drivers," he said.
"Why don't people want to be bus captains? Because in other people's eyes, they are just drivers. I always refer to them as bus captains because they have an important status as such."
A KMB spokeswoman said on Sunday that the company had always complied with relevant Transport Department guidelines and set aside time for the bus captains to rest.
She added that over the past few years, the company had worked hard to enhance the working environment of frontline staff, such as setting up rest areas, and had put forward proposals with the transport authorities on many occasions to alleviate the pressure on bus captains. As for workday arrangements after the Lunar New Year holiday, the spokeswoman said KMB would keep a close watch on passenger volumes and operations on various routes and deploy them flexibly to minimise the impact on passengers.
This article appeared in the South China Morning Post print edition as: Buses back on crash route, but sense of unease lingers