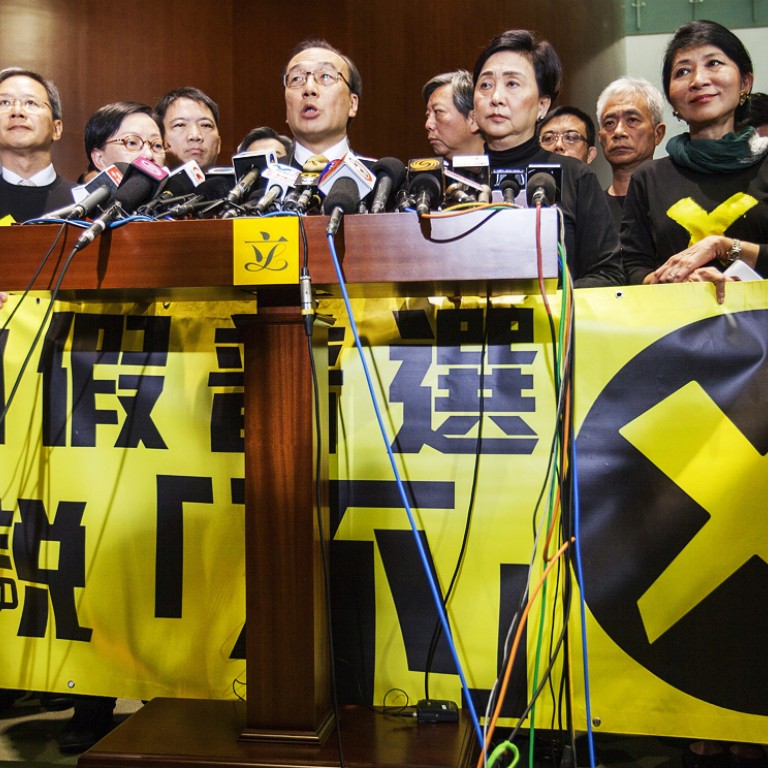 2017 poll diversity vital, says HKU academic
Law professor wants guidelines to be drawn up to ensure the public has a choice of three candidates with different political backgrounds
Guidelines should be drawn up requiring the committee that nominates future chief executive candidates to pick three candidates with different political backgrounds for the public to choose by one man one vote, a Beijing-friendly academic says.
Professor Albert Chen Hung-yee, a member of the influential Basic Law Committee, said the guidelines should also require nominating committee members to take account of public opinion when picking candidates.
The University of Hong Kong law academic said his plan, in contrast to Beijing's restrictive model, would ensure a competitive race and more voter choice.
"The guidelines may not have very strong legal binding effect, but they can be a good reference," Chen told Cable TV.
He also hoped lawmakers would pass the reform package.
"Debating over genuine universal suffrage or fake universal suffrage is meaningless. What matters is genuine public opinion," Chen said. "If a popular hopeful is screened out by the nominating committee and the one who subsequently wins the election has a low support rate, the world can see that it is a bad election."
According to present laws, the Electoral Affairs Commission can issue guidelines relating to conduct or procedure at an election, as well as election-related activities of a candidate.
Chen also proposed a way to break the political deadlock by suggesting that voters be offered a "none of the above" option on the ballot if they did not support any of the candidates picked by the nominating committee. This idea received a lukewarm response.
The government political reform package, released on Wednesday, says the composition and formation of the future nominating committee will be modelled on the existing election committee - an electoral college that elects the chief executive. There will be 38 subsectors under four major sectors - business and industrial, professionals, social and religious, and political. Committee members are elected by eligible voters in their respective trade-based subsectors.
But the government package does not go into details of specific electoral procedures, which are to be dealt with by local legislation.
Presenting the reform package in the Legislative Council on Wednesday, Chief Secretary Carrie Lam Cheng Yuet-ngor said the government would need to work out regulations to deal with special situations that arose during the nomination process. For instance, if fewer than two people secured majority support from the nominating committee to be candidates, or more than one of the recommended hopefuls received the same number of votes.
According to one initial government idea, there would be a re-election in the event of a tied vote. As a last resort to break a tie after a second round of polling, the hopefuls may need to draw lots, according to a government source.
Other outstanding issues to be dealt with by local legislation include updating the electorate base of subsectors of the nominating committee, setting a limit on election expenses, and re-election arrangements in the highly unlikely scenario that Beijing declines to appoint the chief executive-elect.
This article appeared in the South China Morning Post print edition as: 2017 poll diversity vital, says academic