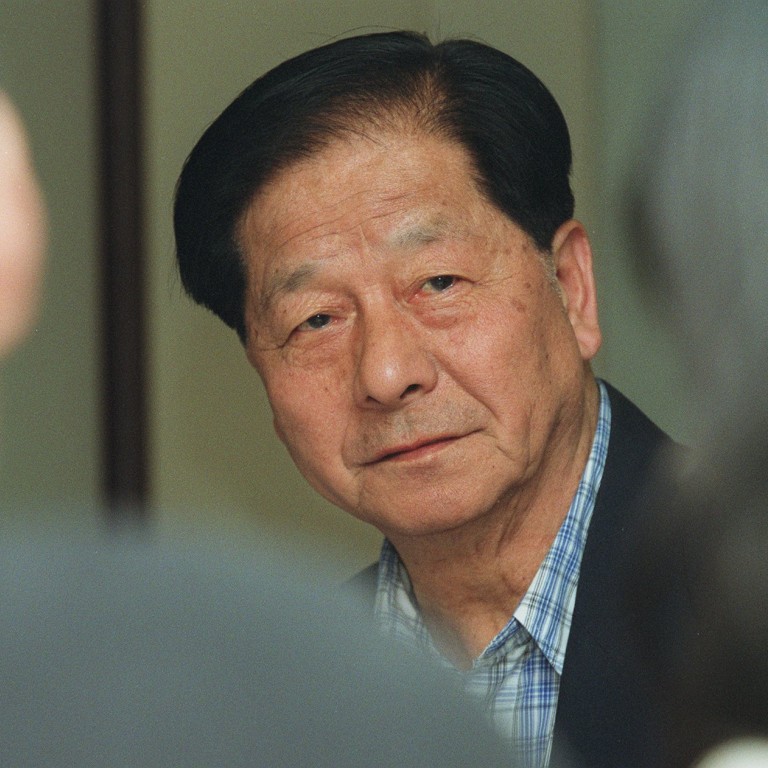 Veteran unionist Yeung Kwong, ringleader in 1967 Hong Kong riots, dies at 89
Veteran unionist dedicated his life to the labour movement and received the city's highest honour from Tung Chee-hwa government in 2001
A veteran unionist and ringleader of the 1967 deadly leftist riots who controversially received the city's highest honour died yesterday at the age of 89.
Yeung Kwong, a former leader of the city's largest Beijing-loyalist labour union, the Federation of Trade Unions, died in the morning at Prince of Wales Hospital in Sha Tin, the federation said. It was understood he underwent a heart operation last year.
Born in 1926, Yeung joined the Tramways Workers Union in 1948 and led strikes by Hongkong Tramways' fare conductors the following year.
He served as FTU chairman from 1962 to 1980, and then its president between 1980 and 1988. From 1973 to 1987, he was a local deputy to the National People's Congress.
Yeung's unionist career was marked by the 1967 riots, during which he served as director of the Anti-British Struggle Committee.
The committee was the key organiser of the protests that had snowballed from a labour row at a plastic-flower factory in San Po Kong.
Thousands were injured and 51 died - 15 of whom were killed in bombings.
Fast-forward to October 2001, and Yeung sidestepped a question on whether the leftists had instigated the bomb attacks and blamed the colonial government for its high-handed oppression.
"It is not a matter of who encouraged this kind of action [bomb attacks]. Oppression will result in popular revolt," was his response.
When asked if he felt sorry for the victims, Yeung said deaths and injuries were inevitable in the struggle.
Those words were spoken on the eve of a ceremony where Yeung would be feted with the Grand Bauhinia Medal, the city's top honour, by the Tung Chee-hwa administration.
Yeung had in 1996 - and again in 2002 - sat on the election bodies that picked Tung as the city's chief executive.
The Tung government said it awarded the medal to Yeung for his "outstanding contribution to the labour movement and labour welfare in Hong Kong and for his dedicated community service".
The decision drew fierce criticism from victims of the riots and officials responsible for putting down the unrest, but the government declined to say if Yeung's "contributions" included what he did during the protests.
Yesterday, acting chief executive Carrie Lam Cheng Yuet-ngor offered her condolences to Yeung's family and praised the man for his contributions to the labour movement.
The federation also said: "Yeung has been loving the country and Hong Kong for his entire life and dedicated most of his time to the labour and patriotic movements to safeguard the interests of workers. Yeung has also made significant contributions to the smooth handover of Hong Kong and to the city's the long-term stability and prosperity."
FTU lawmaker Wong Kwok-kin called Yeung a historic figure in the labour movement.
Funeral details would be announced later, the union said.
This article appeared in the South China Morning Post print edition as: Decorated ringleader of '67 riots