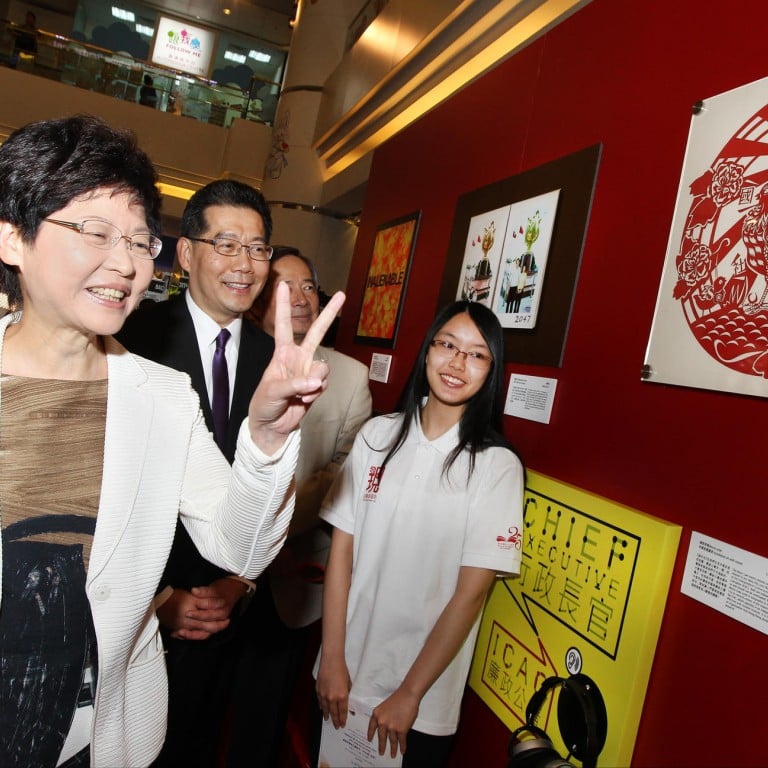 HKU legal scholars back calls to delay vote on 2017 electoral reform
HKU legal academics say the public needs more time to discuss options on electoral reform, but officials and lawmakers shoot down the idea
Two legal academics have supported calls for next month's crucial vote on electoral reform to be put on hold - possibly until after the Legco elections next year - to give the public more time to discuss how they will choose the chief executive in 2017.
Public opinion is sharply divided on the government's electoral reform package and pan-democratic lawmakers have vowed to veto it unless Beijing makes a "significant compromise" over its stringent framework.
However, the suggestion of a postponement received a lukewarm response from top government officials and lawmakers across the political spectrum.
Acting chief executive Carrie Lam Cheng Yuet-ngor and Executive Council convenor Lam Woon-kwong said it would be not be feasible to put off the vote or to amend the proposal.
Peking University law professor Rao Geping , who also sits on the national legislature's Basic Law Committee, said he believed the central government would not answer pan-democrats' demands to amend its framework.
Professor Johannes Chan Man-mun, former law dean at the University of Hong Kong, said: "The postponement is not for the sake of postponement, but rather we want to buy time to explore further options so we can forge a larger consensus for support of the next stage."
His colleague Professor Albert Chen Hung-yee suggested the government consider deferring the vote until after the Legco election next year if it still could not get enough support in the days before lawmakers cast their ballots.
"Since there is no referendum mechanism in Hong Kong, the only formal channel for Hong Kong people to express their opinions on the electoral reform would be the 2016 Legco election," Chen said.
Both believed a postponement would allow people to discuss amendments to the government proposal while sticking to Beijing's framework - such as the composition and electoral method of a 1,200-strong nominating committee that would select two or three candidates for the citywide ballot.
The city could also debate the feasibility of a "blank vote mechanism", which would allow Hongkongers to reject the candidates put forward by the committee.
Lawmaker Frederick Fung Kin-kee has also called on the government to freeze the reform process instead of securing the passage of its package at all costs.
But Legco president Jasper Tsang Yok-sing and Democratic Party lawmaker Albert Ho Chun-yan said a postponement was unnecessary if neither side was prepared to make significant compromises.
Rao said abolishing corporate voting - which critics say favours businesses - would be allowed.
For the reform package to be passed in Legco, the government needs the support of at least four pan-democrat lawmakers - but all 27 have vowed to reject it.
Meanwhile, Professor Lau Siu-kai - vice-chairman of the semi-official Chinese Association of Hong Kong and Macau Studies - said election results obtained under universal suffrage would only provide "a reference" for the central government to decide whether to appoint the elected candidate.
This article appeared in the South China Morning Post print edition as: 'Delay vote to forge consensus'