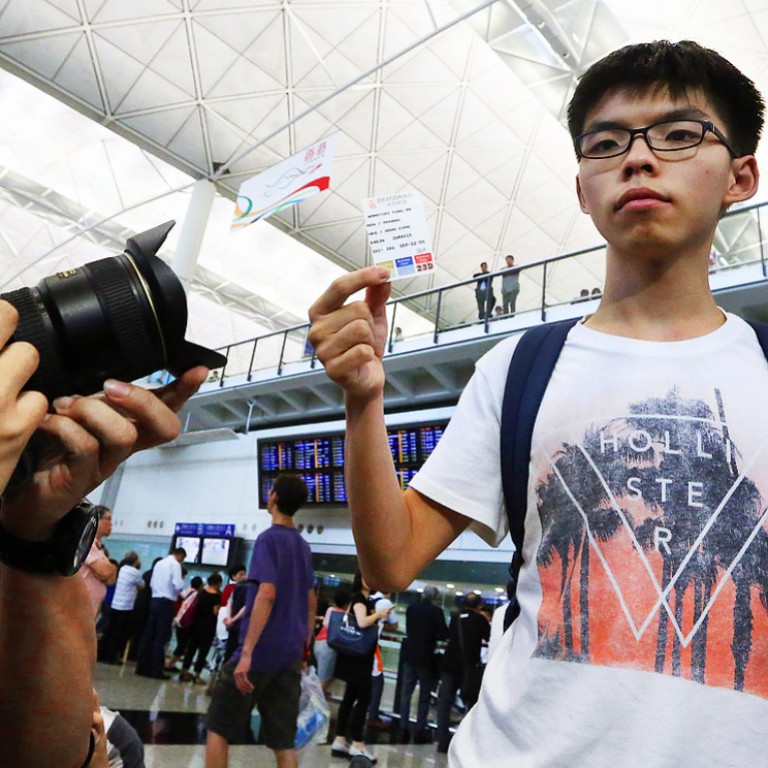 Occupy student leader Joshua Wong 'a threat to Malaysia's ties with China', police chief admits
Occupy leader had planned to speak on democracy movement at seminars around the country
Occupy student leader Joshua Wong Chi-fung was denied entry into Malaysia yesterday with the country's police chief later saying they did not want him to jeopardise their ties with China.
The 18-year-old will miss four seminars at which he was to talk about last year's pro-democracy movement and the 1989 Tiananmen Square crackdown, after government officers at Penang International Airport ordered him to return to Hong Kong.
Wong, convenor of the student group Scholarism, said he "deeply regretted" the Malaysian government's decision to reject him, which he said was "totally unexpected".
But Malaysia's Inspector-General of Police Abu Bakar Khalid said the purpose of Wong's visit was to explain how he had organised demonstrations in Hong Kong.
"We were afraid that what he was going to speak about would harm our security," he said.
"He was also going to speak about China. We know his anti-Chinese speeches. We do not want him to jeopardise our ties with China."
Malaysian authorities have blocked activists before - in 2012, they deported six Chinese Uygurs who had sought asylum back to the mainland, and the following year Australian politician Nick Xenophon was denied entry on national security grounds after he took part in an anti-government rally earlier.
In November, a group of Occupy leaders were denied entry into the mainland during the protests that lasted for 79 days.
"I understand the mainland [Chinese] government may see me as a sensitive person, but I am not there to fight for universal suffrage in Malaysia. I'm not there to plant a revolution," Wong said after returning to Chek Lap Kok airport.
The Malaysian consulate in Hong Kong confirmed Wong was denied entry.
"Based on records available to me, the named subject is listed as 'NTL' - not allowed to land," said Wang Syaifuldin, the consulate's immigration attaché.
Hong Kong's Security Bureau said by way of "international practice" it respected the decisions of immigration authorities of other countries in clearing travellers for entry based on their laws. Those authorities "had no duty" to report to the host country if a foreigner was rejected.
Wong was invited to attend four talks this week in Penang, Ipoh, Johor and Kuala Lumpur, organised by a group called the Working Committee for the 26th Anniversary Commemoration of June 4 Incident in Malaysia.
He was to be accompanied by radical lawmaker "Long Hair" Leung Kwok-hung at a seminar in the national capital on Friday. Leung said he would go to the city as scheduled.
Event organisers called Wong's rejection "political suppression".
This article appeared in the South China Morning Post print edition as: Joshua Wong 'a threat to Malaysia's ties with China'