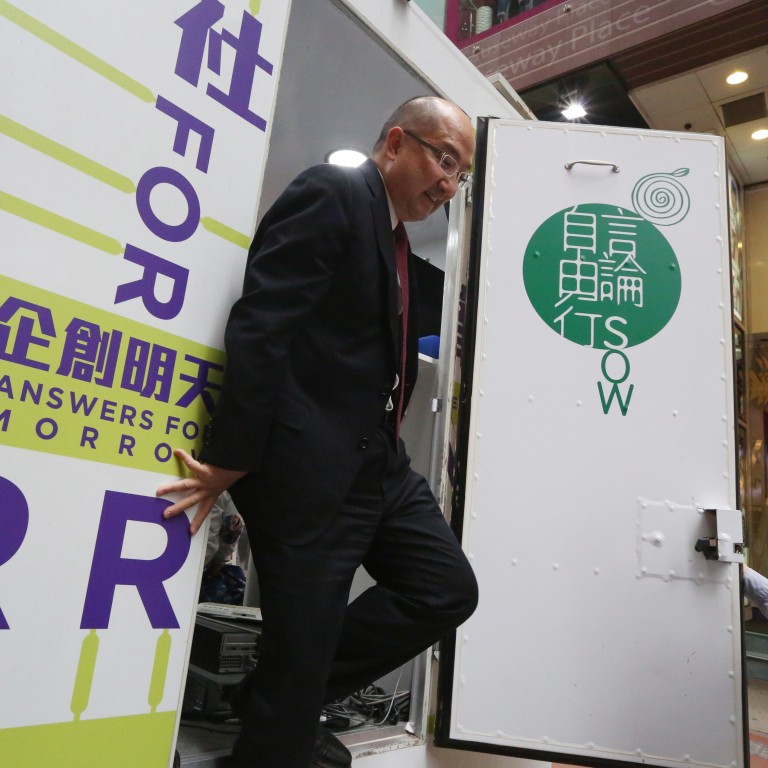 Minister confirms June 17 vote on electoral reform but is resigned to defeat
Raymond Tam confirms poll reform proposal will go before Legco on June 17, but pan-dem opposition is solid in absence of amendments
The long-debated reform proposal for electing the chief executive in 2017 will be tabled to the Legislative Council on June 17 with no modifications, the constitutional affairs minister said while admitting he had no confidence it would be approved.
The remarks by Raymond Tam Chi-yuen came after Beijing officials and pan-democratic lawmakers failed to reach a breakthrough during last-ditch talks in Shenzhen on Sunday.
Both Tam and Chief Executive Leung Chun-ying joined a chorus of Beijing officials yesterday ruling out any possible concessions on the reform package, which stipulates only two or three hopefuls who win majority support of the nominating committee can run for the top job.
"We believe the chances of the [reform proposal] being passed by Legco are not high," Tam said after stating that no amendments would be made. He said officials hoped to lobby lawmakers privately in the coming week.
Pan-democrat lawmaker Charles Mok said he had no idea why the government would not approach them until now. He cast doubt on the effectiveness of such meetings as both Beijing and the local government had repeatedly said there was no room for improvement.
On Sunday, Basic Law Committee chairman Li Fei said Beijing's August decision - the basis of the government's reform plan, which pan-democrats argue effectively rules out candidates of different political backgrounds - would be permanent even if the proposal was blocked this time.
Leung said yesterday that the electoral model could still be amended beyond 2017, but he urged pan-democrats to ditch any wishful thinking that Beijing would make a last-minute concession like five years ago.
In 2010, Democratic Party lawmakers made a U-turn to support a compromise package that allowed 3.2 million voters to elect five new lawmakers.
The reform package will need two-thirds of the legislature's support to pass, meaning the government needs four votes from pan-democrats if all pro-establishment lawmakers back it.
A key swing voter, Dr Leung Ka-lau of the medical sector, reiterated he would reject the plan should everything remain unchanged. Leung had made his views clear after a survey in January found that 55 per cent of respondents in his functional constituency opposed the plan.
Yesterday he said the proposed nominating procedure, in which only aspirants who win 601 votes from the 1,200-strong committee can be placed on the ballot, would screen out popular candidates following the committee's "strategical voting".
The latest rolling poll conducted by three universities found that 45.9 per cent of 1,107 respondents interviewed from May 25 to May 29 supported the blueprint, up 0.6 percentage points from the last poll, in which 35.2 per cent opposed it.
This article appeared in the South China Morning Post print edition as: Minister resigned to losing vote