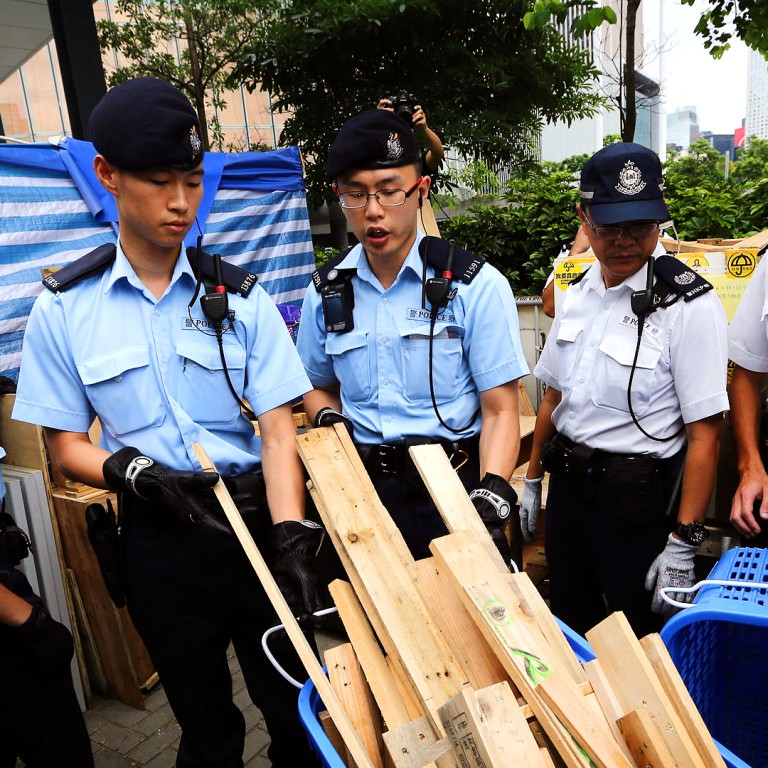 Hong Kong braced for fresh reform protest outside government headquarters
Police move in to seize 'offensive' objects from camp outside Legco as 'Long Hair' Leung admits he made up HK$100m figure in vote bribe offer
Hong Kong is bracing itself for a major protest outside government headquarters in Admiralty today - nine months after a mass demonstration at the same venue that sparked last year's Occupy turmoil.
Yesterday, the police - whose image suffered over their handling of 79 days of civil disobedience and street clashes - moved in to seize "offensive" objects kept in a small encampment along Tim Mei Avenue outside the government offices. Wood, glass bottles and a chopper were among items taken away.
The action sent a clear message that law enforcers would adopt a no-nonsense approach to any hint of trouble this time, ahead of a crucial Legislative Council ballot over the government's political reform package.
The day also saw new Commissioner of Police Stephen Lo Wai-chung stress political impartiality among the force, while new groups of named civil servants issued statements of support for the government position, 24 hours after unidentified colleagues took the opposite stance.
In a separate turn of events, radical pan-democratic lawmaker "Long Hair" Leung Kwok-hung admitted to the last night that he had "made up" the HK$100 million figure he said had been offered for him to vote "yes".
The arguments over money politics continued when Leung told RTHK earlier in the day that someone had offered him the sum. But he later told the he had made that up to attract media attention, because "so many people have asked me if I really took the money and I need to protect my reputation".
"I'm afraid someone else would use my name and say, 'See? Even Long Hair has taken the money. Why don't you?'," he said.
But the meeting with a mysterious person, whom he did not know, did occur, Leung said. He received a call requesting a meeting around February. When they met up, the person, who represented "a boss", told him: "Give us a number. You won't have to work for the rest of your life."
Leung said he turned down the offer and left within five minutes. The Communist Party was not mentioned at any stage.
He said there was little use reporting to the Independent Commission Against Corruption as he did not record the conversation.
Previously, Zhang Xiaoming , head of Beijing's liaison office in Hong Kong, had described as "ridiculous" rumours that Beijing would induce pan-democrats with HK$300 million each to cooperate.
Pro-establishment figures said it was impossible for Beijing officials to bribe Leung. James Tien Pei-chun of the Liberal Party surmised local or mainland business tycoons could have come up with the deal.
Legco president Jasper Tsang Yok-sing called Leung's words "strange", saying: "If any pan-democrat breaks the alliance [and votes for the proposal], he must be subject to investigation."
Tsang added the Legco Commission would meet tomorrow to plan security measures for the week ahead.
The government is due to table its reform package for the 2017 chief executive election on Wednesday. Protesters will start gathering outside Legco today to put pressure on pan-democrats not to pass the plan. Their rally will run through to Thursday or Friday, when lawmakers are expected to cast their votes.
All 27 pan-democratic lawmakers have vowed to vote it down, considering it a package of false democracy under Beijing's framework. But whichever way the vote goes, a security expert and former head of the police criminal intelligence unit warned the city should ready itself for a tumultuous few weeks.
Steve Vickers said if the vote was passed, the more radical pan-democrats would be "enraged". If it was not passed, there would be a "significant show of force" by pro-Beijing groups.
On another front, police have been monitoring social media on plans to launch what the force fears will be a repeat of Occupy despite repeated denials from organisers. Critics are worried about the impact on free speech.
"With the ongoing arrests of activists for what they say on social media, the police ... are creating a general chilling effect on activists' free speech online," said Jennifer Zhang, a researcher with the Hong Kong Transparency Report at the University of Hong Kong.
This article appeared in the South China Morning Post print edition as: Hong Kong braced for fresh protest