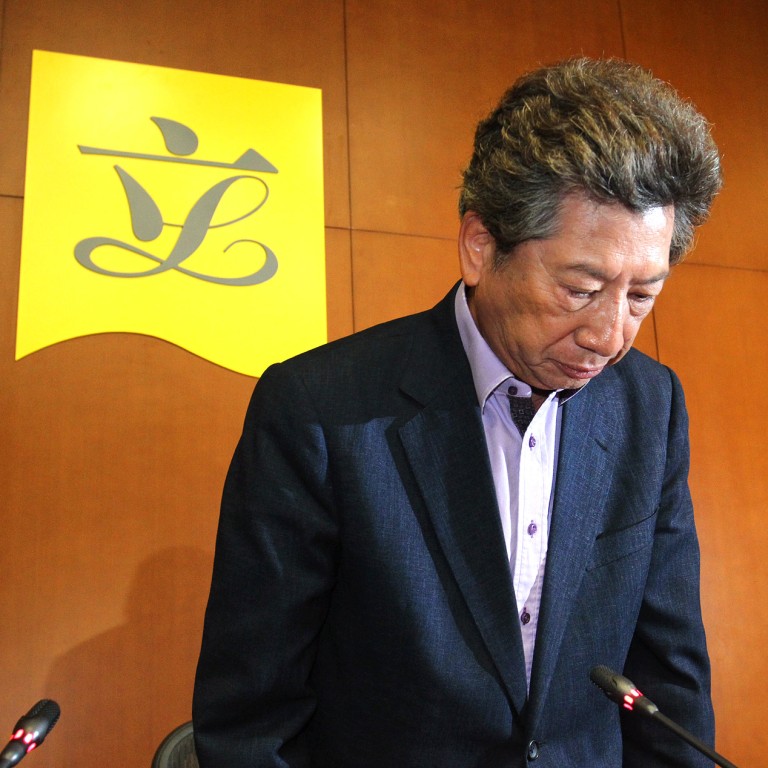 Tearful Ronny Tong quits as legislator hours after resigning from Civic Party amid rift in Hong Kong's pan-democratic camp
Moderate lawmaker vows to continue pursuing a 'middle way' to democracy and laments Civic Party's drift away from its founding principles
Moderate pan-democrat Ronny Tong Ka-wah sent shockwaves across Hong Kong's political spectrum yesterday, giving up his directly elected seat in the Legislative Council as well as quitting the party he co-founded nine years ago.
The lawmaker's departure from the Civic Party had long been expected because of his more compromising approach to political reform, but his decision to quit Legco came as a shock, exposing how wide the rift within the city's pan-democratic camp has become.
Yesterday's drama came less than a week after Legco voted down the government's final package of proposals for the 2017 chief executive election.
Tong lamented his allies' failure to come up with a feasible proposal to lobby Beijing, and said it was inappropriate for him to retain his seat in the legislature considering he was elected as a Civic Party member in 2012.
Tong sobbed as he bowed in front of the cameras to announce his resignation from Legco, effective on October 1. "I wish to thank everyone who has supported me over the past 11 years," he said. "I apologise for not being able to achieve what I set out to achieve."
Tong has been seen as a pragmatist for eschewing confrontation with Beijing in favour of a middle-of the-road approach to democratic reform that often put him at odds with colleagues.
The first major reflection of that rift came in 2010 when he opposed the party's leading role in getting pan-democrat lawmakers to resign and trigger a by-election through which they recaptured their seats in what they touted as a de facto referendum on universal suffrage.
A barrister by profession and a senior counsel, he was the only pan-democrat who did not join in last year's Occupy protests. In an internal message to colleagues earlier yesterday, Tong said it was the Civic Party's change of values that had driven him to take the "extremely painful decision".
"I had hoped, through my effort, to inspire the party [to look beyond] the sternest pro-democracy supporters and try to win over moderate Hongkongers too in order to strengthen the democratic movement," Tong wrote.
"Unfortunately after continuous effort throughout these five years, it has proven that it is only my personal political idea that is too far away and unrealistic."
After tendering his resignation to Legco President Jasper Tsang Yok-sing and the Civic Party's leadership, Tong insisted he would continue looking for a "middle way" through his new think tank, Path of Democracy.
"Taking the middle ground approach doesn't mean you give up the fight for democracy or are being subservient to the central government," he said.
But he ruled out running in future elections and recommended young Civic Party member Alvin Yeung Ngok-kiu contest his New Territories East seat.
While the Civic Party said it respected Tong's decision and intended to field a young member to run in the by-election triggered by his resignation, it's under pressure to put forward a heavyweight such as chairwoman Audrey Eu Yuet-mee. The seat is a precious asset for the pan-democrats, who need every vote they can muster to fight the pro-establishment majority in Legco.
Bills and motions put forward by lawmakers need support from both geographical and functional constituencies to be passed, and Tong's resignation will make it easier for the pro-establishment camp to get its way.
Eu said it was a pity - though not surprising - that Tong had left, adding that the party had taken his criticism very seriously.
This article appeared in the South China Morning Post print edition as: Tong's resignation widens pan-dem rift