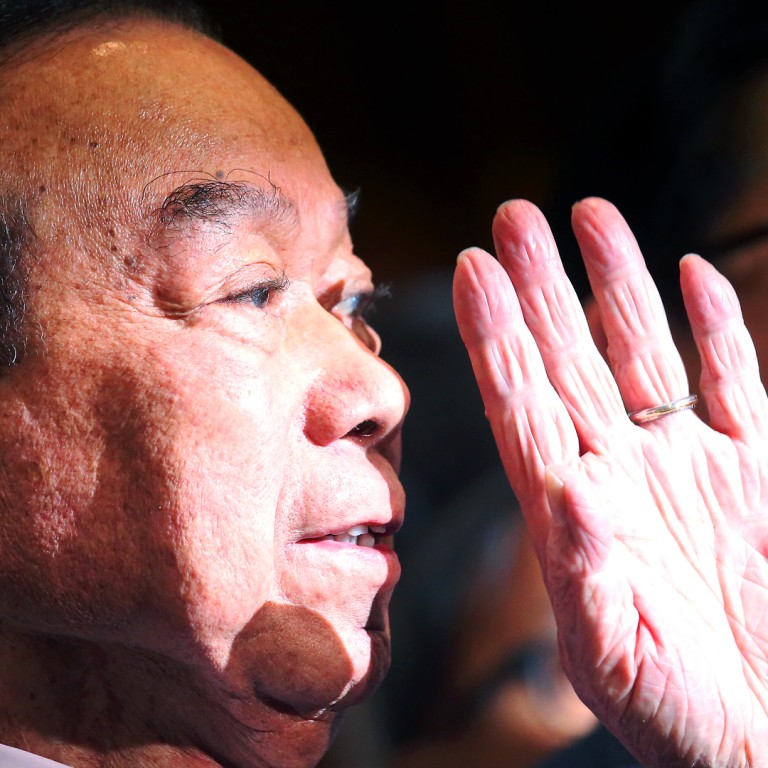 Hong Kong lawmaker Lau Wong-fat denies he's quitting Legislative Council
Rural leader Lau Wong-fat rejects rumours, which followed the botched Legco walkout
Rural patriarch and pro-establishment lawmaker Lau Wong-fat yesterday denied he was set to quit the Legislative Council.
Rumours emerged yesterday morning that the Business and Professionals Alliance lawmaker - affectionately known as "Uncle Fat" - would resign due to poor health. He was at the centre of a controversial walkout during last week's Legco vote on electoral reform, when pro-establishment lawmakers left the chamber in a failed attempt to delay the vote until Lau arrived.
The rumours sent shock-waves through political circles, and reportedly even raised the eyebrows of Chief Executive Leung Chun-ying, who asked his aides to seek clarification.
They coincided with gossip in political circles that Beijing was unhappy with Lau over his tardiness in arriving at Legco.
In a statement issued around 6pm in response to an inquiry from the , Lau categorically denied the reports, saying "there is no truth in the rumour".
"My health condition is improving. And I do not think there are any reasons for me to resign at this point in time," the statement read.
Lau's son, Kenneth Lau Ip-keung, denied his father was seriously ill, but said Uncle Fat had recently been feverish.
"It is a complete rumour that my father will resign from Legco. He won't quit as he hasn't done anything wrong," said the younger Lau, who this month took over from his father as chairman of powerful rural body the Heung Yee Kuk. The senior Lau headed the kuk for 35 years but stepped down on health grounds.
"We issued a statement so quickly because the rumour sparked some government departments, including the Chief Executive's Office and the Home Affairs Bureau, to call us for clarification," said the younger Lau.
He added his father would attend the kuk's cocktail reception next Tuesday to mark the anniversary of the 1997 handover. But he said his father would not attend the "tea gathering" for pro-government lawmakers at the central government's liaison office tonight.
However, a source said that Lau had considered resigning because he blamed himself for the bungled vote and due to his poor health. The source also said Kenneth Lau had been expected to replace the elder Lau in a by-election. The younger Lau said he could not comment on this.
This article appeared in the South China Morning Post print edition as: Uncle Fat denies he's quitting Legco