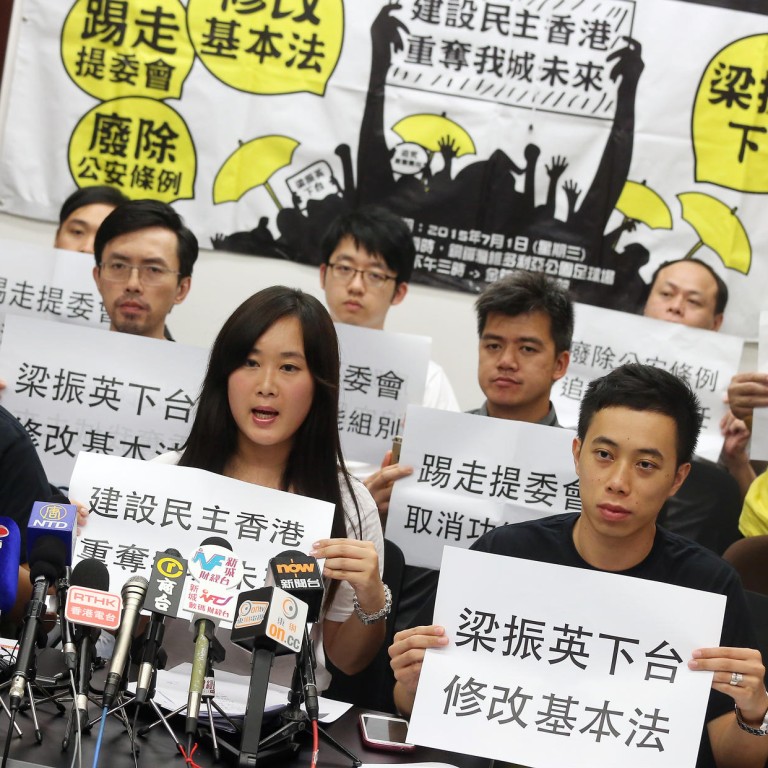 Five July 1 rally groups denied licences for fund-raising on street
At least five groups that will take part in the July 1 march have had their temporary licences for street fundraising rejected.
The organiser of the annual pro-democracy rally, the Civil Human Rights Front, said it had yet to discuss the decision with lawyers and assess the impact on the march.
The five groups that got notice from the Food and Environmental Hygiene Department yesterday were the Democratic Party, the Civic Party, Big Love Alliance, Power for Democracy and the front itself, said Daisy Chan Sin-ying, convenor of the front.
"This is the first time the government rejected our applications for the temporary hawker licence," Chan said. "It will affect our fundraising activities and how we spread our messages to the public."
In previous years the department issued licences to dozens of groups taking part in the July 1 march, allowing them to raise money through selling souvenirs such as T-shirts and pins.
Andrew Chiu Ka-yin, convenor of Power for Democracy, said his group had erected a booth on the pavement in Hennessy Road, near Hysan Place in Causeway Bay, in the past and this was the first time they had been rebuffed.
"The department said in the letter that our booth would cause obstruction, but in fact we only have a few materials on the booth," he said.
This year's march carries the themes of restarting the electoral reform exercise and amending the Basic Law.
Johnson Yeung Ching-yin, deputy convenor of the front, said it was time to think about the direction of the democratic movement. He said provisions in the Basic Law related to universal suffrage and the Legislative Council should be reviewed.
Before the rally departs Victoria Park, the front will hold Basic Law seminars.
This article appeared in the South China Morning Post print edition as: July 1 activists denied fundraising licences