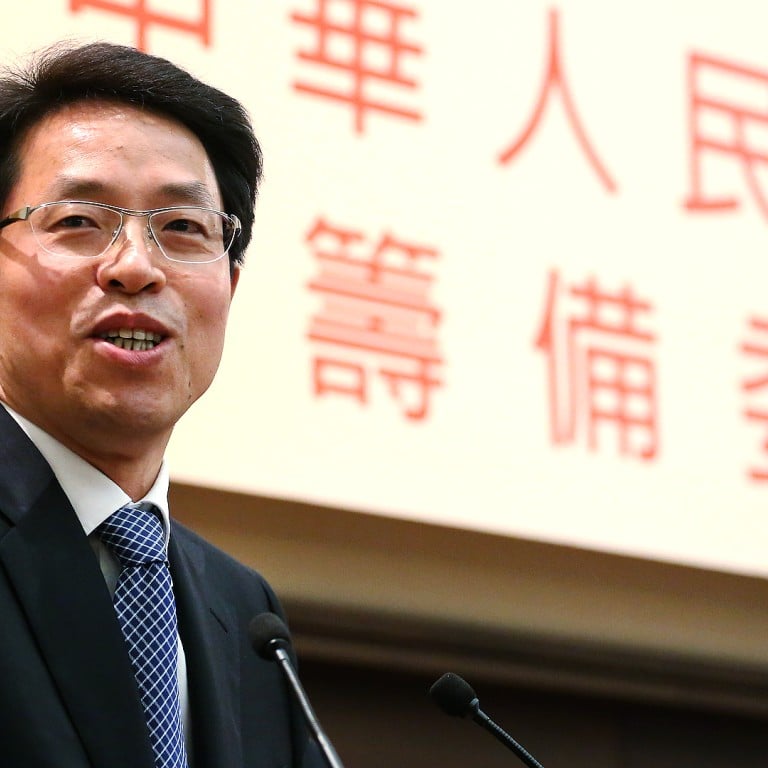 Forget political reform and move on, top Beijing official tells Hongkongers
Ex-chief secretary Anson Chan begs to differ, urging Hongkongers to continue the debate
Beijing's top representative in Hong Kong has vowed to "shut up" on political reform from now on, calling on Hongkongers instead to focus on economic and livelihood issues after the reform debate.
Zhang Xiaoming , director of the central government's liaison office, is hoping to call a halt to a debate on the issue he has frequently commented on in the hope Hong Kong society can move on.
But former chief secretary Anson Chan Fang On-sang differed, saying the city should reopen discussion of reform in order to improve the methods for electing the Legislative Council and chief executive in the next two years.
That includes enlarging the base of voters to elect lawmakers representing functional constituencies - who make up half of all lawmakers - next year, and the constitution of the election committee that will nominate and pick the chief executive in 2017.
"I want to emphasise all these can be done in local legislation," Chan, convenor of think tank Hong Kong 2020, said yesterday.
"It does not require the approval of central government and it is entirely consistent with both the Basic Law and the August 31 framework handed down by the Standing Committee of National People's Congress," which set rules for the 2017 poll.
The diverging remarks from the Beijing official and the pro-democracy heavyweight came days after Legco voted down the government's version of universal suffrage for the 2017 election.
Zhang said lawmakers who blocked the proposal would go down in history as having to shoulder the responsibility for the failed reform.
But he added: "Starting from today, I will shut up and will not talk about political reform at public occasions.
"In the post-reform era, the Hong Kong community should put aside political wrangling and concentrate its efforts on economic development and livelihood improvement. This is the consensus of Hong Kong society."
Chan argued the government would not get very far with economic and livelihood issues without a democratic process.
"The fact is, livelihood issues ultimately involve the question on how the political power is shared," she said.
She urged the government to set up an effective platform allowing people to express their varied views on constitutional reform and social policies.
On a call by student leaders to amend the Basic Law to achieve universal suffrage, Chan described it as no different from "opening the Pandora's box".
There were inherent risks in revising the mini-constitution, she said, as one could not rule out the likelihood of conservatives taking the chance to tighten the rights, freedom and rule of law that Hongkongers enjoyed.
This article appeared in the South China Morning Post print edition as: No more reform talk, liaison office chief promises