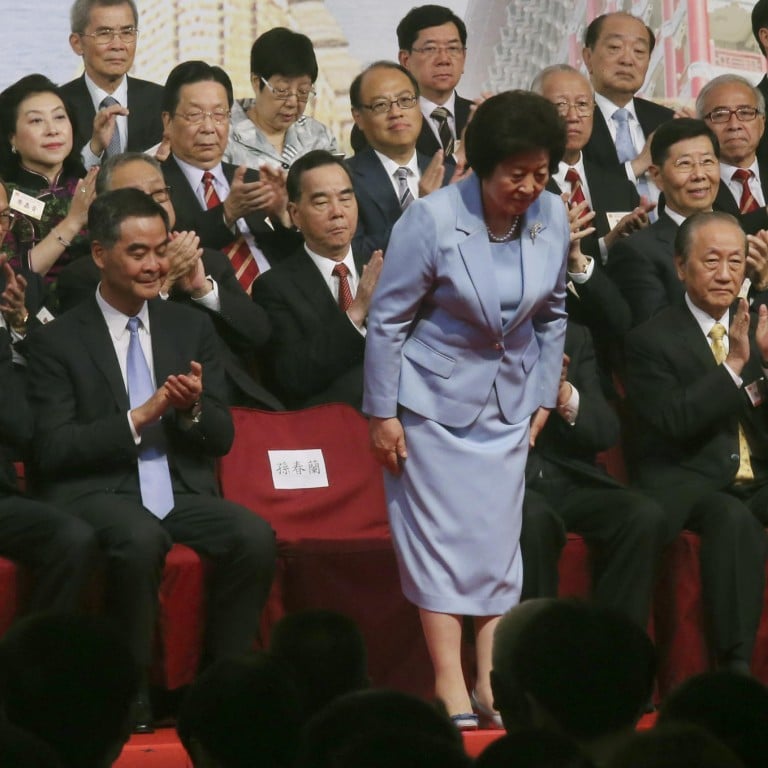 United Front chief Sun Chunlan tells young Hongkongers to love their country and make the most of close ties with China
The head of the Communist Party's United Front Work Department yesterday met the city's tycoons on her first trip to Hong Kong and called on young people to love their country and be responsible towards it.
Sun Chunlan , a Politburo member who succeeded the disgraced Ling Jihua earlier this year, was the first central government official responsible for Hong Kong affairs to visit the city after the pro-democracy sit-ins last year.
Her trip also came amid state media's continuing attacks on embattled tycoon Li Ka-shing, accusing him of being "unpatriotic" for offloading his assets on the mainland.
A CK Hutchison Holdings spokesman said Li was invited to the breakfast meeting with the tycoons, but he was not in town.
His son and deputy chairman of Hutchison, Victor Li Tzar-kuoi, who was present, described the atmosphere at breakfast as good as he again dismissed accusations the conglomerate was withdrawing from the mainland.
"We have just started tens of billions of [dollars worth of] investment on a natural gas project," he said. "Our company Husky is teaming up with a mainland company and it is the biggest natural gas project in China."
Other tycoons present at the Grand Hyatt Hotel in Wan Chai included Henry Cheng Kar-shun, chairman of New World Development; Robert Ng Chee-siong, chairman of Sino Group; Peter Lee Ka-kit, vice-chairman of Henderson Development; and Robert Kuok, chairman of Kerry Group. Kerry Group is the biggest shareholder in SCMP Group, publisher of the .
Meanwhile, in a ceremony to commemorate the 70th anniversary of the end of the second world war, Sun called on Hongkongers, alongside Taiwanese and Macau people, to deepen their love for their country and seize opportunities afforded by close ties with the motherland.
"Young people of Hong Kong, Macau and Taiwan are the future pillars of society," Sun, the former party chief of Tianjin , said.
"I hope in the future path of growth, you will have a stronger sense of responsibility and mission to the country's development ... and work hard to make the nation rich and powerful."
Pro-establishment lawmaker Wong Kwok-kin, of the Federation of Trade Unions, said Sun's visit was "definitely" not related to the upcoming elections, though the department she helmed was responsible for uniting different parties.
"Sun is a very high-ranking official … the business sector - especially the big tycoons - would be her target, not the traditional pro-Beijing parties," Wong said, adding that settling disputes for the pro-establishment camp in the district council elections in November would be too trivial for her.
This article appeared in the South China Morning Post print edition as: United Front chief calls for patriotism