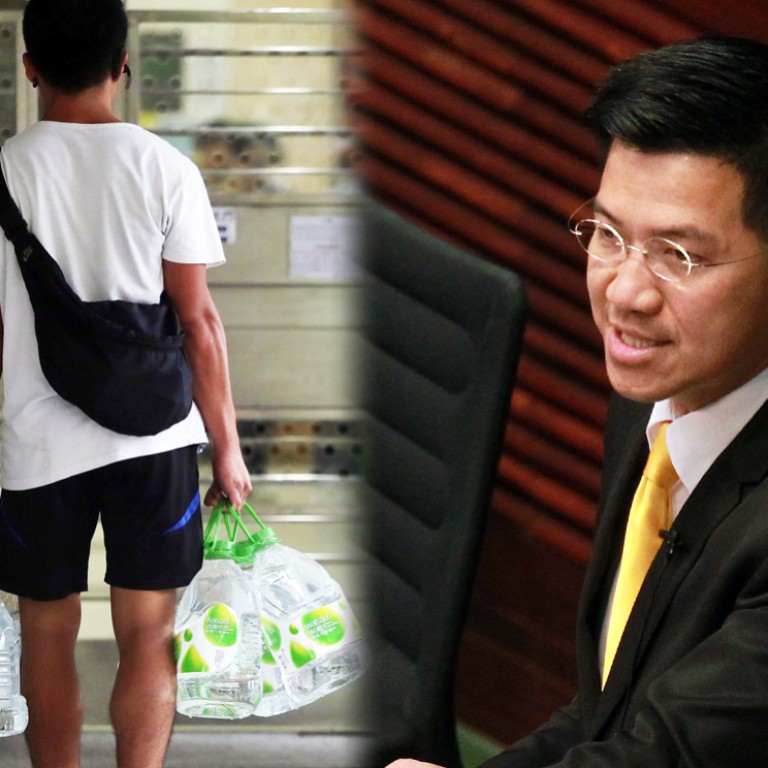 Legco water fight: Hong Kong lawmaker meeting erupts in finger pointing over probe into lead-tainted scandal
Lawmakers hit out at each other during a debate on the lead-in-water scandal during yesterday's Legislative Council meeting.
Pan-democrats accused their pro-Beijing counterparts of blindly protecting the government, while their rivals countered that the pan-democrats were politicising the issue to win votes in the coming district council elections.
The debate - a third attempt by pan-democrats to invoke Legco's special powers by creating a select committee to investigate the issue - lasted over six hours and will continue tomorrow.
The pan-democrats, who slammed the two interim reports by the Water Supplies Department and the Housing Authority for failing to determine who should be held responsible for the scandal, said a formal Legco inquiry was the only way to get the full picture.
They also pointed out that the independent commission led by High Court judge Andrew Chan Hing-wai would also not identify those responsible.
"The reports only explained the problem as a matter of lack of awareness within the industry, but I find it hard to accept that there isn't any human factor involved," said NeoDemocrat Gary Fan Kwok-wai, who launched the motion debate.
Helena Wong Pik-wan, the Democratic Party lawmaker who first exposed excessive lead levels at Kai Ching Estate in early July, said the ongoing crisis reflected holes in the way that water safety and construction work are regulated.
"Why, when problems are found in the system, does nobody need to be held responsible?" Wong asked, pointing out that there were officials behind the design and execution of policies.
Chief Secretary Carrie Lam Cheng Yuet-ngor believed it was "unnecessary" for lawmakers to launch an investigation when there were already three task forces looking into the incident.
Lam also emphasised that the two-person commission, which starts public hearings on October 20, had powers given by the law to take evidence and summon witnesses and would conduct an open and thorough investigation. "I promise that the government is not avoiding problems."
Starry Lee Wai-king, chairwoman of the Democratic Alliance for the Betterment and Progress of Hong Kong, agreed that the independent commission would be professional and credible, and that Legco should not become a "political court".
Christopher Cheung Wah-fung of the Business and Professionals Alliance found the pan-democrats' call for a fourth committee to be "too politicised" and "pointless".
"They should think how to cooperate with the government to solve the problem, not politicise the issue to gain support in the district council elections," said Cheung.
"The pan-democrats always criticise the government for wasting public money, but this [proposed] fourth committee will waste money and time," he added. "It'll just repeat the work of the three task forces."
This article appeared in the South China Morning Post print edition as: Lawmakers clash over tainted water probe call