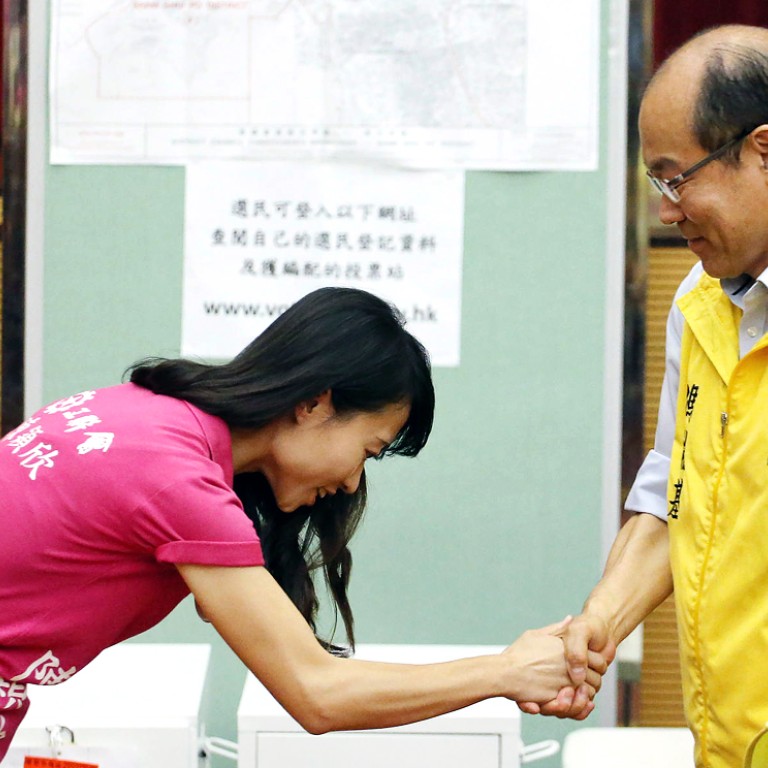 Hong Kong political gulf not closing any time soon
If the district polls are any indication, both Beijing loyalists and pan-democrats cannot make significant headway against other side
The final tally of district council election results following a historic voter turnout on Sunday reveals deeply entrenched political positions dividing the city despite the passing of nearly a year since the conclusion of the Occupy democracy movement, with no end in sight to the stalemate.
But young candidates turned in an impressive performance - including some who were inspired by Occupy to contest district seats and won - signalling a desire among the electorate for change or, as one analyst put it, to see fresh faces take centre stage.
The citywide polls were the first since the 79-day Occupy protests ended in mid-December, and were remarkable for drawing a record 1.47 million voters.
That turnout of 47 per cent surpassed the previous record of 44 per cent who voted in 2003, two months after a 500,000-strong July 1 march forced the government to withdraw a draft of national security legislation.
Pro-establishment expectations of voters punishing pan-democrats for backing Occupy did not materialise. Pan-democratic groups won 94 seats, up from 83 in 2011, while Beijing loyalists won 191 seats, up from 160.
Another seven "umbrella soldiers", inspired by the mass sit-ins, emerged as dark horses upsetting more veteran rivals.
The surprise outcomes prompted pan-democrat Albert Ho Chun-yan to urge his Democratic Party to look for more young people to run in elections, instead of clinging on to the "old thinking of sending well-known people into the race".
"The party should consider nominating more young people in the future," he said.
Ho himself suffered an embarrassing defeat, as did fellow pan-democratic lawmaker Frederick Fung Kin-kee.
Professor Ray Yep Kin-man, of City University's public policy department, said the camp had to stomach the loss of two of their veterans, though it did not suffer a rout as pundits had predicted.
Both pan-democrats and Beijing loyalists managed to hold on to their turfs, but made no significant headway, Yep said.
Ivan Choy Chi-keung, of Chinese University, said the average share of votes granted to pan-democrats in the constituencies they contested rose from 43.7 per cent in 2011 to 47 per cent, while that won by the pro-establishment Democratic Alliance for the Betterment and Progress of Hong Kong and the Federation of Trade Unions fell slightly.
The nearly 50 candidates who had been Occupy protesters together clinched more than 68,600 votes, making up 35.8 per cent of the vote share in the constituencies they contested, a study found.
Some of the election outcomes defied the conventional wisdom that district-level polls tended to focus on livelihood issues rather than on politics.
DAB lawmaker Elizabeth Quat, who lost her seat in Sha Tin's Chung On constituency, said the ballot this year had become politicised.
Fellow DAB legislator Christopher Chung Shu-kun was defeated by Chui Chi-kin, an "umbrella soldier" who put in his name only on the last day of nominations. Chung, an Eastern district councillor since 1991, attributed his defeat to first-time voters who were inspired by Occupy.
It remains to be seen if the "umbrella soldiers" can build on their strong debuts and take the plunge in the Legislative Council election next year.
Youngspiration convenor Baggio Leung Chung-hang said their next target would be a Legco by-election in New Territories East in February, followed by the full election. One of their nine candidates won in Hung Hom.
But Yep said the ballot results did not show clearly the leanings of mainstream public opinion, noting that most "umbrella soldiers" had not played up political issues in their campaigns.
This article appeared in the South China Morning Post print edition as: HK political gulf not closing any time soon