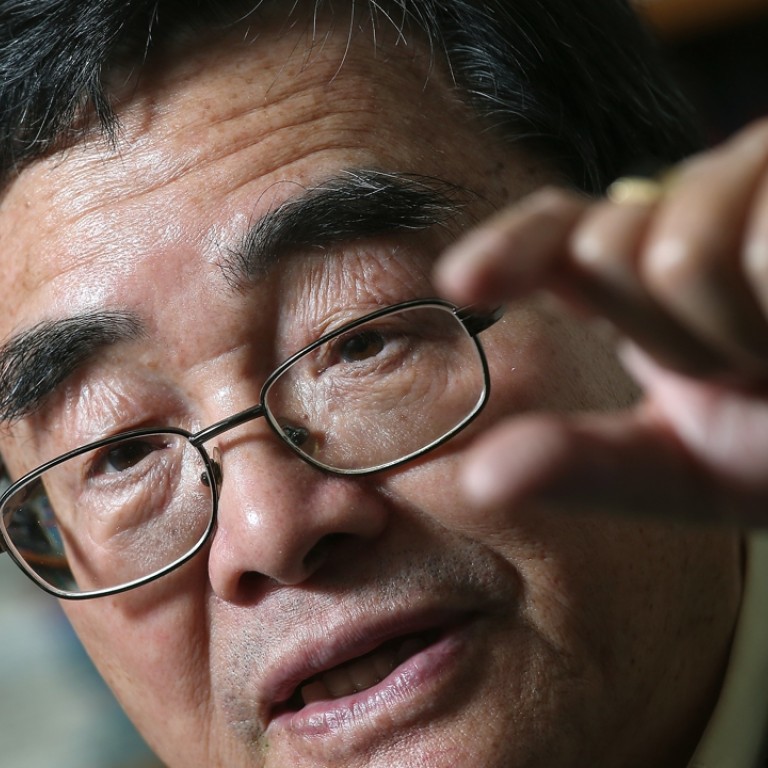 Veteran banned book publisher Jin Zhong: Hong Kong disappearances underline differences with mainland China
The chief editor of Open Magazine will leave Hong Kong for New York next month
The disappearance of a Hong Kong publisher is a show of China's values as much as Occupy Central movement was a show of Hong Kong's, a departing veteran China-watcher and publisher has observed.
Jin Zhong, chief editor of Open Magazine and publisher of books on China who will join his family in New York next month, reflected on a fundamental flaw in "One Country, Two Systems" he believed was the source of tension between the two sides since the 1997 handover.
"The 'One Country, Two Systems' notion allows two confrontational systems - socialist and capitalist - to exist, but then the state constitution stipulates in the outset that China is a socialist state and disruption of the socialist system is prohibited," the Hunan native said.
He added: "With Hong Kong running a multi-party system and enjoying freedom of speech, how could the Communist Party in Beijing stay psychologically balanced? And how could people in Hong Kong (do so) if 'One Country' is stressed?
"This inherent dilemma is the cause of all the bickering between the mainland and Hong Kong, and I think it will go on in different forms throughout the 50 years of no change China has promised to Hong Kong."
The apparent arrests of bookseller Lee Bo and his four associates was the latest manifestation of the conflict, but it was not the reason for Jin leaving the city he has called home since arriving in 1980.
"I made my decision to unite with my family more than a year ago so it has nothing to with Lee Bo. Not even the Occupy Central movement," the publisher of 40 banned books said.
His wife, Stacey Mosher, a former journalist in Hong Kong, has lived in New York since their daughter, Sophia, was born in 2002.
Open Magazine went online in 2014 after 28 years in print as a top China-watcher magazine in town.
"I am pleased that it has been a platform for intellectuals from China and overseas to pool their minds together for some advice to our country," he said, citing late Li Zhisui, doctor of Mao Zedong, and Nobel Laureate Liu Xiaobo as two contributors.
"Life in Hong Kong as a free Chinese society is what I will miss, regardless of its ups and downs," he said.
The city's fate, he said, depended on the outcome of a race between Hong Kong's preservation of its own values and the progress of democracy in China.
"I think Hong Kong will win because if it becomes one of China's cities, where would the money from corruption and bribery find an outlet?" he smiled.
As for the city folks, he offered eight words of advice in Chinese, loosely translated as: "You're on your own and conduct yourselves well, people of Hong Kong."