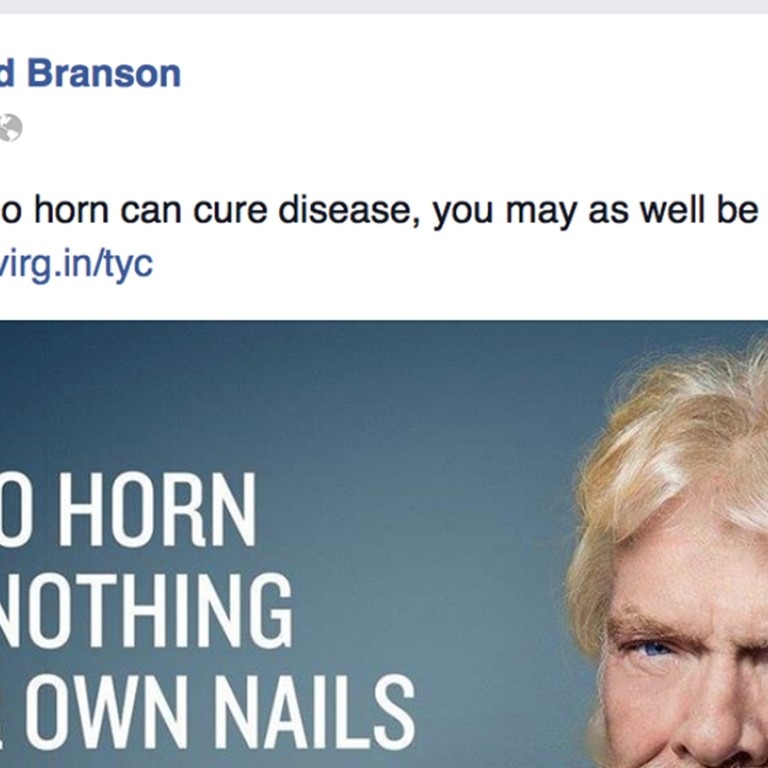 Hong Kong ivory dealers call on government to buy up stock if trade banned in city
Leung Chun-ying pledged to kick-start the legislative process to ban the import and export of elephant tusks
Ivory dealers and craftsmen want the government to compensate them, or at least buy up remaining legal stocks in city, before enacting any plan to outlaw the domestic trade.
It comes after Chief Executive Leung Chun-ying pledged in his policy address to kick-start the legislative process to ban the import and export of elephant tusks as soon as possible and explore enacting laws to completely ban the ivory trade.

The move has been welcomed internationally, with Virgin billionaire Richard Branson tweeting the "great news" yesterday.
Ivory Manufacturers Association member Lisa Cheng, who owns Wing Wah Mahjong Ivory Wares in Aberdeen Street, Central, owns a collection of ivory chopsticks, bracelets and trinkets, some dating back to the 1960s.
"I oppose poaching in Africa but we are conducting a lawful business selling licensed and lawful ivory products that were sourced before 1989."
A global ban on the ivory trade, also covering Hong Kong, came into force in 1989. Permits were given for a handful of tusks, allowing them to be legally traded domestically after the ban.
"If they want to stop the trade, then they should be fair and buy up our stocks," Cheng said, adding that it would still sadden her to see them incinerated.
The owners of the 70-year-old Hang Cheong Ivory Factory shop in Queen's Road Central, which sells intricately carved metre- long tusks, agreed the local trade was on its knees but that the government should still be equitable.
"To be honest, I don't care too much about a ban. I am semi-retired and there aren't any raw tusks or carvers left in the industry," said co-owner Mr Leung. "But the government must be reasonable and buy what existing traders haven't been able to sell all these years due the global ban."
Daniel Chan, a Hung Hom-based jewellery and ivory carver, called the proposed laws "ridiculous". "Our business has been affected since 20 years ago," he said.
He rejected claims that Hong Kong was an ivory trade and smuggling hub. "You talk about poaching of elephants – but how many did we kill? We are the ones going extinct ."
Alex Hofford, of wildlife activist group WildAid, urged the public to support any ban on the "out-of-control" ivory trade but said it would be even better if the government could make public its timetable for action.
Last year, conservation group Africa for Nature Conservancy also called for the government to compensate ivory traders if an outright ban was implemented.
But lawmaker Elizabeth Quat had argued there would be no need for compensation if a grace period to sell them off by a certain date was put in place.
"We believe the industry has had over 25 years to get rid of all the ivory," she said.
Additional reporting by Jennifer Ngo