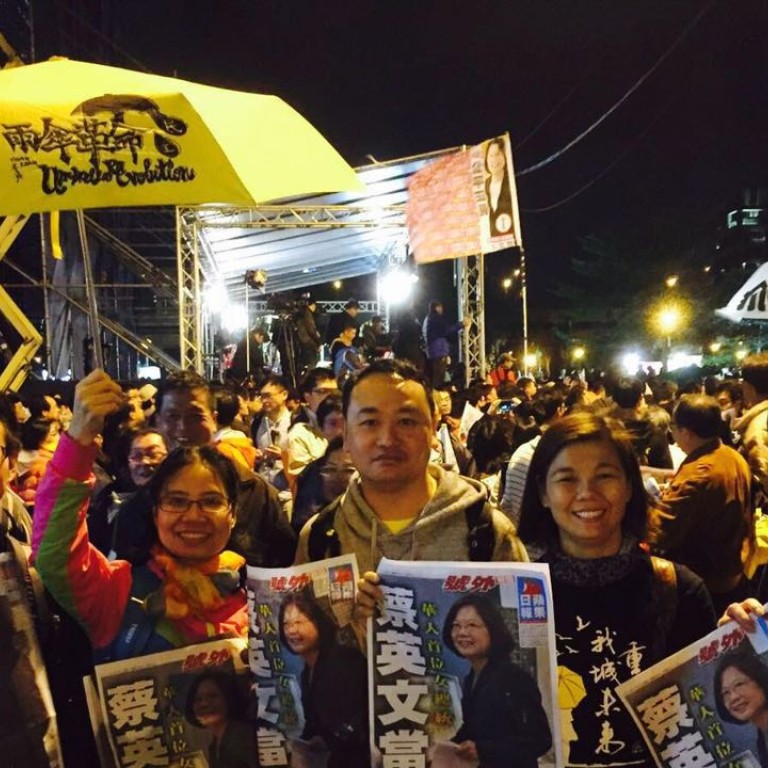 Taiwan elections 'unlikely to affect Hong Kong-mainland relations'
Observers say Beijing will though be interested in links between activists in Hong Kong and Taiwan
The landslide victory of independence-leaning Tsai Ing-wen is unlikely to affect Beijing's policy towards Hong Kong, but Beijing could be more closely watching young activists in the city who have close ties with the new political forces emerging from the election, observers have said.
Taiwan's presidential election has drawn keen interest from Hong Kong's pan-democratic camp, which has sent more than 50 party politicians and about 100 students and activists in different delegations to observe the polls.
They have visited election headquarters of the Taiwanese parties, met their think tanks and attended supporters' rallies.
Tsai and her Democratic Progressive Party (DPP) scored a landslide victory in elections on Saturday, with the country's first female president promising a "new era" in Taiwan.
The elections also attracted commentators including Dr Camoes Tam Chi-keung, who says that while the election result is unlikely to change Beijing's policy towards Hong Kong, the Communist Party could be concerned by the rise of new political forces which are close to Hong Kong activists.
Watch: Taiwan's first female president Tsai Ing-Wen vows to defend island's sovereignty
"I understand from my mainland contacts that mainland officials are curious about what these Hong Kong young people are doing in Taiwan," Tam, a veteran journalist and commentator on cross-straits relations, said yesterday.
"Beijing is most concerned with how activists from the Umbrella Movement are connecting with those from the Sunflower Movement, and whether they get close to the DPP."
Tam was referring to Hong Kong's student activists such as Joshua Wong Chi-fung and Alex Chow Yong-kang, who led the Occupy Central protests in 2014, who have joined the New School for Democracy in Taiwan.
The students have previously made contact with activists in the Sunflower Movement, which called for greater scrutiny of a controversial trade deal with the mainland. In 2014, protesters occupied the Taiwanese parliament. The campaign inspired young Taiwanese to form parties to run for parliament in Saturday's election, such as the New Power Party, which managed to bag more than 6 per cent of the votes.
Wong earlier told the media that he was interested in learning how the New Power Party developed itself from a campaign group to an organised political force in less than a year.
Fung does not think the election result would prompt Beijing to change its overall policy towards Hong Kong since Tsai has made it clear she wants to keep the cross-straits relations peaceful, without much divergence from the status quo.
"Beijing has different frameworks towards Taiwan and Hong Kong. Hong Kong is governed by the Basic Law. Unless Tsai makes a U-turn and advocates for independence, which is unlikely, Beijing's dealings with Taiwan should have little bearing on Hong Kong," Fung added.
Another commentator, Ivan Choy Chi-keung, agreed that the election has shown a strong bond between the civil societies in Taiwan and Hong Kong.
"Beijing will have to be careful when dealing with Taiwan in future because any tough move on Taiwan could trigger strong reactions among Hongkongers, who feel they share the same fate with the island," Choy said.