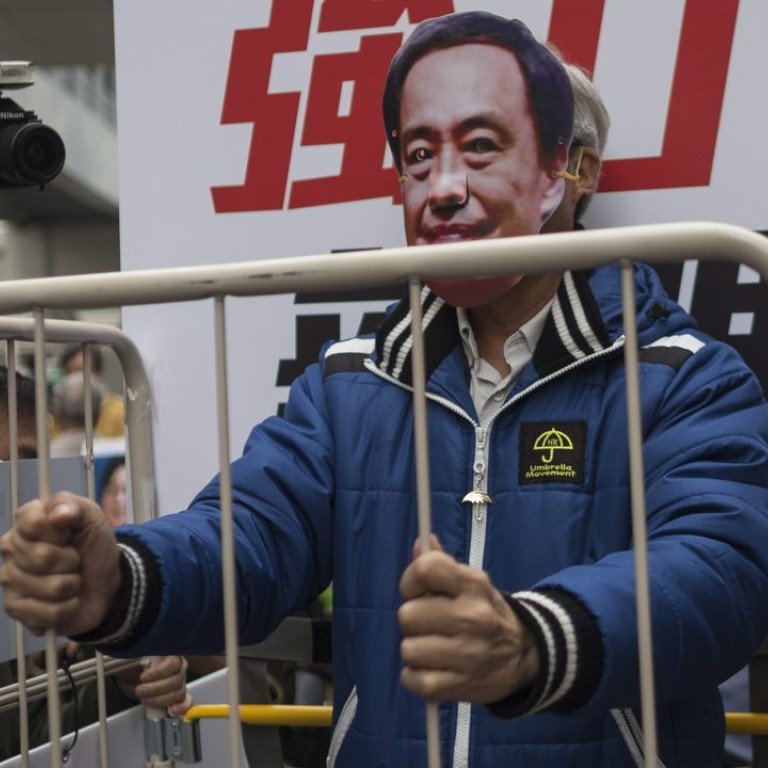 China finally confirms it has detained Hong Kong bookseller Lee Bo after his Swedish associate is paraded on state television
Hong Kong police ask for meeting with Lee Bo after Guangdong security officials respond to their enquiries
Hong Kong police have written to Guangdong security officials asking for a meeting with Lee Bo after they were finally informed that the missing local bookseller was on the mainland.
Police said late on Monday night they had received a written reply to their enquiries about Lee, who disappeared from Hong Kong last month, prompting suspicion that he had been spirited away by mainland agents for selling books critical of China's ruling Communist Party.
Also enclosed in the correspondence from the Guangdong Provincial Public Security Department was a letter from Lee to the Hong Kong government, which police said was similar to the last one received by the bookseller's wife.
In that letter, Lee had reiterated he was helping with investigations and blamed one of his missing associates, Gui Minhai – a mainland China-born, naturalised Swedish citizen who went missing three months ago – for getting him involved in the case.
A source told the Post there was no mention of three other booksellers whose whereabouts remain unknown.
The mystery of the missing booksellers has triggered a diplomatic tussle, with Sweden demanding "openness" from Beijing and mainland officials still keeping everyone in the dark.
The closest to an explanation came on Sunday night when Gui was paraded on state television and admitted his involvement in a fatal car accident on the mainland 12 years ago.
Hours after the TV broadcast, Gui's daughter Angela, 21, said she received a message from her father's Skype account saying: "Hi Angela, I'm ok. Please don't worry about me. I have returned to China on my own to sort some personal problems. If anybody asks about me, please keep quiet."
She said this didn't sound like something her father would say, and was not the way he would normally communicate with her.
Angela Gui, who was born and raised in Sweden and is currently studying in Britain, said she had spoken to her father a few days before he went missing in October, and they had agreed to speak again soon — but that never happened.
She also described the television confession "ridiculous" and contrived.
"I've not heard of this supposed (hit-and-run) accident," she said, adding she did not believe her father would have returned to China on his own without telling her.
While many were highly sceptical about the official explanation of Gui's detention, two of his friends cast serious doubts on CCTV's claim that the missing bookseller had turned himself in last October.
But both of them – dissident poet Bei Ling and publisher Jin Zhong – said they had heard in the past that Gui had killed a young woman in a drink-driving accident in 2003, as reported by China Central Television on Sunday.
"We encourage the Chinese authorities to show us much openness, and provide information and contact between the Swedish authorities and the detainee," Sweden's deputy minister for finance, Per Bolund, told the Post on the sidelines of the Asian Financial Forum in Hong Kong yesterday.
In his CCTV appearance, Gui said he had decided to escape from China after receiving a suspended two-year jail term in 2004 in Ningbo, Zhejiang province. The sentence required him to remain on the mainland.
Gui said he was overwhelmed by guilt and decided to turn himself in, contradicting reports suggesting he might have been kidnapped by Chinese agents while on holiday in Pattaya, Thailand.
While Gui said that he hoped Swedish authorities would not get involved in his "own problems", Bolund insisted Beijing should "enable Swedish authorities to meet Gui Minhai himself".
He added: "I really hope that the Chinese authorities would see this need and that it would be the easiest way to resolve all these questions that have arisen."
Bei, co-founder of the Independent Chinese PEN Centre, believed Gui was kidnapped in Pattaya. He came to that conclusion after conducting an investigation with Gui's friends, including reviewing security camera footage of Gui's Pattaya condominium. They found that four Chinese men had entered Gui's house about two weeks after he disappeared and tried to take away his computer.
He added that Gui's daughter, Angela, wanted to visit the detained publisher on the mainland.
Chief Executive Leung Chun-ying yesterday admitted that his government had not received any information ahead of Gui's television appearance, sparking criticism that he was powerless to intervene.