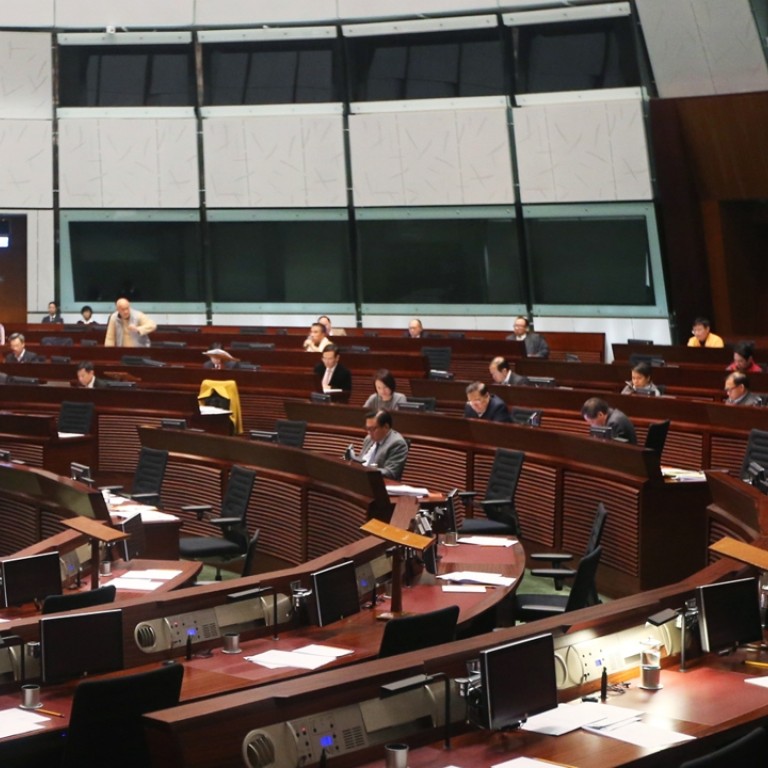 Copyright bill debate abandoned as not enough members turn up to Legco
Government is running out of time to get the controversial bill passed
Debate on the contentious copyright amendment bill was cut short by half an hour in the Legislative Council on Friday afternoon – because not enough members showed up.
The premature adjournment came a day after the commerce minister said he was optimistic that there would be enough time for discussion, despite the nearing Lunar New Year holiday and sessions for scrutinising the chief executive's policy address and the financial secretary's budget speech.
All but one pan-democrats were absent when the last quorum bell rang on Friday. They were launching, or at least assisting, a filibuster to make the government stall the bill derided by internet users as "Internet Article 23", in reference to the sensitive national security provision in the Basic Law.
House committee chairman Andrew Leung Kwan-yuen, who chaired the meeting in the absence of the ill president Jasper Tsang Yok-sing, said he regretted the adjournment.
He said cutting short the meeting after failing to meet quorum was highly inappropriate as it would give a bad public impression.
The Copyright (Amendment) Bill 2014 is supported by ­copyright owners as they believe it will protect them against infringements, but it is opposed by ­internet users and pan-democrats, who want broader exemptions for fear it will be used to suppress online freedom.
Pro-establishment lawmakers had tried to ensure the minimum required 35 members were present by imposing a new rule on Friday that each of them could only take about 14 minutes' rest outside the chamber every hour. Ten pro-establishment members were also absent.
Secretary for Commerce Greg So Kam-leung said it was irresponsible for the pan-democrats to put all the pressure on the pro-establishment camp.
With legislative scrutiny continuing next Wednesday, there are 48 hours more in the coming two weeks for lawmakers to handle the bill before the Lunar New Year holiday.
There was a brief moment of surprise on Thursday after Chief Secretary Carrie Lam Cheng Yuet-ngor reportedly said the administration would not rule out the possibility of withdrawing the bill.
But she later said the government had no plan to do so, an assertion supported by So.
Executive Council convenor Lam Woon-kwong today said it would be "pitiful" to take the bill back at this stage.
Instead of proceeding to the third reading, lawmakers on Friday debated Labour Party lawmaker Cyd Ho Sau-lan's motion to commit the bill to a select committee, a move seen as both a filibustering attempt and a way to accommodate further discussions.
Ho's party colleague Fernando Cheung Chiu-hung said: "There is no urgent public interest for the amendment bill to be passed."
But pro-government lawmaker Paul Tse Wai-chun argued there were no new and significant points to be explored by way of a select committee.
A spokesman for the Hong Kong Copyright Alliance condemned lawmakers' repeated requests for quorum calls, saying: "The suggestion by a certain legislator of forming a select committee to discuss the bill even further will only lead to its demise."