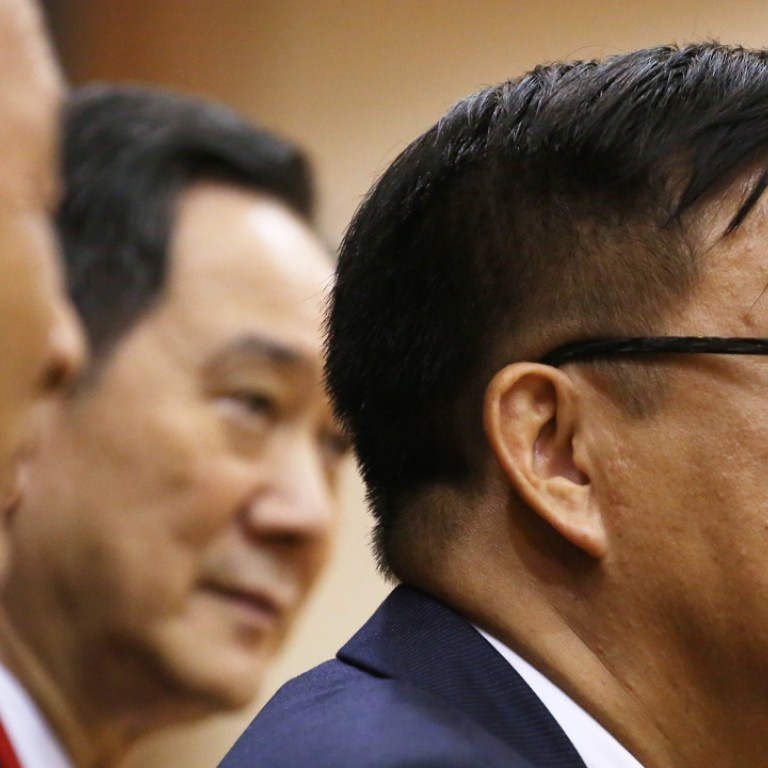 Beijing's blessing last step for powerful rural Hong Kong group to form new political party
Pro-establishment Heung Yee Kuk understood to be aiming to field its own candidates for this year's legislative elections
Beijing's formal blessing has emerged as a final hurdle in the rural elders' plan to form a new political party in order to boost their presence in the local political scene.
The new political party, provisionally called New Territories Progressive Alliance, was taking shape and could take off as early as March, it was understood, and would aim to field candidates to contest seats in this year's
Legislative Council
elections.
The new party was expected to be chaired by Kenneth Lau Ip-keung, who last June inherited the chairmanship of Heung Yee Kuk from his father Lau Wong-fat. There were to be three vice-chairmen, according to plans.
Heung Yee Kuk is an advisory body representing the interests of indigenous villagers in the New Territories. Governed by the Heung Yee Kuk Ordinance, it cannot itself transform into a political party.
Leaders of the 27 rural committees were understood to have given their stamp of approval to setting up the new party at a recent meeting, while top patriarchs were working on the manifestos.
Dr Bruce Kwong Kam-kwan, a co-investigator at the
Hong Kong Transition Project
– a research centre at Baptist University, was doubtful that Beijing would give its blessing to the new party.
"The last thing Beijing wants to see is a spilt in the pro-establishment camp," Kwong said. "More importantly, the rural people are forming the party because they think fellow pan-establishment allies do not support them and they want more power."
"The younger Lau is more keen on setting up a party because he wants to do something to build up influence in the rural circle, where he is surrounded by rural elders. In rural politics, age counts."
Bowie Hau Chi-keung, a key advocate for a new party and an ex-officio member of the kuk, admitted they had been approached by the Beijing Liaison Office. "So far, they have not expressed opposition or approval," said Hau. "I don't feel that they have seen our move as a split of the pro-establishment camp."
However, Hau would not speculate on whether Beijing was reluctant to see the new party formed.
Kingsley Sit Ho-yin, head of the kuk's think tank, also rejected speculation that their move signalled a split in the pro-Beijing camp.
"Regina Ip [Lau Suk-yee] also formed the New People's Party [in 2011]. We didn't say it was a split of the pro-establishment camp," Sit said. "When Alan Leong [Kah-kit] formed the Civic Party [in 2006], we didn't say the pro-democracy camp split."
Under the present system, the kuk has a seat in the Legislative Council. Its present representative is Lau Wong-fat, who is also a member of the pro-business Business and Professionals Alliance for Hong Kong. There were reports that the senior Lau would retire from politics after this year.
The kuk has proved an important pro-establishment political force in the past, playing a key role in mobilising villagers to support candidates from pro-government political parties. But rows have erupted between the kuk and the government in recent years over the small house policy, as well as plans to expand a Tuen Mun landfill.
Rural leaders also grew dissatisfied with their pro-establishment allies, with some asserting that they had not always spoken up for their villagers' interests.
"If you find that others are not willing to help you, you have to do it on your own and help yourself," Hau said. "It's that simple."

The idea of forming a separate political party to represent New Territories villagers dates back to 2001 when then Sheung Shui rural committee chairman Brian Kan Ping-chee formed the Association of New Territories Indigenous Residents. Kan had said the senior Lau had been too weak in his stance over the government's plans to reform village polls, allowing non-indigenous residents to become a village representative. But Kan's group faded without gaining significant influence.
Some two years ago, there were also calls from the kuk's Young Turks to form a political party. But it was understood the idea had not been actively pursued because the senior Lau was not keen on the idea.