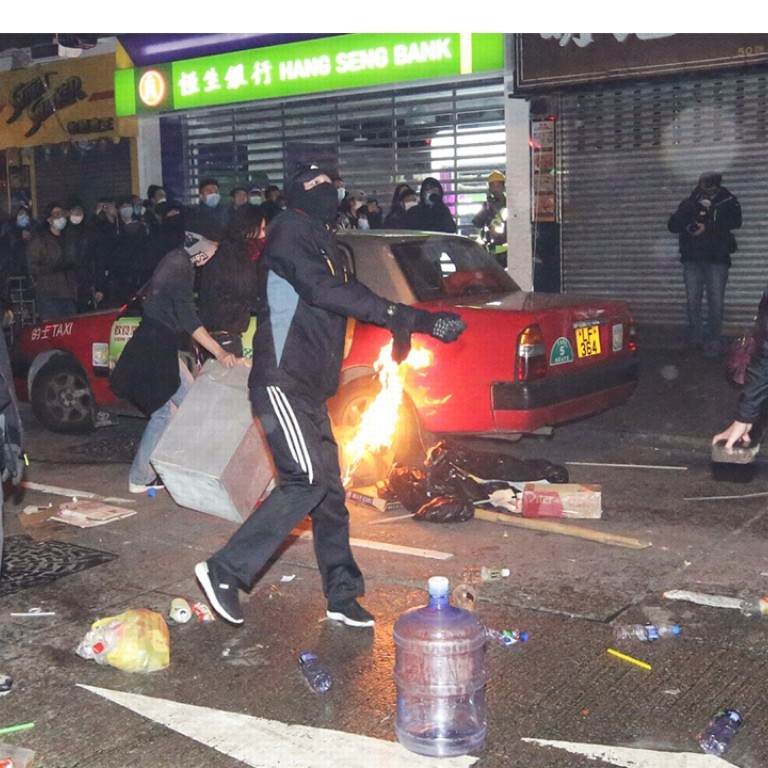 Explained: who are Hong Kong Indigenous and what was their role in the Mong Kok protest and riot?
Group leader Edward Leung Tin-kei, a candidate in upcoming Legco by-election was seen at forefront of protest has been arrested. But what of this group and their aims?
In the eye of the storm at the Mong Kok riots is a group known as Hong Kong Indigenous, a radical nativist – or "localist" – group established last year.
The group is fielding a candidate in the Legislative Council by-election scheduled in three weeks, with the candidate Edward Leung Tin-kei, seen at the forefront of last night's protest, shouting into a loudspeaker, before he was arrested according to a Facebook post by the group at 2.16am.
Although there could well have been other groups that joined forces with the group as the night unfolded, attention is now on Leung and his group.
本土民主前線宣佈,決定運用候選人梁天琦之競選權力,即時於旺角夜市舉行選舉遊行,人數少於三十人無需預先通知及警方批准,請各位隨即前往旺角支援!你做初一,我做十五!今日就嚟同政府開佢年!為求萬一,在此呼籲,出嚟嘅請帶眼罩、囗罩,水,並穿著有效保護身體之衣著,謝謝!#選舉廣告 (頭盔,for safety only)
Hong Kong Indigenous, formed in January by mainly post-'90s-born Hongkongers, gained prominence during sometimes violent protests against cross-border parallel traders in Yuen Long, Tung Mun and Sha Tin.
"Localist" is an umbrella term for radical groups with strong anti-mainland sentiment, with many seeking either independence for Hong Kong or to fight for a limit on Beijing's influence in the city.
They often actively utilise social media platforms to spread their political philosophy.
"We are a group of nameless Hong Kong people who are on the frontline of protests. Since the old resistance methods have failed against the authorities, we have no choice but to stand out and break the stalemate," the statement on the Hong Kong Indigenous' Facebook page read.
Together with other localist groups such as Civic Passion and Hong Kong Localism Power and National Independent Party ­– involved in a suspected bomb planted in a rubbish bin outside the Legislative Council last year ­– Hong Kong Indigenous had gained popularity in recent years, in parallel with a growing desire in Hong Kong to curb Beijing's rising influence in the city.
"We are doing more and more to get this message across to the government - we are not going to back away or accept our fate lying down. The pseudo democrats time after time created fake protests which achieved nothing but keeping the peace for the authorities. Hong Kong people are being betrayed and kept away from true democracy, as well as being hindered in developing our own indigenous virtue," the groups statement goes on.
Many of the locals groups appeared after the publication of Hong Kong as a City-state by academic Horace Chin Wan-kan, who teaches Chinese at Lingnan University, which became important in the rise of radical political philosophies with heavy anti-mainland overtones.
Chin himself leads Hong Kong Resurgence which operates under the slogan "Land and being is the same, conserve Hong Kong, and revive Hong Kong's golden age".