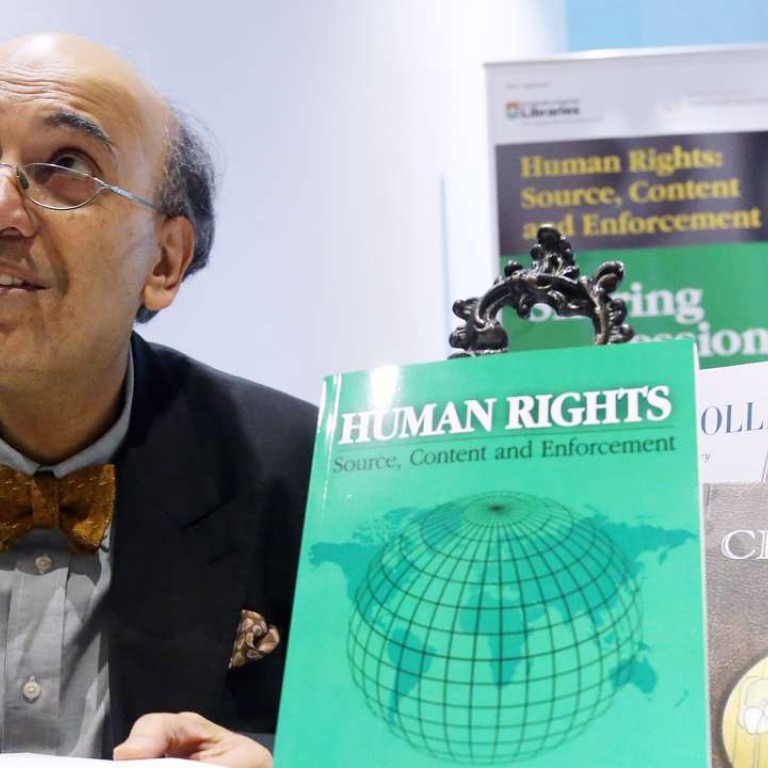 Top Hong Kong judge urges tolerance of advocates of independence
Mr Justice Bokhary highlights need to respect freedom of expression, a point echoed by British constitutional law expert Lord Pannick
A liberal judge on the top court has called for tolerance for people advocating Hong Kong independence, saying they should not be prohibited from making their voices heard.
The approach adopted by Mr Justice Kemal Bokhary, a non-permanent judge of the Court of Final Appeal, was echoed by prominent British constitutional lawyer Lord David Pannick QC, who said that in a civilised society, the correct approach is more – not less – speech in the context of "non-violent extremism".
Their remarks come as Hong Kong is debating whether to crack down on proponents of Hong Kong independence, whose frustration comes as a result of what they see as a decline in Hong Kong's uniqueness.
Speaking at the launch of his new book on human rights law, Bokhary said: "Even beyond 2047, my personal faith is in the 'one country, two systems' principle.
"But just because you disagree with somebody, just because you think their views are dangerous ... doesn't mean you should deny them ways of speaking about it," Bokhary said in response to questions about Hong Kong independence.
The key to fulfilling one country, two systems, Bokhary said, lay in democracy.
He admitted he would have preferred that the Basic Law provision on the need for a nominating committee to select chief executive candidates to stand in a one-person, one-vote poll would never have existed, but added: "There seems to be no prospect of getting rid of the [committee]."
"So the only thing that one can do is to work out ... a means by which the nominating committee is selected which in itself is democratic, and that it should operate in such a way which is democratic," he said.
Bokhary said that he did not believe Hongkongers would elect a chief executive who would continue to bicker with the central government: "Nobody would actually ultimately choose such a person."
Attempts by Beijing officials to curb calls for independence on the ground of sovereignty were compared to proposals by British officials to impose restrictions on "non-violent extremism" in the face of possible terrorist attacks, a topic covered by Lord Pannick on Tuesday in a lecture at the University of Hong Kong.
"The correct response to non-violent extremism is not less speech but more speech, debate rather than silence enforced by law," he said.
"Once we start censoring the expression of political ideas – however repellent – we impede the vibrancy of our political life, to the detriment of us all."
Pannick – who has argued dozens of cases in the Court of Final Appeal both for and against the government since the handover – told the Post it would be improper for him to comment on Hong Kong politics, such as calls for independence.
He stressed that his speech was addressing British Prime Minister David Cameron's proposal to introduce laws that could unnecessarily affect freedoms, but "if [the] audience finds what I say of value in addressing Hong Kong issues or problems, that's fine".
As far as Hong Kong was concerned, Pannick would only say that the city was "blessed with a skilled judiciary" that would handle fundamental constitutional questions if and when they arose.