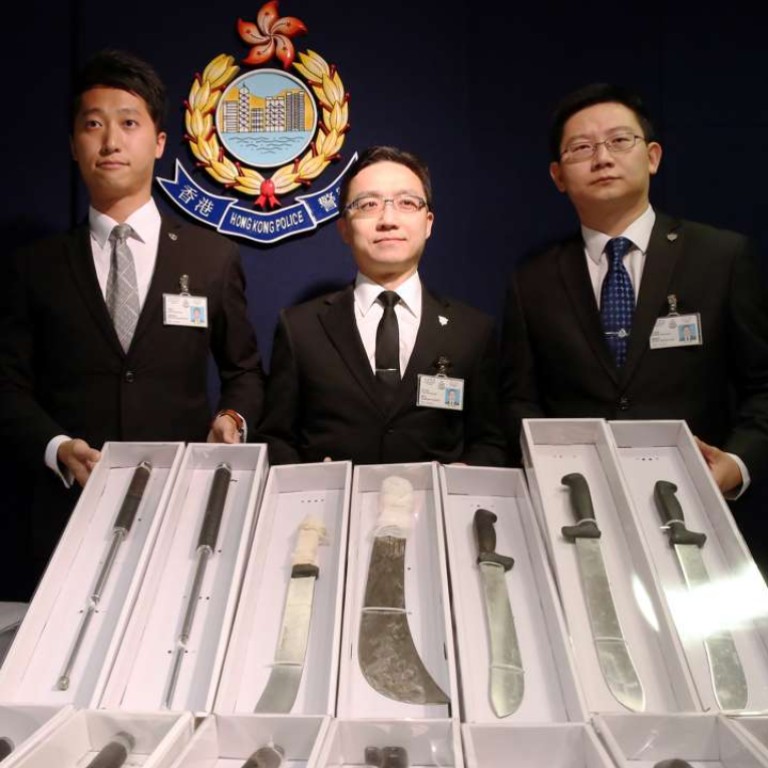 Police ready for major crackdown on triad gang ahead of Chinese state leader's visit to Hong Kong
Force targets Sun Yee On triad members, warning "they will pay the price", as the city gets ready to host Zhang Dejiang
Police are set to mount a major crackdown on one of Hong Kong's most powerful triad societies ahead of a visit by the state leader overseeing the city's affairs, the Post has learned.
The citywide operation, coordinated by the force's elite Organised Crime and Triad Bureau, will target the notorious Sun Yee On triad organisation amid a spate of gang violence and revenge attacks between its Tsim Sha Tsui and Kwun Tong factions, according to police sources.
"Intelligence indicates that other [Sun Yee On] factions in different districts have taken sides and their moves have led to confrontation and attacks within the triad society," one source said.
The police crackdown will be launched across the city later this week, just days before Zhang Dejiang, the head of the National People's Congress Standing Committee, arrives in Hong Kong next Tuesday for a three-day visit.
The Post was told that police did not want to see any trouble or violence among triad gangs during Zhang's visit.
"Hundreds of officers from different formations will be deployed to search their entertainment venues in various districts, bust their illegal activities and arrest targeted persons," the source said.
He said the crackdown was also meant to send gangsters a message that "they will pay the price if they make any trouble".
The spat between the two Sun Yee On factions began with a dispute at a birthday party in a pub on Hanoi Street in Tsim Sha Tsui on March 30.
Afterwards, outside the pub, an alleged member of the Tsim Sha Tsui faction was ambushed by about 10 members of the Kwun Tong gang brandishing choppers. Yesterday, the victim, 33, was still in hospital, recovering from serious injuries. The violence followed at least three other clashes between the two gangs in mid-April.
The leaders of the two factions are understood to be among several gangsters being hunted by police.
The Tsim Sha Tsui faction leader is known as "Sai B" among triad circles. He is understood to have taken over the gang after former leader Lee Tai-lung, 41, was chopped to death in 2009.
The Kwun Tong faction leader is controlled by a middle-aged man using the alias Man Sun-chung.
Separately, seven office-bearers of the Sun Yee On's Tuen Mun faction were among 50 people arrested in an undercover operation that ended in a series of police raids since last Thursday.
Last night, at least 40 other triad members, including a faction leader and two other office-bearers, were still being hunted by police.
It is understood they are on a list of about 100 active Sun Yee On members provided by an undercover policeman who infiltrated the gang more than a year ago.
Intelligence showed the gang, headed by a Hongkonger in his 30s, recruited new members to extend its reach, and that its illegal activities involved drug trafficking and extortion in Tuen Mun, according to police.