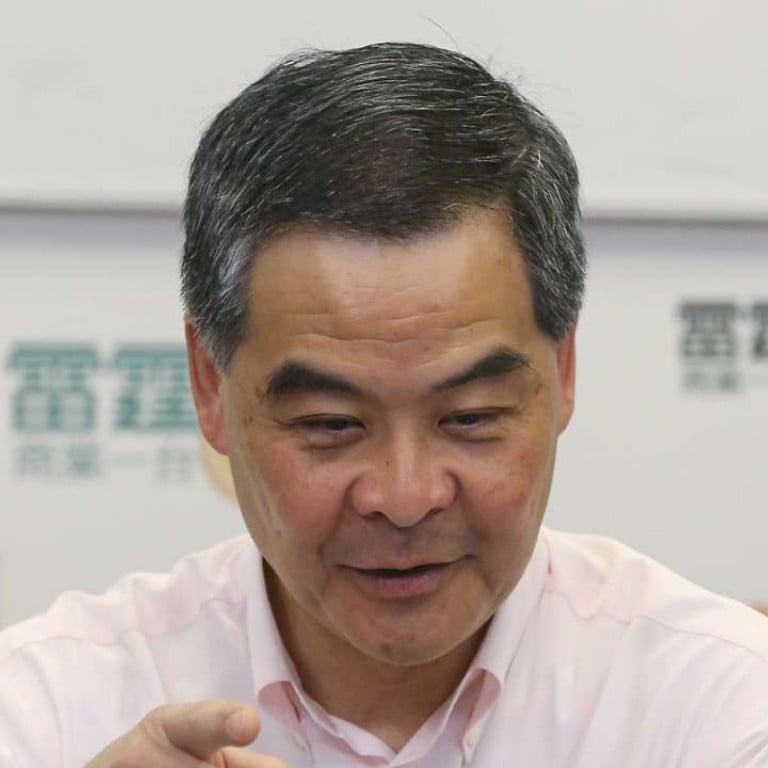 Chief Executive CY Leung blames Hong Kong voting system for independence calls
Speaking on a radio programme on Sunday, Leung responded to critics claims that his confrontational style of governance was encouraging people to think about splitting from the mainland
Chief Executive Leung Chun-ying has blamed Hong Kong's election system for contributing to increasing calls for independence and self-determination.
He was responding on a radio show yesterday to his critics' allegations that his confrontational style of governance was encouraging people to think about splitting from the mainland.
Leung has been mockingly called the "Father of Independence" by localists who point out that he brought the topic into the spotlight by giving undue publicity to a previously obscure student publication advocating such talk.
Yesterday, Leung pointed a finger at the Legislative Council elections. He argued that since it could be enough to win a seat with only 10 per cent of the votes, and those voters were usually positioned at the most extreme end of the political spectrum, some candidates were proposing radical platforms to gain support.
The pro-independence Hong Kong National Party plans to run in the September elections. Also joining the race by advocating self-determination is Demosisto, the newly launched party formed by student activists, including Joshua Wong Chi-fung.
The chief executive reiterated yesterday that Hong Kong independence would be unconstitutional and inviable.
"I don't know if anyone would use Hong Kong independence or other radical demands to attract the most radical 10 per cent of voters [in the Legco elections] ... But in future the SAR government and the public need to be aware of this," he said.
Chinese University political scientist Ivan Choy Chi-keung said while Leung's assessment was not entirely wrong, it was important to note that the current Legco election system had been in place for close to two decades.
"But it's only in the past one or two years that [calls for independence] have emerged. So you cannot blame the system entirely," Choy said.
The academic suggested that Leung had made the claim to defend himself in anticipation of the pan-democrats' plan to tell state leader Zhang Dejiang that the chief executive was responsible for Hong Kong's deep political divide and social tensions.
Meanwhile, Leung reiterated he had neither abused his power nor exerted pressure on airport workers in helping his younger daughter be reunited with her left luggage at the airport.
He suggested she might have been tired and "absent minded" after a flight from India to Hong Kong the previous night.
"If I had exercised the privilege, I would have arranged for her to leave from the government's VIP room and then nothing would have happened," he said.
"But after all, since she did cause trouble for security and airline staff, I believe she will not forget her baggage again in the future."