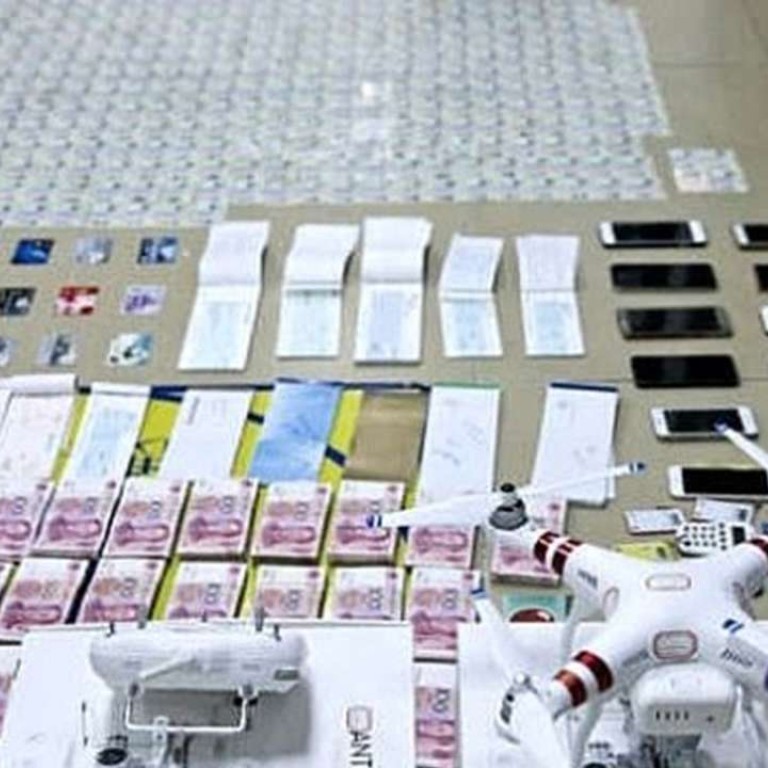 Drone plot foiled ahead of Zhang Dejiang's Hong Kong visit
Veteran activist Tsang Kin-shing confirms asking one of five people arrested by Shenzhen police to buy an aerial device
A man arrested over an alleged plot to use a drone to disrupt a state leader's Hong Kong visit was asked to buy the device by veteran local activist Tsang Kin-shing.
Shenzhen police on Sunday said they had arrested five people – two of them from Hong Kong and the others from the mainland – over the alleged plot, just two days before Hong Kong hosts state leader Zhang Dejiang under the highest security alert.
One of the Hongkongers, identified as a 56-year-old man surnamed Guo, was said to be helping a member of Hong Kong's "opposition" to cause a nuisance. He was described as a long-time sponsor of the opposition camp and had procured a drone for the opposition figure, only named as "Tsang".
Last night, Tsang Kin-shing confirmed he had asked some friends, including Guo, to buy a drone from the mainland a month ago. Tsang, a former lawmaker and now a member of the League of Social Democrats who is known as The Bull, said he had thought of using a drone for protests, not just for Zhang's visit.
This came as Chief Executive Leung Chun-ying made it clear yesterday that he was not afraid of pan-democratic lawmakers bad-mouthing him in front of Zhang when they meet the National People's Congress Standing Committee chairman on Wednesday.
Police are deploying thousands of officers in a security blanket that will follow Zhang from the moment he lands tomorrow.
Much of the focus will be on his presence at the "One Belt, One Road" summit on China's trade strategy, to be held on Wednesday at the Convention and Exhibition Centre. Zhang will also inspect the city and meet politicians, including four pan-democrats who will ask Zhang not to back Leung for a second term as chief executive.
Leung appeared unworried yesterday. "As opposition parties ... the pan-democrats may feel they have a responsibility to oppose the government," he said. "Even though they have said they will tell [Zhang] not to allow me to be re-elected, I will still arrange for them to meet with the central government in the future."
Professor Zhang Dinghuai, a deputy director at Shenzhen University's Centre for Basic Laws of Hong Kong and Macau, expected Zhang and the pan-democrats to talk about democratic reform.
Apart from the emphasis on the belt-and-road initiative, Zhang would also reiterate the importance of maintaining national security and Hong Kong's responsibilities in that regard.
Political heavyweight Rita Fan Hsu Lai-tai, a Hong Kong delegate to China's parliament, saw no problem with the pan-democrats saying what they wanted to Zhang, though she expected it to have little impact on Leung's chances of being re-elected.
Police have designated four zones for protesters, with the closest one in an open space behind the government offices building in Wan Chai, about 200 metres from the convention centre. Critics are complaining that protesters are being kept out of sight.
Assistant police commissioner Cheng Yiu-mo said "counter-terrorism security measures" would be in place over the next few days, but gave no details. He said the terrorism risk was "quite high" for Zhang's visit, but would not confirm any credible intelligence the force might have received.
It was understood the force would deploy rooftop snipers from the elite Special Duties Unit, but Cheng declined to say if they would shoot down any drones.
Shenzhen police said the arrests over the plot were made on May 6. They also seized 815 Hong Kong ID cards, believed to have been used for money laundering and fraud, among other crimes.