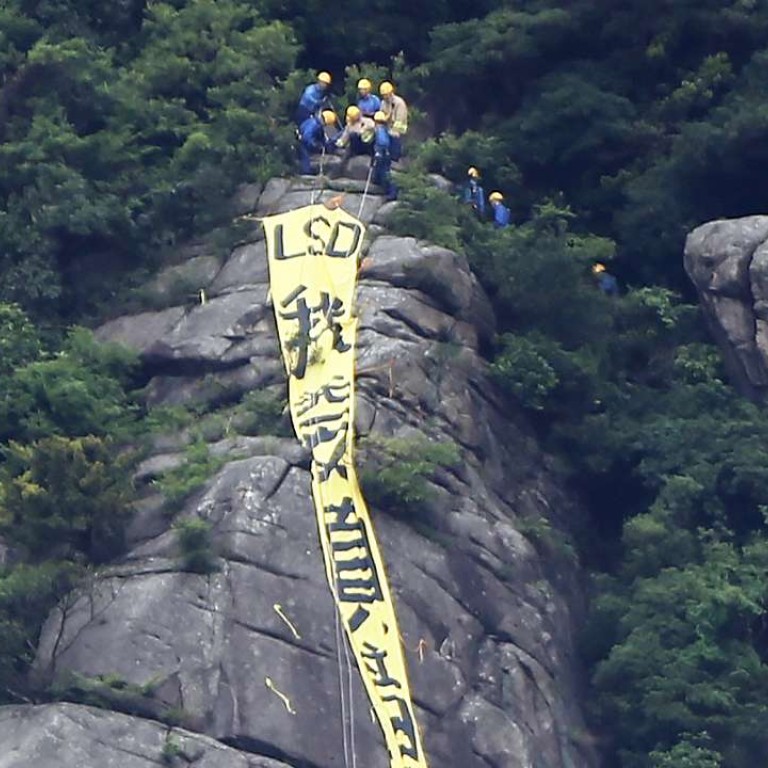 Hong Kong's pro-democracy groups drape banners from hills as Zhang Dejiang arrives
State leader is in the city for three-day visit, marked by a massive police security operation
As a "souvenir" for state leader Zhang Dejiang, a giant yellow banner declaring, "I want genuine universal suffrage" was draped over a steep slope on Beacon Hill on Tuesday morning.
It was right next to the iconic Lion Rock, where police officers had been stationed since Monday to prevent exactly that kind of protest, meant to embarrass Zhang.
Firefighters arrived soon after, abseiling down the rock face to remove the 10-metre-long banner, a familiar symbol of the Occupy movement that paralysed parts of Hong Kong for 79 days in 2014.
Four hours later, the League of Social Democrats hung another banner, reading "End Chinese Communist Party dictatorship" atop a partially built flyover on the North Lantau Highway.
At almost the same time, yet another banner, bearing the words, "Universal suffrage for the whole country", appeared on the hillside near the Tsing Ma Bridge.
It was a day of guerilla tactics by protesters trying to greet the chairman of the National People's Congress Standing Committee, from the moment he arrived in the city at around noon on Tuesday for his three-day visit.
Scuffles broke out in different places as a massive police cordon tried to keep protesters as far away from Zhang as possible, while activists did their best to make themselves visible in the hope that Zhang would get a glimpse of their discontent.
The protesters came prepared to seize maximum publicity.
"We want to ask Zhang Dejiang not to hide and to go back to Beijing," League chairman Avery Ng Man-yuen said as he live-streamed video footage of himself surrounded by police officers on Facebook, after hanging the banner on the North Lantau Highway.
"If he is afraid of people in Hong Kong, he shouldn't come to Hong Kong."
The league said the banners were "souvenirs" for Zhang, reflecting Hongkongers' determination to pursue democracy and freedom.
On Tuesday morning, police made a final sweep of parts of Wan Chai in preparation for Zhang's arrival, with divers ensuring the waterfront was also secure.
Tensions ran high near the Grand Hyatt Hotel, where Zhang was staying, with scores of officers keeping protesters at bay.
At Hong Kong International Airport, before Zhang landed, security guards even took away journalists' umbrellas.
They also raised eyebrows by confiscating a small yellow towel a reporter was using to protect a camera lens. Yellow was the offending colour that came to symbolise the Occupy protests.
Moments before Zhang and his heavily guarded motorcade arrived in Wan Chai at about 1 pm, about a dozen protesters tried to make a dash for the Grand Hyatt Hotel from different locations.
They included members of Demosisto, the political successor to activist group Scholarism.
Police outnumbered protesters, and all were swiftly subdued. No one was arrested.
Demosisto members said they had booked a room at a hotel near the Grand Hyatt ahead of Zhang's visit and hid at the Shui On Centre, Harbourview Hotel and the Art Centre before his arrival.
Demosisto's Derek Lam Shun-hin, who wore a formal suit to blend in with the crowd, said they wanted to tell Zhang that Hongkongers had a right to self-determination.
"As soon as we held up our signs, the police grabbed them from us," he said.
"Why are the Hong Kong and central governments such cowards and ignoring Hongkongers' demands?"
Nathan Law Kwun-chung, also from Demosisto, said the group decided to use hit-and-run tactics to get near Zhang because there was no point in chanting slogans in protest zones deliberately designed to keep them out of sight and earshot.
Last night, lawmaker Gary Fan Kwok-wai of the NeoDemocrats put 100 headstone-shaped paper cuttings on display in Tamar Park to mourn those who died in the Sars epidemic of 2003.
The group accused Zhang, who was Guangdong governor at the time, of deliberately withholding information about the outbreak across the border.
That, they said, deprived Hong Kong of the time to take contingency measures and minimise the impact.
A total of 299 people died of Sars in the city.
Those sentiments were in response to Zhang's opening remarks upon arrival that "we scored victory in the fight against Sars", drawing angry comments all over social media.
Wong Yam-hong of doctors' group Médecins Inspirés said it was inappropriate for Zhang to use Sars as a reference to bond with Hong Kong, given the poor handling of the epidemic, with mainland officials being accused of a massive cover-up that allowed the virus to spread to the city back then.
"Sars was a very hard time for the city," he said.
"It is not a subject that should be used to take advantage."
The guerilla game between police and protesters looked set to continue on Wednesday.
Additional reporting by Raymond Yeung and Emily Tsang