Focus
Get more with myNEWS
A personalised news feed of stories that matter to you
Learn more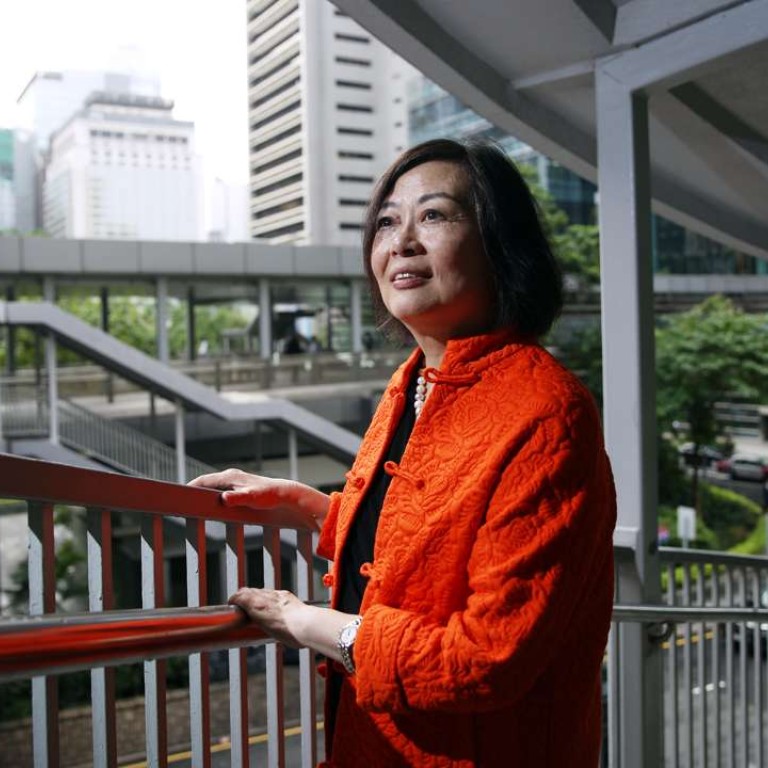 Twenty years on: Victories and setbacks for Hong Kong's Equal Opportunities Commission
Past commission chairwoman Anna Wu, who was instrumental in the creation of the equality watchdog, fears the government does not have the will to pursue the issue further
This month marks 20 years since Hong Kong's one and only statutory body specifically dealing with equality issues was established. Since then, the operation of the Equal Opportunities Commission (EOC) has been marked as much by turmoil as triumph.
Even its formation was a difficult one, the result of a passsionate and at times painful campaign against a backdrop of a politically charged time in Hong Kong's history.
Former chairwoman and current Executive Council member Anna Wu Hung-yuk is credited by many as instrumental in introducing equality laws to Hong Kong and the commission's establishment back in 1996.
Wu was then a lawmaker in the Legislative Council, the final appointment in 1993 to the legislature by Hong Kong's last British governor, Chris Patten.
With no voters to answer to, she was able to focus all her energy on two pet projects – the fight for a representative government and the creation of a human rights protocol.
She said the pre-1997 era of uncertainty presented a window of opportunity when it came to establishing the commission.
"It was a time which was awkward, where sovereignty change was imminent and there were still lots of issues to be dealt with," she said.
"[We had] a sunset government about to leave Hong Kong ... [for whom] it would be an embarrassment to deny Hong Kong equality rights.
Wu proposed two private members' bills: an equal opportunities bill with provisions for all areas related to discrimination, which Wu was able to introduce to the Legislative Council without government approval as it did not require government money.
The second was the Human Rights and Equal Opportunities Commission Bill, to establish a statutory body. Given the need for funding in this case, Wu had to write to Patten to seek consent.
Patten, however, rejected the request as the government was about to present an alternative bill, seeking to legislate against gender, disability and family status discrimination, as well as set up an equal opportunities commission to enforce the laws.
The government's proposed bill went through instead of Wu's, and the commission was established with the enactment of the Disability Discrimination Ordinance and Sex Discrimination Ordinance on May 20, 1996.
It was a significant advance, although the administration drew the line at passing laws against racial discrimination before 1997, and it would take until 2008 for the Race Discrimination Ordinance to come into being.
While the fight to establish the EOC had ended, the battle to uphold the anti-discrimination laws and press for a more equal Hong Kong had just begun.
Initial victories included the first use of the Disability Discrimination Ordinance in 1997 to help a disabled woman seek an apology and compensation from a taxi driver, as well as taking four publications to court for carrying adverts with sex-specific descriptions with an intention to discriminate.
Other wins saw former chairman Lam Woon-kwong successfully negotiate with the government to use administrative means to allow ethnic minorities once again to apply for certain government jobs.
Also significant was the release this year of the commission's first-ever discrimination law review, which took three years to complete.
However, the most significant achievement in its 20 years of operation is widely considered to be the use of the commission's powers to initiate a court case against the government over gender bias against girls in the secondary school allocation system in 2001.
The Commission, at the time led by Wu, launched a judicial review over the allocation system that it claimed favoured boys over girls, as girls were required to obtain higher grades to have the same placement opportunities and school choices as boys, the reason being that boys were "late developers".
The commission won the case, which resulted in a complete overhaul of the secondary school allocation system.
But the watershed victory had an unexpected knock-on effect in terms of who the government appointed to the body's top position.
Barrister and former lawmaker Margaret Ng Ngoi-yee said the case angered the government, which in turn began to appoint "safer" people to lead the commission.
"Yes, the win was a major milestone and showed what the EOC could do. But it also showed the government what the EOC could do – only when the people at its helm are not afraid to use that power," said Ng.
Wu agreed, saying her practice of being outspoken during her tenure as chairwoman from 1999 until 2003 irked the administration, which in turn threatened to weaken the EOC's power.
"The government disliked the actions I took as the EOC chairman," she said. "They threatened to downgrade my post and also cut the budget for the EOC."
Controversy continued to dog other leaders after Wu's tenure, with three leadership changes between 2003 and 2005, during a period of internal governance problems.
Wu was succeeded by ex-judge Michael Wong Kin-chow, but he resigned just three months into the job after it emerged he was receiving a government pension while heading the commission.
Patricia Chu, who retired as deputy director of social welfare before taking up the role left by Wong in December 2003, only served for one year before declining renewal of her term "for personal reasons".
She was followed by Raymond Tang, previously the Privacy Commissioner for Personal Data, who was appointed for a five-year term. He was criticised for lax and lavish spending and lacking supervision.
Dr York Chow Yat-ngok ended his tenure this year amid charges that he was not reappointed because he was too outspoken.
And even current chairman Alfred Chan Cheung-ming's appointment has been criticised, with some rights groups saying he is unqualified for the post due to a lack of experience in rights advocacy.
Chow told the Post he went in to the role knowing that he would not be reappointed.
"I knew that I would only have three years, so I had to make it count," he said.
A skilled administrator who also spent time in the Hospital Authority and as Secretary for Food and Health, Chow spent six months talking to most colleagues, setting up teams and opening communication channels and dialogue within the body.
"The EOC previously had chairpersons who had personal issues, but which affected the credibility and morale of the staff," Chow said. "I wanted to build a strong team which could last when the chairperson cannot."
Ng said the controversies around the commission's leadership outweighed its accomplishments, with the commission's success depending on its leader.
"If it's a person who is passionate about human rights and willing to take initiatives like [Wu], it is possible to accomplish something. But unfortunately the government appointed more and more docile people to the role," she said.
Both Wu and Chow said advocating human rights in Hong Kong was an uphill battle.
"To be honest, I can't see this government – or the next – taking up human rights issues seriously ... they have neither the will nor the energy," Wu said. "But it shouldn't stop us from calling for it and fighting for it."
Chow was more optimistic, but also criticised the government for not having enough vision.
He also accused the government of being led by the nose by politics. The government only did what it thought would get it political support, and equality ranked low, he said.
"The government can't ignore politics, but it should still push important topics such as equality and human rights, and learn to manage politics," Chow said.
Human rights and equality had emerged as important issues in the world, and it would only do Hong Kong good to adhere to those principles, he said.
"And if Hong Kong is to continue to be reckoned with as an international city, we should be advancing these rights."