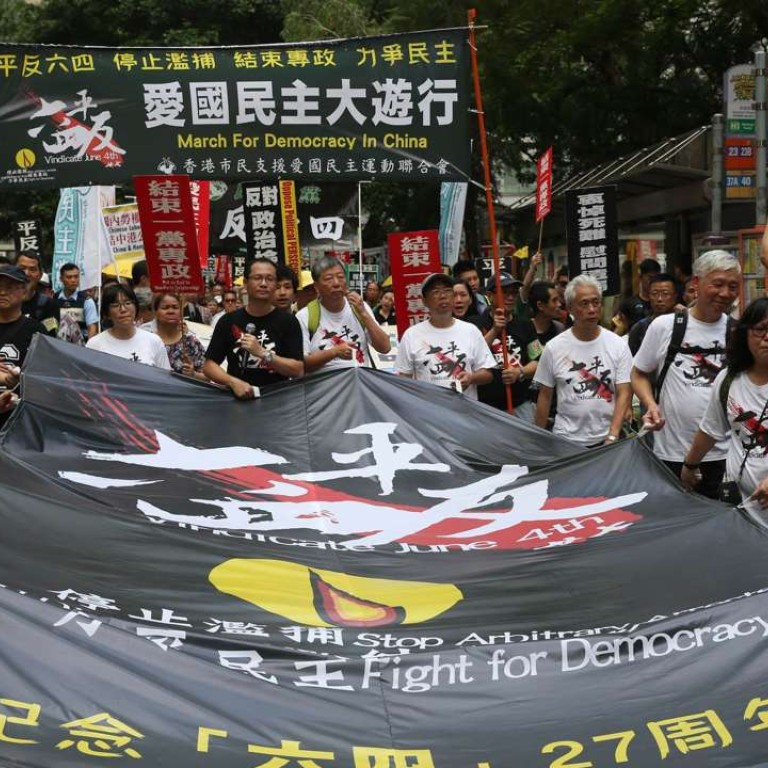 Turnout plunges by half as Hongkongers march to remember June 4 Tiananmen crackdown on pro-democracy
The annual march to Beijing's liaison office comes as youngsters say they want to focus on localism and protecting Hong Kong's identity
The turnout of the annual march commemorating the Tiananmen Square crackdown in 1989 has dropped by half this year amid a rising localist sentiment in Hong Kong.
Only 1,500 Hongkongers have joined the march from Wanchai to the Beijing's liaison office in Western District on Sunday, according to the organisers, comparing to the 3,000 last year. Police put the figures at 780 at the protest's peak.
Richard Tsoi Yiu-cheong, vice-chairman of the Hong Kong Alliance in Support of Patriotic Democratic Movements of China, denied the drive in pressing Beijing to admit the wrongdoing 27 years ago had lost appeal , especially from Hongkongers.
The alliance has been organising the march and candlelight vigil in Victoria Park since 1990.
"We are satisfied with the turnout, which has its ups and downs in the previous years," said Tsoi, adding he had seen even fewer participants in the past and believed the upcoming vigil would be a better indicator of public support.
The drop came amid a growing rift between the younger generation and the Hong Kong Alliance. The student unions of the city's universities would boycott the annual candlelight vigil in Victoria Park next Saturday as they disagree with one of the organisers' key demands – "to build a democratic China", with some student leaders said the commemoration should come to an end.
The march yesterday was apparently dominated by the middle-aged, but young social work students from Shue Yan University and Baptist University did stand out to show the public they did not side with the views of student leaders.
"The June 4 incident is not just a matter concerning China but one of the most brutal crackdowns in recent years. Hong Kong should not steer clear of it," Lui Chun-yin, of the Shue Yan University, said.
His university's student-run editorial board had earlier attacked the Hong Kong Alliance, calling its leaders "pimps and bawds in a brothel".
Miss Ng, a 21-year-old student at Hong Kong Design Institute, also said it was critical to continue the drive.
"The authority is trying to hide this piece of history," she said. "Our power [to demand Beijing admitting the wrongdoing] would be greater if we stay united."
Old citizens who have insisted joining the march for more than two decades also acknowledged the importance of remembering what happened in Beijing 27 years ago.
Lai Luen-sing, 84, said the students had the right to argue otherwise, but the evil deeds committed by the Communist Party should never be forgotten.
"Even the 1989 student movement has been vindicated, we still need to commemorate it," Lai said.
Mr Lee, a 48-year-old accountant, said he would still join the vigil although it was "a bit ritualistic" as it was important "to show China and the world there is still a group of people who have not forgotten what happened [in Tiananmen Square]."