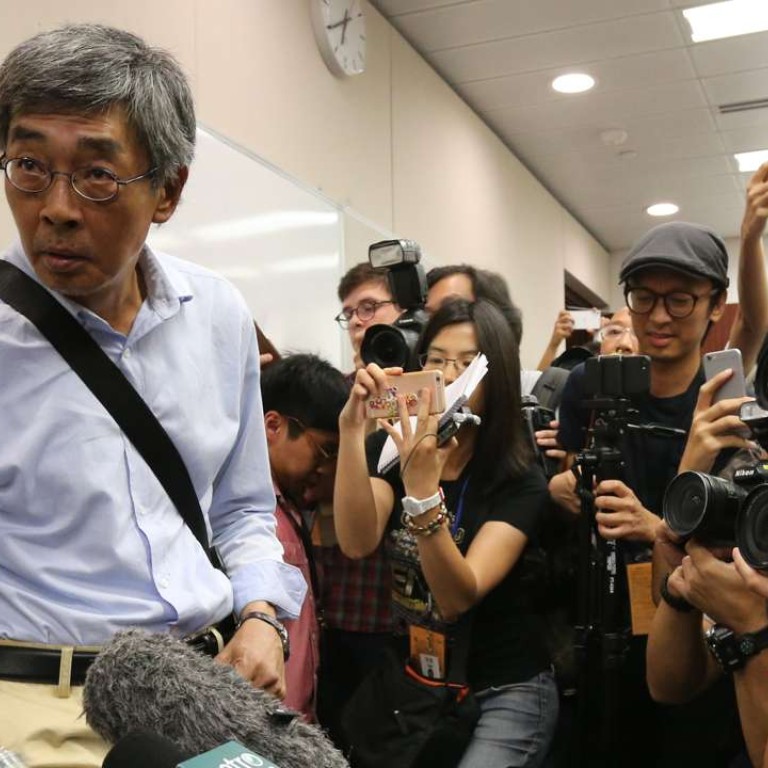 Update
Bookseller Lam Wing-kee reveals explosive details of his mainland China detention, claims Lee Po told him he was 'taken away from Hong Kong'
Causeway Bay Books associate who disappeared in Shenzhen last October also describes 'surreal' 24-hour watch and his staged televised confession
One of the five Causeway Bay booksellers who went missing last year and turned up in mainland custody blew the lid on Thursday on what happened to them, revealing that he had been kidnapped at the border and put through eight months of mental torture.
"It can happen to you too," Lam Wing-kee warned Hongkongers as he revealed that he had met one of his previously missing associates, Lee Po, on Thursday who told him he had also been ­abducted in Hong Kong.
Lam described in explosive detail how he was taken away, blindfolded and handcuffed by a special task force 中央專案小組while crossing the border to Shenzhen last ­October.
Two days after quietly returning home and asking local police to drop their missing person investigation into his case, the 61-year-old Hongkonger was defiant, breaking a silence that had been maintained by three of his colleagues who were earlier allowed to leave by mainland authorities.
The Causeway Bay Books store manager said he had decided to risk his personal safety in speaking out because this was a matter that jeopardised the "one country, two systems" policy under which Hong Kong is ­governed.
"This is not just about me. This is about the freedom of Hong Kong people. The Chinese government has forced Hong Kong people into a dead end," Lam said, his fists clenched.
"I am not worried about my personal safety. I have no plan to go to the mainland again. We Hong Kong people are all in the same boat. It can happen to you, too, if I don't speak up."
Asked if he was scared there could be a repeat, he replied it was up to whether the Hong Kong ­government could take care of its people.
The mysterious disappearances of the five men involved in selling books full of gossip about China's leaders began in October last year.
Gui Minhai vanished first from Pattaya in Thailand. Lam, Cheung Chi-ping and Lui Por went missing while on the mainland. Lee Po disappeared from Hong Kong in December.
All five eventually surfaced on the mainland, appearing on state media to claim they had gone there voluntarily.
Gui has since been accused of ordering his associates, including Lam, to deliver about 4,000 banned books across the border since October 2014.
On Thursday, Lam said he was crossing the border to visit his girlfriend in Shenzhen on October 24 when he was intercepted by mainland officers.
"The next day ... I was handcuffed and blindfolded. They even put a cap on me. After 13 to 14 hours on a train, I arrived in Ningbo city [Zhejiang province]," he recalled.

Gui was paraded on state television in January, claiming he had surrendered voluntarily over a 2004 drink-driving incident in Ningbo.
Lam said the people who detained him had forced him to sign a form in which he agreed not to inform his family of his situation, and that he would not hire a lawyer. He signed it as he had no ­option.
His interrogators asked him why he had been smuggling banned books into the mainland and accused him of breaking the law, which he rejected.
The interrogators showed him a list of 500 to 600 mainland customers to whom the bookstore had delivered material.
The list was given to the interrogators by Lee Po, he was told. Lam also revealed that when he appeared on state television, he was made to read from a script he was given.
He said he was released because the interrogators wanted him to bring back a hard disk ­containing more information about the bookstore's mainland customers.
The Hong Kong government would only say police were seeking more information from Lam, and that it would be unacceptable for any law enforcement work to be carried out in the city without official permission.
Additional reporting by Gary Cheung