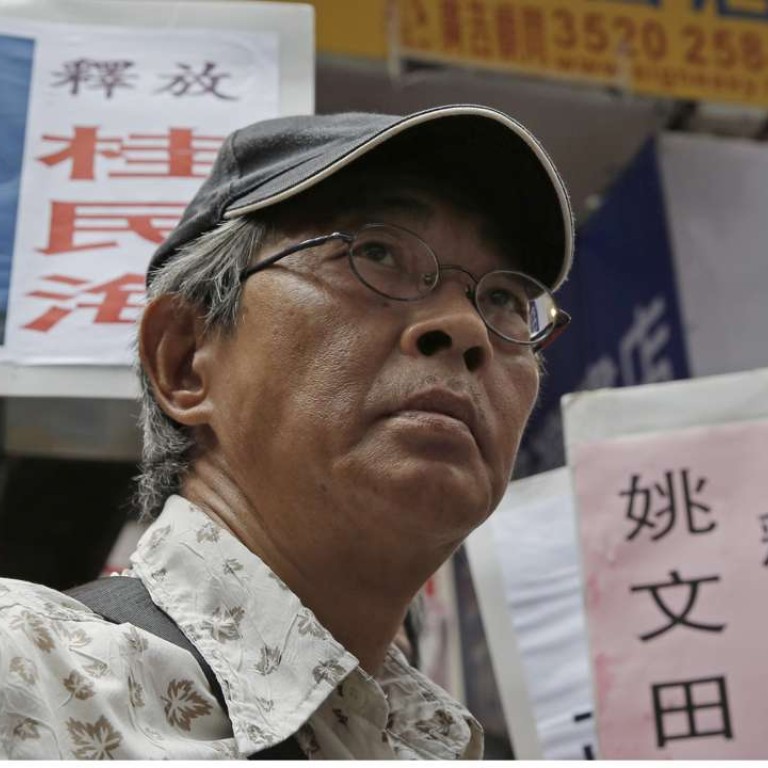 Character assassination? Accusations fly as bookseller Lam Wing-kee's lover calls him a liar and 'not a man' for tricking her
A mainland woman named Hu said bookseller "completely ruined the image of Hong Kong men", as fellow booksellers distance themselves from his story.
A woman claiming to be bookseller Lam Wing-kee's girlfriend has unleashed a scathing attack on him, calling him a liar and an unmanly character, days after he revealed harrowing details of his detention by a special investigation unit on the mainland.
The woman who lives on the mainland and gave her surname as Hu was quoted as saying the bookseller was "not like a man" and had "completely ruined the image of Hong Kong's men" and lied to her about the legality of banned books when persuading her to help distribute them.
Hu, 37, was said to be crying during the interview, conducted in an undisclosed mainland city by Sing Tao Daily, the only Hong Kong media to be given a series of exclusive interviews on the mainland throughout the booksellers' saga.
At a Thursday press conference, Lam revealed he had a girlfriend on the mainland and suggested he had no choice but to sacrifice the couple's relationship to tell Hong Kong of his terrifying ordeal. He did not name her, however. At stake, he said, was the freedom of Hong Kong people and the future of the one country, two systems principle.
Two commentators familiar with mainland politics called Hu's interview the latest in a series of attempts from hidden hands to blacken Lam in the fashion of "character assassination".
In her interview, Hu criticised Lam for revealing their relationship at his press conference. But the woman, pictured in the paper with long black hair and a red-T shirt but with her face pixelated, went on to disclose intimate details of how they went to a hotel a month after they met online.
Her revelations come a day after two of Lam's four other colleagues at the Causeway Bay Bookstore who had also gone missing on the mainland and reappeared months later in Hong Kong disputed his account of what he went through.
The two, Cheung Chi-ping and Lui Por, told Sing Tao Daily that Lam was lying. Lui said he had never been forced to read out a script prepared by mainland authorities for state television, as Lam claimed he himself was made to do.
Lee Po, the boss of the bookstore and the publishing house Mighty Current who was also among the five who went missing last year, also disputed Lam's account.
Lam had said Lee Po, who has maintained that he went to the mainland voluntarily, said Lee had told him he was kidnapped from Hong Kong in December. Yesterday, Lee spoke to the media to deny this was so, declaring: "I decline to admit what he said about me. Talk about your story as you wish. I won't make any comments. But don't get me involved."
This slew of denials by Lam's associates comes days after Lam detailed his detention, the only one of the five to reveal he was taken away forcibly, painting a troubling picture of the long arm of the mainland's security apparatus on Hongkongers.
Lam recalled his "mental torture" at the hands of a special central investigative unit. He was blindfolded by officers in Shenzhen, taken on board a train bound for Ningbo where he was interrogated, and forced to give up his right to hire a lawyer or meet with relatives.
But his mainland girlfriend has challenged the last point, saying that when she was arrested with him, the officers did tell them they enjoyed the right to legal representation.
It was out of consideration for Lam's aged parents and his own family that the pair decided not to hire a lawyer or contact relatives.
Lam, according to her, lied when he asked her to help distribute books that were banned on the mainland. He would mail her the books for her to then mail to the customers on the mainland and pay her the fees every time she helped, a practice that started eight or nine months after they knew in 2014.
"He introduced me to the business of the bookstore, repeatedly brainwashing me," she said. "Lam Wing-kee never told me it was contrary to mainland laws to sell these books through mailing."
Singtao Daily cited her as saying: "He is not like a man, let alone a Hong Kong man ... He has completely ruined the image of Hong Kong's men."
Johnny Lau Yui-siu, a veteran China watcher, likened the interview to an official propaganda war.
"As Mr Lam's remarks exposed the nature of the incident and the processes of the investigation, the government is on the losing side," he said. "It is customary for the mainland to wage a propaganda war and character assassination against [him]."
Lau Tat-man, chief editor of Frontline magazine specialising on mainland politics, questioned the claims made by Lam's associates.
"If Cheung or Lui had been so conscientious, why didn't they come to Hong Kong to rebut him but took an interview in an unspecified location?" he said on RTHK programme City Forum.
Meanwhile, TVB has abruptly axed a Sunday live interview with Lam, the Post has learnt from Democratic Party lawmaker Sin Chung-kai who said Lam had been invited and then un-invited from the On The Record talk show. TVB could not be reached for comments.
Yesterday, Sin and several thousand people joined Lam at a protest rally that began at Causeway Bay and ended at the Beijing liaison office in Western District. Today, Lam is scheduled to meet foreign media.
In another development the daughter of the only bookseller still under mainland custody has released a fresh statement following Lam's expose, praising him as a "brave" man and urging China to release Gui Minhai.
"It is sad that the only person [who] has spoken out has done so because he has not got family on the mainland that could be threatened and punished for his choice to tell the truth," Angela Gui said on her Twitter account.
It was "beyond doubt", she said, that her father was abducted, forced to confess and deprived of a chance to contact a lawyer or his family, when she compared his plight with Lam's recollection of what he underwent.
Angela Gui, who is studying in the UK, called on the British government to honour the pledge of one country two systems as well as the Swedish authorities to protect her father, who is a Swedish national.
"China needs to ... ensure my father's safe return home," she added.