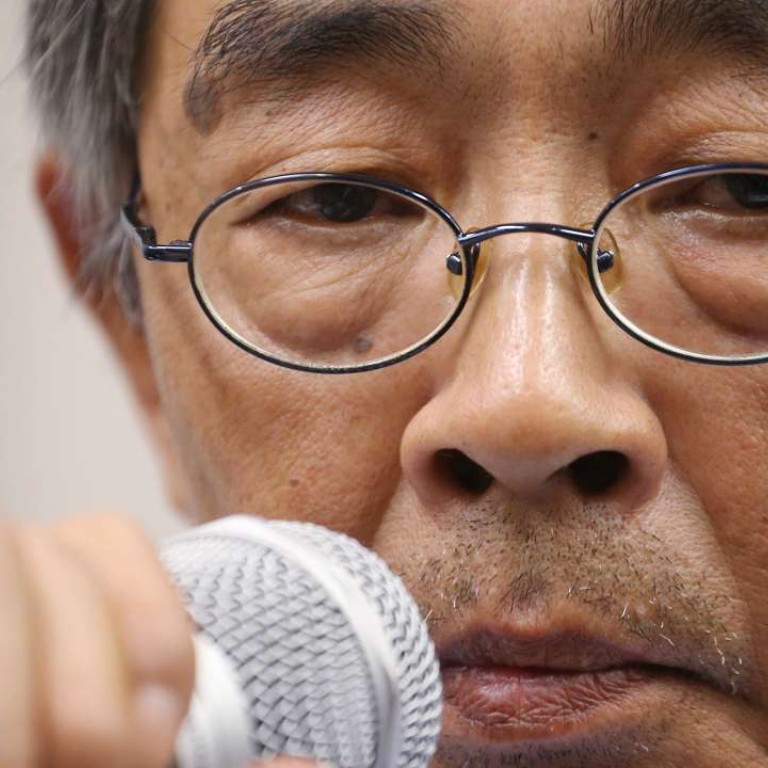 Hong Kong bookseller in the confessional during eight months of detention in mainland China
Video aired in Beijing shows Lam Wing-kee confessing to selling banned books on the mainland, while depicting him being treated well
It was not the usual videotaped confessions seen on Chinese state television.
On a room-wide screen ­installed in the heart of the mainland's formidable public security complex, every bit of Lam Wing-kee's life as a detainee – his food rations, haircut and medical check – was on display on Tuesday.
The bookseller who defied the mainland's pre-trial bail conditions and spilled the beans about his ­ordeal upon returning to Hong Kong was, according to the video released in Beijing, ­remorseful for his crime of selling "banned books" that carried juicy, critical and, in his own words, "fabricated" details of the Communist Party.
"Hongkongers won't read these books," Lam, co-founder of Causeway Bay Books, told mainland interrogators in footage shot from an overhead camera. "Whoever reads them knows they are fabricated, mostly fabricated."
The 16-minute video provided by the Ministry of Public Security was shown to Hong Kong journalists during talks between high-level Hong Kong and mainland officials on how to fix the mutual notification system that was supposed to have worked in a case like Lam's.
Secretary for Justice Rimsky Yuen Kwok-keung and Secretary for Security Lai Tung-kwok, who led the one-day trip, watched the video in a conference room two hours before boarding a return flight to Hong Kong.
According to the edited and narrated video, Lam, who was held without due process or access to a lawyer on the mainland, confessed to the particulars of the offence.
"Because I have breached China's legal provisions, I am very remorseful," Lam was shown telling his interrogators, pleading for lenient treatment.
In another scene, he said he was aware it was illegal to send such books to the mainland.
The video started by outlining Lam's offences, with clips showing him detailing how his controversial books came into existence when questioned by interrogators in the city of Ningbo.
"[An author] found such books were very popular and would take some time after work in the night to copy and paste information on the internet," Lam told interrogators, gesturing with his hands. "Then he would rely on magazines and news reports to compile a book within a month or so."
He added: "That rubbish book sold 3,000 copies."
Sensationalism was key to popularity, he told the interrogators. "All titles were provocative. For instance if it's a [book] about China's poor economy in 2016, we'd call it 'Great Explosion' or 'Big Collapse'," the video showed him saying.
While the video showed Lam in apparently good spirits and admitting to the offences he had committed, observers noted that there was nothing specific to disprove the claims he had made to Hong Kong journalists.
The video, though, provided fresh figures, saying Lam had handled 368 book transactions worth 400,000 yuan (HK$466,000) in the space of three years.
Public security officials ­appeared keen to show Lam was treated humanely while detained. In a series of surveillance scenes, Lam was shown eating, chatting with officers, looking at his phone, reading at his bedside and having his blood pressure checked.
Even his hair cut was captured on camera. Asked by the hairdresser if he was satisfied with his new look, Lam gave him a thumbs-up.
The depictions were in stark contrast to Lam's claims back in Hong Kong that he had contemplated suicide.
After spending five months in Ningbo, the video said, Lam ­applied for bail in March this year.
The video showed for the first time the language used in Lam's request to be sent to Guangdong.
"I am writing to apply for a fixed residence and profitable work (preferably related to the management of books) in any Guangdong city. I plead for assistance, thank you very much!" he wrote.
Later, he was transferred to Shaoguan in Guangdong, where he endured less surveillance and worked as a librarian.
Last month, he was allowed to return to Hong Kong. What officials thought would be a return trip turned out to be one-way.
Mainland officials now accuse him of breaching his bail conditions, threatening him with stepped-up "criminal compulsory measures" if he fails to return.
As if to prove that Lam was aware of the bail conditions, the video contained footage showing a law enforcement officer reading out the terms. One of the five points banned him from leaving the designated city.
Why Lam was allowed to return to the city remains a subject of much debate.
According to the bookseller, the trip came with a condition – that he should bring back hard disks containing information about mainland customers who bought his books.
He claimed that two mainland agents were following him when he was in Hong Kong last month, although sources told the Post they had turned back after dropping him at the border. The video only said that mainland authorities agreed to his Hong Kong trip on the basis that he acknowledged the bail conditions.
Public Security Minister Guo Shengkun, who was present at the official talks, did not answer media questions.
Lam, who has recently raised fears about his personal safety, could not be reached on Tuesday.
James To Kun-sun, the Democratic Party lawmaker helping Lam, asked Hongkongers to look again at the document featured in the video stating that the detainee would give up his right to see his family or hire a lawyer.
"Would any Hongkonger ­believe someone would sign this voluntarily?" To asked.