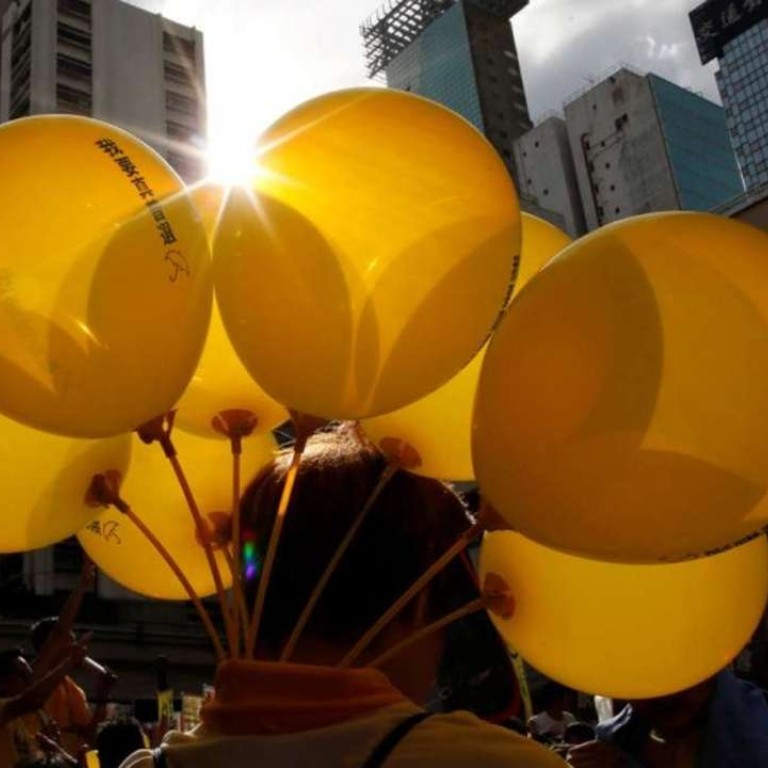 More young Hongkongers back independence and are less supportive of peaceful protest, poll shows
Scholars warn the government to pay attention as the young are 'losing patience' and unless the root of the problem is found, more unrest may follow
Almost one in every five Hong Kong residents believe that the city should go independent after 2047, a poll conducted by the Chinese University found.
The university's journalism school interviewed 1,010 residents from July 6 to 15, on their views about Hong Kong's future. It also discovered that young people are becoming less supportive of fighting for political reform in a "peaceful and non-violent" manner.
Scholars warned that government officials must try to understand what caused this shift in mindset, or face more difficulties and social unrest in the years to come.
The results come two months before the Legislative Council polls in September, and as debate heats up on a controversial addition to the electoral rules which targets independence advocates. Candidates could risk disqualification for refusing to sign a new form requiring them to declare that Hong Kong is an inalienable part of China.
Asked if the "one country, two systems" principle should be extended after 2047 – the end date of Beijing's promise of 50 years without change after the 1997 handover – 69.6 per cent of poll respondents said yes, while six per cent said no.
As for whether the city should become independent, 17.4 said yes while 57.6 per cent said no.
Another 13.8 per cent said Hong Kong should be ruled directly under Beijing, while 59.2 per cent opposed that idea.
Among respondents aged 15 to 24, supporters of independence formed the majority as 39.2 per cent said they supported the idea, compared to 26 per cent who opposed it.
Professor Paul Lee Siu-nam said since this was the first time the question of independence was asked in the poll, it was difficult to say if the number of independence supporters is on the rise. But he added: "[The government] should pay attention ... and try to find out why this group of people, many of whom are young, want independence.
"If parents find their children disobedient and want to run away from home, it wouldn't help just to reprimand them. The parents need to find out why and solve the problem by addressing the concerns of their children."
On whether people should insist on fighting for democracy in a "peaceful and non-violent" manner, 71.3 per cent said yes, while 5.9 per cent said no.
But Professor Louis Leung Wing-chi from the journalism school said young people are becoming less supportive of the "peaceful and non-violent" principle. "In March last year, only 6.2 per cent of those aged 15 to 24 did not support the idea, this time it rose to 15.5 per cent," Leung said. "It's a bit alarming."
Chinese University political scientist Ivan Choy Chi-keung added: "Support for independence and more direct ways of protest are on the rise ... Beijing should reflect on what are root causes of the problems, otherwise the trends are going to continue."
Polytechnic University political scientist Dr Chung Kim-wah said since the Mong Kok riot in February, "it is obvious that people are losing patience".
"If the city's governance does not improve ... more people might resort to violent protest, and it will hinder the government's efficiency," Chung warned.
This article appeared in the South China Morning Post print edition as: HK youth 'tilt towards independence'