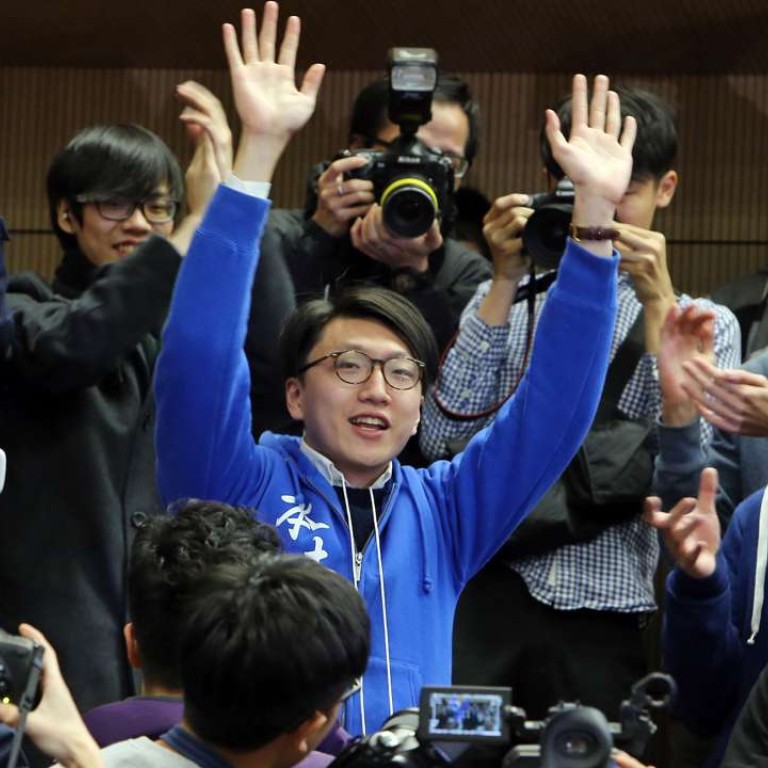 How the ban on Hong Kong localist leader Edward Leung could tip the balance in Legco elections
Other young firebrands cleared to run in polls will be the biggest winners, analysts predict, while traditional pan-democrats, and even some veteran radicals, could lose out
It may be early days yet in a month-long campaign but with one high-profile candidate banned from contesting, attention is turning to the likely winners and losers of the fallout in the Legislative Council elections come September.
Political analysts said one immediate beneficiary would be the localists who were given the green light to run. They were divided, however, on how the rejection of Hong Kong Indigenous leader Edward Leung Tin-kei would affect veteran radicals and Chief Executive Leung Chun-ying's likely bid for re-election in March.
Overall, they painted a gloomy picture for traditional pan-democrats and predicted that they were unlikely to gain much advantage by slamming the government for nothing more than political screening of candidates through the new requirement of a confirmation form.
The rejection of Leung and a clutch of other localists was also unlikely to have much impact on the pro-establishment camp with its relatively firm support base, they said.
The question of the impact of the ban on Leung takes on a greater significance given that the September 4 elections mark a generational shift for both political camps, as a fifth of lawmakers from the previous Legco term, mostly veterans, are making way for a younger slate of candidates. It will be a test of the appeal of the younger generations of both camps, who now will have to contend with localists, who tend to be young, vocal and radical.
With Leung's rejection on Tuesday, a total of six candidates in four constituencies have had their nominations invalidated by the Electoral Affairs Commission because of their advocacy of the city's independence.
Leung said he would back his localist allies and Youngspiration candidates in three constituencies in the coming weeks: Sixtus "Baggio" Leung Chung-hang in New Territories East, Yau Wai-ching in Kowloon West and Kenny Wong Chun-kit in New Territories West.
Chinese University political scientist Dr Ma Ngok told the Post that Leung's endorsements meant that Youngspiration was most likely to gain from the candidates' rejections.
"[Sixtus] Leung is the most favoured because he will get many of Edward Leung's votes," Ma said. "Even supporters of traditional pan-democrats and radical lawmakers might be angered by the government's decision and cast sympathy votes for Youngspiration next month."
But Ma added that the five radicals from the alliance formed by Civic Passion, Proletariat Political Institute and Hong Kong Resurgence Order, were unlikely to gain as their views were different from Hong Kong Indigenous and Youngspiration.
In February, Edward Leung garnered 66,000 votes in the New Territories East by-election.
Ma said Leung's voters in February included supporters who voted for radical lawmakers "Long Hair" Leung Kwok-hung, Raymond Chan Chi-chuen and Gary Fan Kwok-wai in the Legco elections of 2012 and who transferred their votes to Leung given that their men were not in the by-election fray.
While their support might have returned to these three radicals, the banning had changed the picture. "If no candidate were banned from running in the poll next month, those voters might vote for the likes of 'Long Hair', Chan and Fan, but now it is unfavourable for those three as their supporters are more likely to support Youngspiration," Ma said.
But Polytechnic University political scientist Dr Chung Kim-wah believed that while Sixtus Leung's chances had been boosted, not all the radical voters might be so moved to switch sides in September and would still rely on the proven record of the so-called traditional radicals.
In Kowloon West, Chung and Ma said Youngspiration's star Yau Wai-ching, 25, could win with Edward Leung's support, and with the number of seats in the constituency increased from five to six.
In last November's district council elections, Yau lost to her rival, pro-establishment lawmaker Dr Priscilla Leung Mei-fun, by only 304 votes. Yau took 2,041 votes, or 41 per cent of ballots cast.
In New Territories West, where the candidacy of Hong Kong National Party's Chan Ho-tin was rejected, Edward Leung will be backing Youngspiration's Kenny Wong.
On Hong Kong Island, City University political analyst Dr James Sung Lap- kung said Demosisto chairman Nathan Law Kwun-chung could benefit from Edward Leung's rejection.
Chung also warned that the rejection of candidates on the basis of the confirmation form could affect Leung Chun-ying's re-election prospects. "Beijing would agree with the rejection, but it was done in a mess and the Legco polls would need to be organised all over again if the government loses the legal challenges against the decision," Chung said.
But Professor Lau Siu-kai, vice-chairman of the Chinese Association of Hong Kong and Macau Studies, a semi-official mainland think tank, disagreed with such a scenario.
"It was messy ... but you can say that Leung has shown he is politically loyal and reliable as he made efforts to safeguard national security and sovereignty," Lau said. "I also think it is very unlikely for the polls to be organised again."
This article appeared in the South China Morning Post print edition as: How ban couldtip the balance