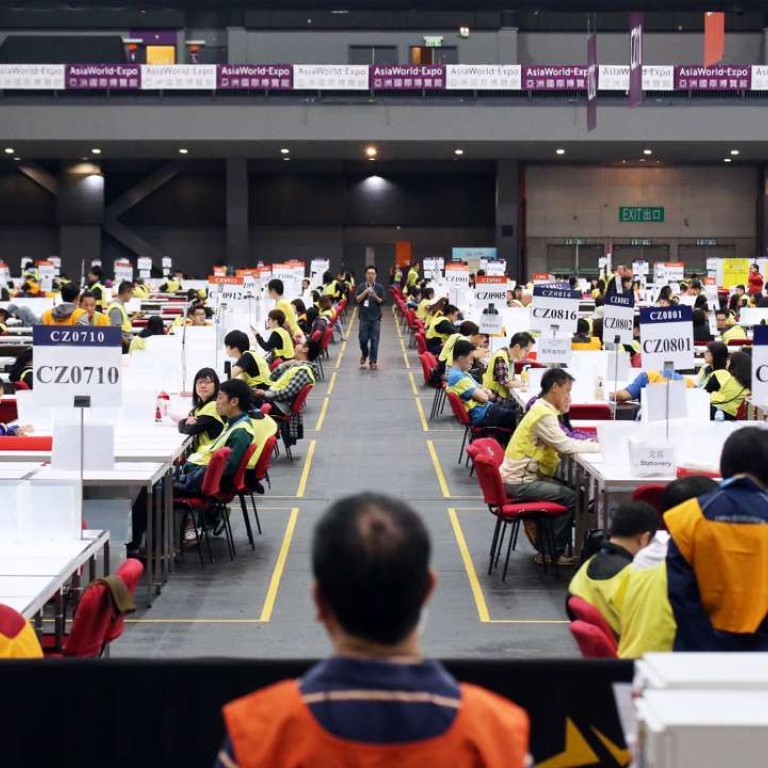 Record Hong Kong turnout for bitterly fought Legislative Council polls
Localist contenders make their mark in early vote-counting after polling stations extend opening hours as 2.2 million Hongkongers cast ballots in most critical elections since the 1997 handover
A record number of voters turned out for Sunday's Legislative Council elections, reflecting Hongkongers' eagerness to make their voices count in the most politically critical and bitterly fought polls since the city's 1997 handover.
Many flocked to polling stations late in the evening, galvanised by last-minute appeals for support. At a polling station in Taikoo Shing, the last vote was cast at almost 2.30am, four hours after the polls were originally scheduled to close.
By 5.45am, with around half the polling stations having counted their votes, young localist Eddie Chu Hoi-dick was leading in New Territories West with 70,221 votes, ahead of pro-government veteran Michael Tien Puk-sun on 59,000.
On Hong Kong Island, Nathan Law Kwun-chung – a student leader during the Occupy protests of 2014 – was running second behind pro-establishment heavyweight Regina Ip Lau Suk-yee.
Another Occupy protester running in Kowloon West, Lau Siu-lai, who until a few weeks ago was a little-known lecturer, had 32,000 votes as of 5.15am, trailing two pro-Beijing veterans: Ann Chiang Lai-wan with 45,000 votes and Priscilla Leung Mei-fun on 42,000.
All three newcomers promote a moderate form of localism, not the radical notion of seeking Hong Kong's independence from China.
Traditional pan-democrats Wu Chi-wai, of the Democratic Party, and Alvin Yeung Ngok-kiu, of the Civic Party, were leading their camps in Kowloon East and New Territories East respectively.
Earlier, Electoral Affairs Commission chairman Mr Justice Barnabas Fung Wah said about 2.2 million people voted in the five geographical constituencies, and the turnout rate was around 58 per cent – 5 percentage points higher than four years ago.
It also surpassed the 55.64 per cent in the 2004 Legco polls, which came after 500,000 people marched on July 1, 2003 to protest against proposed national security legislation.
Fung faced a flurry of questions early on Monday morning about why it took so long for the voting to finish at Taikoo, and why some voters who went to cast their ballots were told that someone had voted under their name.
"When a record breaking 2.2 million people are voting … queuing is inevitable," he said. "We took some precautions to make sure the voting is [carefully done], and it took longer … You need to queue up even when you are going to the bank."
In the first general legislative polls since the Occupy protests in 2014, voters chose between the traditional pan-democratic and pro-establishment camps, as well as a new force of localists who have irked Beijing with calls for ­independence from China.
Chinese University political scientist Dr Ma Ngok said the results showed new voters were looking for fresh faces who also had a track record of social activism.
Ma also believed the sudden pull-out of the Liberal Party's Ken Chow Wing-kan, who claimed he was threatened, had benefited Eddie Chu, a long-term activist against the alleged collusion of rural forces and triads.
Beijing is expected to use the result as a reference for the chief executive election next year.
With opinion polls suggesting a strong showing by pro-establishment forces, all eyes are on whether the pan-democrats can retain their veto-empowering one-third of 70 seats in the legislature, as well as a simple majority among the 35 seats returned from geographical constituencies.
Much of the focus is also on the so-called "super seats", elected from a pool of district councillors by 3.47 million voters citywide who are otherwise not eligible to vote in trade-based functional constituencies.
Dr Li Pang-kwong, director of the public governance programme at Lingnan University, said the high turnout rate indicated the rising political temperature and polarisation that has swept the city over the past few years.
"While different political parties spare no efforts to mobilise their supporters to back their candidates, ordinary voters are more eager to cast their ballots in the wake of Occupy Central and the failed electoral reform," he said.
He was referring to the 2014 civil disobedience protests sparked by Beijing's rigid framework for the city's leadership election next year, which was voted down by the pan-democratic camp.
On the double-voting issue, Fung reiterated that someone could be told he or she had already voted for three reasons – someone had voted in their name, they had voted already, or an election officer had wrongly crossed out their name from the registrar of voters who had cast their ballots.
Fung said there were only some individual complaints like these and it was difficult to prevent similar mistakes from happening again.
"We have to ensure the secrecy of the votes, so there cannot be names on the ballots.
"We have little, if any, means to guarantee that no mistakes are made because electoral officials are human beings after all."
The high turnout was reflected in long queues in some of the 571 polling stations across the city.
At 10.30pm, when polling stations were due to close, more than 500 voters formed a long line outside the main polling station at ­Laguna City estate in Lam Tin.
"I just got off the Macau ferry from a business trip and rushed back immediately to cast my vote," said Ivan Lai Kwan-ying, 27.
At 1.30am, an estimated 1,000 people were still queueing to vote at the Eastern District Junior Police Call Clubhouse polling station in Tai Koo Shing. Some had been waiting for nearly four hours.
District Councillor Andrew Chiu Ka-yin accused electoral officials of poor planning. "There are elderly and pregnant voters and people who haven't even been able to go to the toilet," he said.
Chiu said a change in voting venue meant 3,000 extra voters would be using the polling station.
"This is a serious mishap. [Electoral Affairs Commission chairman] Fung Wah owes Tai Koo Shing residents an explanation."
At 3.50pm, more than 200 young voters stood in the line for up to an hour at a new polling station in Ngau Tau Kok. Some complained of poor and inflexible official arrangements.
The turnout of young voters was enthusiastic at the Cheerful Court Hall polling station, but some who finished voting complained that officers were inflexible in accommodating them, opening only one lane for people holding ID cards starting with Y and Z.
"No polling station in any country would pose such a big inconvenience for those wanting to vote," said Mr Tang, who was waiting for his daughter outside. "Is the government trying to stop people voting?"
The opening time for four polling stations had to be put back by between two and seven minutes because organisers took more time to prepare before they opened in Wong Tai Sin, Sham Tseng, Tin Shui Wai and Tung Chung.
By 2.15am the last few voters had cast their ballots and by 2.30am polling stations across the city had closed their doors.
The election watchdog received about 2,200 complaints, including 700 regarding election advertisements and 500 about voters' qualification issues.
After voting in the morning, Chief Executive Leung Chun-ying urged the public to come out to polling stations.
Leung said he believed voters would have their own "independent minds" in picking their representatives.
Former chief executive Tung Chee-hwa said he was voting with "a heavy heart" as he faced the media at a polling station. "As the city faces various challenges, such as housing, land, young people's upward mobility issues and poverty ... we need a constructive and rational Legco," he said. "But the last Legco has been a filibustering Legco that severely impacted the government's operation and people's livelihood."
The election battle was so hotly contested that as early as 3pm on Sunday, candidates across the political spectrum, including Horace Cheung Kwok-kwan of the Democratic Alliance for the Betterment and Progress of Hong Kong, the Federation of Trade Unions' Wong Kwok-hing and Tang Ka-piu, the Democratic Party's James To Kun-sun, and the Civic Party's Kwok Ka-ki and Jeremy Tam Man-ho made emergency appeals for votes.