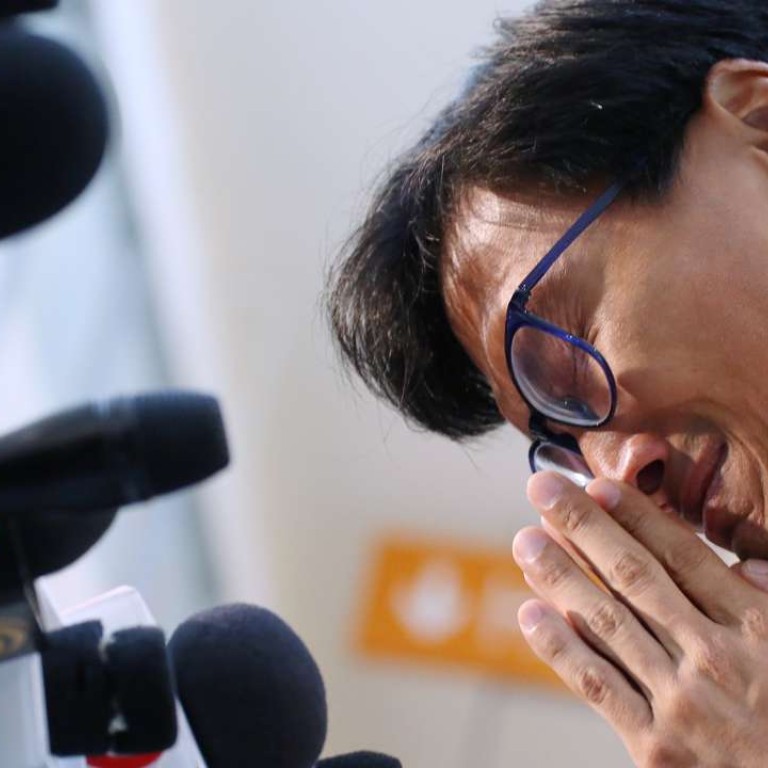 He's the king of votes, but Eddie Chu warns of 'storm of political violence' after landslide Legco election win
After securing more than 84,000 votes in the New Territories West constituency, Chu claimed he previously faced a number of threats and was followed on election day
Emerging as the undisputed "king of votes" yesterday, Eddie Chu Hoi-dick, said he himself was surprised by his landslide victory in Sunday's Legislative Council polls.
But while saying it signalled that Hongkongers embraced "democratic self-determination", rather than violence, in deciding the city's future, he raised eyebrows by warning of the shadow of "assassination" and "intimidation" over local politics.
Watch: Big wins for pro-democracy camp in 2016 Legco election
"The result shows that Hong Kong people believe we need a paradigm shift in the democratic movement," the 38-year-old ­independent candidate said. "We should no longer strictly follow the Basic Law."
While not actively advocating independence from China, Chu said it should be an option for people in the democratic process.
The activist burst into tears after enjoying a brief moment of joy as he bagged 84,121 votes in New Territories West, the highest number obtained by any candidate in all five geographical ­constituencies.
"On the collusion between the government, businesses, rural forces and the triads, there are things only I myself know," he said tearfully, before thanking his wife for her support. "Not only myself, [but] my family have also been, and will be, facing a storm of ­political violence."
Touching on the topic of threats, Chu said a white car had been waiting for him outside his home – which a friend told him was owned by a Yuen Long landlord – on the morning of the polls. It tailed him to a polling station.
Chu said he also received a phone call in May from a village head, who told him to stop raising the issue of a land dispute in Yuen Long, which involves a site ­initially earmarked for public housing and was eventually ­abandoned, apparently due to opposition from the rural gentry.
He said he had reported the threats, and would seek police protection. "I'm worried about my family and politicians in Hong Kong," he said. "From now on, ­intimidation, attacks and assassination will no longer be [a novelty] in Hong Kong's political scene."
Since making his name in the campaign to save the historic Star Ferry Pier in 2005, Chu became an icon among social activists, and went on to lead several other key social movements including the fight for Tsoi Yuen villagers, whose homes were razed by a cross-border railway project.
Chu, an English graduate from Chinese University, earlier worked as a reporter at Chinese-language newspaper Ming Pao.
He reported from Pakistan, ­Afghanistan and Iran, where he also studied Persian.
Chu said the first issue he would add to the Legco agenda would be to reform powerful rural affairs body the Heung Yee Kuk because its influence in New ­Territories developments affected everyone in Hong Kong.
He also told reporters he had a passion for journalism.
"I love investigative reporting," he said. "I hope as a ­lawmaker, I'll have access to more information to dig even deeper into collusion between the ­government and rural forces."
This article appeared in the South China Morning Post print edition as: Violence 'will no longer be noveltyon political scene'