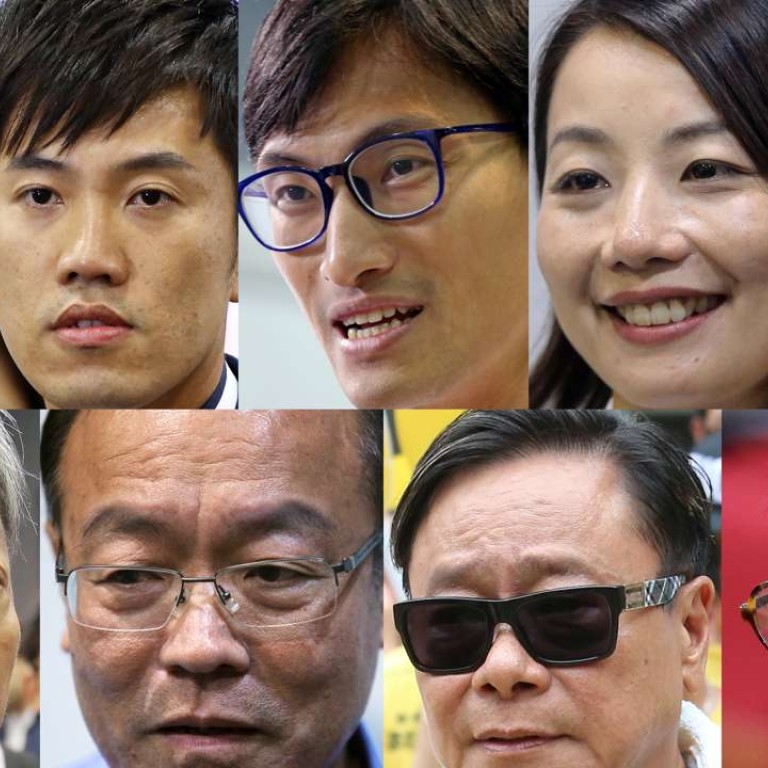 Profiles in victory and defeat: a look at a few notable Legco winners and losers
Several rose to prominence in wake of 2014 pro-democracy Occupy movement
Here's a look at six newly elected and four freshly ousted members of Hong Kong's Legislative Council after a dramatic day and night of long queues at polling stations.
In a reflection of the races' high stakes, a number of candidates issued last-minute appeals for votes just hours before the polls closed.
For additional
Post
coverage on the polls, please click
here
.
Nathan Law Kwun-chung
From student leader to legislator, Law transformed himself into one of the most popular Legislative Council candidates this year – and one of the youngest ever elected.
With the first electoral victory for an Occupy student leader, Law, 23, has accomplished more than most people his age.
He became secretary general of the Federation of Students following the 79-day
pro-democracy movement
in the city two years ago. In addition, he was one of five student leaders
seated at a negotiating table
opposite Hong Kong's leading officials during the protests, sitting across Chief Secretary Carrie Lam Cheng Yuet-ngor.
The reserved, soft-spoken Law told the Post in June he had never thought of entering politics when he was younger, thinking it "a dirty game with people fighting among one another for self-interest".
In April, Law and others founded political party Demosisto, with Joshua Wong Chi-fung, who led student group Scholarism.
They pledged to work for the city's "self-determination". In its manifesto, the party stated it would hold a referendum in 10 years to let Hongkongers decide their own fate beyond 2047, when the principle of "one country, two systems" is to expire, and would adopt non-violent protest tactics.
This approach varied from their more radical counterparts' outright
call for independence
, an approach that saw some Legco aspirants stripped of their candidacy.
With a seat in the legislature, Law will have to show how he brings the agenda of self-determination to a higher level of public discussion.
Lau Siu-lai
Lau only started her election campaign in Kowloon West on May 14 – some three months before the Legislative Council elections.
At first her chances of victory looked slim. In the first public opinion poll released in July, the Polytechnic University lecturer only registered 1.8 per cent backing.
But her prospects changed fast after she appeared on a series of TV and radio election forums in the weeks prior to election day.
A clip of Lau at a forum questioning pro-establishment candidate Priscilla Leung Mei-fun over labour rights issues and a universal pension scheme drew over 1.1 million views on Facebook within seven days. Her popularity rating soared to 11 per cent in the final week.
Lau told the Post in an interview last week that her success was due to the "equal-time rule" requiring broadcasters to offer all candidates the same amount of airtime on forums, affording her plenty of opportunity to hit out at her rivals.
The scholar became a social activist during the Occupy sit-ins, and became a regular presence in Mong Kok giving lectures on social justice.
Lau subsequently formed a group called Democracy Groundwork. She continued to hold lectures in the community after Occupy and managed to consolidate a core group of supporters.
She is also an advocate for hawkers' rights, arguing the government should grant them a licence to do their business.
On the night of February 7 this year, the 40-year-old academic was arrested for hawking without a licence on Kweilin Street in Sham Shui Po, defying authorities by selling street food.
Sixtus "Baggio" Leung Chung-hang
Leung, 30, is an e-commerce manager who co-founded the localist group Youngspiration after the 2014 Occupy protests.
He shot to fame last November when he took part in district council elections, challenging Yeung Hoi-wing of the pro-Beijing Democratic Alliance for the Betterment and Progress of Hong Kong. He lost in Central and Western District, tallying 1,569 votes to Yeung's 2,491.
Despite that setback, Youngspiration members gained prominence in the city's political scene. Leung's Youngspiration colleague Yau Wai-ching in November almost succeeded in unseating pro-establishment heavyweight Priscilla Leung Mei-fun in Yau Tsim Mong.
Shortly before the Legco poll's nomination period started in July, Leung gave up his plan to run on Hong Kong Island, citing financial concerns.
But after Edward Leung Tin-kei from Hong Kong Indigenous was banned from running in New Territories East because of his pro-independence stance, the Youngspiration leader decided to run in the constituency in his ally's place. The disqualified candidate even endorsed him.
According to the newly-elected legislator's platform, he will push for self-determination regarding Hong Kong's political future as well as call for the government to hire more local doctors to improve the quality of health services.
Eddie Chu Hoi-dick
A leading social activist who made his name a decade ago in conservation campaigns, Chu, 38, is no stranger to young Hongkongers.
He captured the limelight in 2006 when he joined others in the fight to save historic Star Ferry pier, and then Queens Pier in Central, which would be demolished to make way for new roads. During the campaign, Chu impressed many with his views on the importance of preserving urban public space.
Before that, Chu, an English graduate from the Chinese University of Hong Kong, worked as a foreign desk reporter at Chinese-language newspaper Ming Pao. He reported from Pakistan, Afghanistan and Iran, where he also studied Persian.
"My wife was actually more worried about me when I was in the Middle East than when I'm here now," Chu said on Sunday, speaking of threats he faced throughout his campaign. "She'd be more worried I'd be killed in the Syria."
He also told reporters he had a passion for journalism. "I love investigative reporting," he said. "I hope as a lawmaker, I'll have access to more information to dig even deeper in collusions between the government and rural forces."
After Queens Pier, Chu would move on to lead the even larger battle against a cross-border high-speed rail, which would raze homes of more than 100 families in Tsoi Yuen village in Yuen Long. Chu emerged to be a "spiritual leader", winning the trust of the villagers and helping them negotiate with the government over compensation. In the end some villagers were allowed to relocate the village to continue their rural lifestyle, rather than only have the option of taking cash and moving to a high-rise housing estate.
Over the months-long fight for the villagers, Chu also became one of them, moving in with his wife and daughter.
Chu drew support for his Legco bid from activists, including Occupy Central student leader Alex Chow Yong-kang, who said Chu inspired him.
His creative campaign strategies also helped him. He provided updates on his campaign progress through Facebook Live almost daily, toured his constituency on the bike and recycled used banners. He also issued a HK$999 donation call for crowd-funding so that supporters could give money without having to fill in the forms required of those who donate more than HK$1,000.
Yau Wai-ching
Yau, 25, was little known until she challenged pro-establishment heavyweight Priscilla Leung Mei-fun in the November district council election.
Soon after that run, however, she gained a following, with many referring to her
as a "goddess"
or "baby Wai-ching". On social media, some 15,000 people have viewed her Facebook page.
It is a startling transformation for the daughter of a civil servant. Yau said she used to be indifferent to social issues. Her interest in politics only blossomed during her final year of studies at Lingnan University's Department of Chinese in 2012, when protests erupted over a
national education plan
.
She participated in the Occupy protests two years ago when she was working as an administrator, gradually developing her views on Hong Kong's future. With fellow youngsters, she helped form Youngspiration to promote localist political ideas.
Yau quit her job last year when she ran for the district council seat, and to the surprise of many, claimed 41 per cent of the vote, or 2,041 votes, losing to Leung by only 304 votes. Her political future looking bright, Youngspiration decided to back her run for Kowloon West.
In early polling, her popularity lagged, but she rallied, eventually winning 20,643 votes, edging incumbent lawmaker Wong Yuk-man by a margin of 424.

Yau said one of her priorities as a lawmaker is a "self-determination movement for Hong Kong's political future".
"We talk about self-determination because we believe that sovereignty should be in people's hands," she explained. "We should have the right to discuss this."
Yau supports independence because she believes it is "a way out for the city's political future", adding the matter "should be up to Hongkongers to decide".
Cheng Chung-tai
Cheng of pro-independence group Civic Passion was already familiar to many in the city as he frequently hosted online radio shows and wrote articles for Passion Times, his group's publishing arm.
Educated at the Polytechnic University and Peking University, Cheng, 32, said he decided to become more involved in local politics after the Democratic Party two years ago entered into negotiations with Beijing's liaison office on the political reform package in 2010.
After the two sides reached a compromise, Cheng said he felt he could no longer rely on traditional pan-democratic parties.
In 2012, he joined Civic Passion to help Wong Yeung-tat in his Legislative Council election campaign.
Speaking after his Legco victory, Cheng said he would continue his provocative approach in the style of his ousted ally Wong Yuk-man.
"I'll package my tactics with a touch of pop culture," he said.
As the only one of the five-men radical alliance that was elected, Cheng said he would still try his best to push forward the alliance's agenda to "extend" the
Basic Law
with amendments favouring Hongkongers' interests.
While the alliance had been highly critical of traditional pan-democrats' moderate approach to politics, Cheng said he would now seek to collaborate with them on certain issues.
For example, he said he would join pan-democrats in fighting for Hong Kong to retain control in screening one-way permit applications from the mainland.
"After all, I must stand for Hongkongers, not just for my group," he said.
Cyd Ho Sau-lan
Ho, defeated in the latest Legco elections, established her reputation by advocating human rights, equal opportunity, gay rights and other equality issues.
In 1991, she got a taste of politics when she helped Emily Lau Wai-hing in her winning election campaign.
Afterwards she worked as an assistant to Margaret Ng Ngoi-yee, who at the time represented the legal constituency in Legco.
In 1998, Ho embarked on her own career in the city's legislature. She ran for a seat representing New Territories East and won in the first Legco election following Hong Kong's handover from the UK to the mainland.
Ho steadily became a prominent pan-democrat, exerting pressure on the government for causes she championed. She was re-elected in 2000.
But she suffered a major setback in 2004, after the pan-democratic camp decided to place her name second to Civic Party's Audrey Eu in that year's Legco elections. She narrowly lost her seat.
In 2006, she quit The Frontier party and chaired the Hong Kong Human Rights Monitor as well as became co-convenor of the Civil Referendum Project, a scheme to pilot and promote the idea of holding a referendum in Hong Kong.
She stood for a geographical constituency seat in Hong Kong Island again in 2008 and won the fifth seat.
In 2011, she formed the Labour Party along with Lee Cheuk-yan, Dr Fernando Cheung Chiu-hung and Peter Cheung Kwok-che. She was re-elected to Legco in 2012.
Frederick Fung Kin-kee
Fung's exit from Legco closes a chapter in his 30-year career in local politics
He is a veteran pan-democrat who founded the Association for Democracy and People's Livelihood in 1986.
But he dabbled in politics as early as his university days.
He entered the University of Hong Kong in 1974 but was kicked out a year later because he spent too much time organising social movements and failed his exams. He then joined the pressure group Society for Community Organisation.
In 1979, he flew to the UK to study, and in 1982, obtained an undergraduate degree in social policy and public administration at the University of Bradford. Upon returning to Hong Kong, he was elected in 1983 to the now-disbanded Urban Council. In 1991, he became a legislator through direct elections.
One of the more contentious episodes of Fung's career took place in 1996, when ADPL decided to allow its members to join the provisional legislature devised by Beijing as a temporary replacement for the Legislative Council formed in 1995 under British rule. Beijing formed the interim body because it was unhappy with the electoral reforms made by the last governor Chris Patten. Other pro-democracy groups boycotted it.
The decision was partly to blame for his losing his Legco seat in 1998, but he staged a comeback in the 2000 election, and expressed hope at the time that his association could gain as many as five seats in the legislature in eight years. He was re-elected in the 2004, 2008, and 2012 elections. But his plan to increase association representation in the legislature never materialised.
In 2012, Fung launched a bid to run in the chief executive election, but he was defeated by Democrat Albert Ho Chun-yan in the pan-democratic camp's primary.
Last year, Fung lost his district council seat in Sham Shui Po, where he had served for 12 years, to newcomer Joephy Chan Wing-yan of the pro-Beijing Federation of Trade Unions.
With Fung's second election defeat in less than a year on Monday, ADPL will no longer be represented in Legco.
Wong Yuk-man
Wong may have lost his seat in Legco this year, but few would argue that he changed the culture of the chamber he served, often controversially, since 2008.
In October 2008, Wong threw a banana at the chairman's seat and interrupted then Chief Executive Donald Tsang Yam-kuen's policy address speech to protest against means-tested Old Age Allowance, marking a shift towards more radical protest tactics in Legco.
Before he entered politics, Wong, 64, was already a household name in Hong Kong, having hosted various popular current affairs programmes on television and radio.
In 2006, he founded the League of Social Democrats with Albert Chan Wai-yip and "Long Hair" Leung Kwok-hung, with the aim of being a clear-cut opposition party.
One of his most notable incidents involved a triggering of a de facto Legco referendum in 2010 as a means to push for universal suffrage in the chief executive election and the abolition of functional constituencies.
The plan, however, failed to gain support from all pan-democrats.
In 2011, Wong, joined by Chan, parted ways with the League of Social Democrats to set up People Power. But in 2013, he also quit People Power.
In 2012, Wong was re-elected to Legco, winning 38,578 votes in Kowloon West.
During his second term, Wong maintained his radical antics, launching numerous filibustering efforts against controversial issues, such as the government's Information Technology Bureau.
Lee Cheuk-yan
Lee was first elected to the legislature in 1995, and his recent defeat is among the highest-profile losses by an incumbent this election cycle.
The founding Labour Party chairman has spent half his life campaigning for labour rights and urging the Communist Party to admit to its
crackdown in Tiananmen
.
In 1989, Lee attempted to deliver a donation of HK$1 million from Hongkongers to Beijing to support protesters in and around Tiananmen Square. But he was detained by mainland authorities for three days and only allowed to return to Hong Kong after signing a confession letter.
He has since been barred from crossing the mainland border.
Watch: big wins for pro-democracy camp
As a core member of the Hong Kong Alliance in Support of Patriotic Democratic Movements in China, which hosts the annual
June 4 candlelight vigil
commemorating the Tiananmen crackdown, Lee succeeded Szeto Wah to lead the group after the democracy icon passed away in 2011.