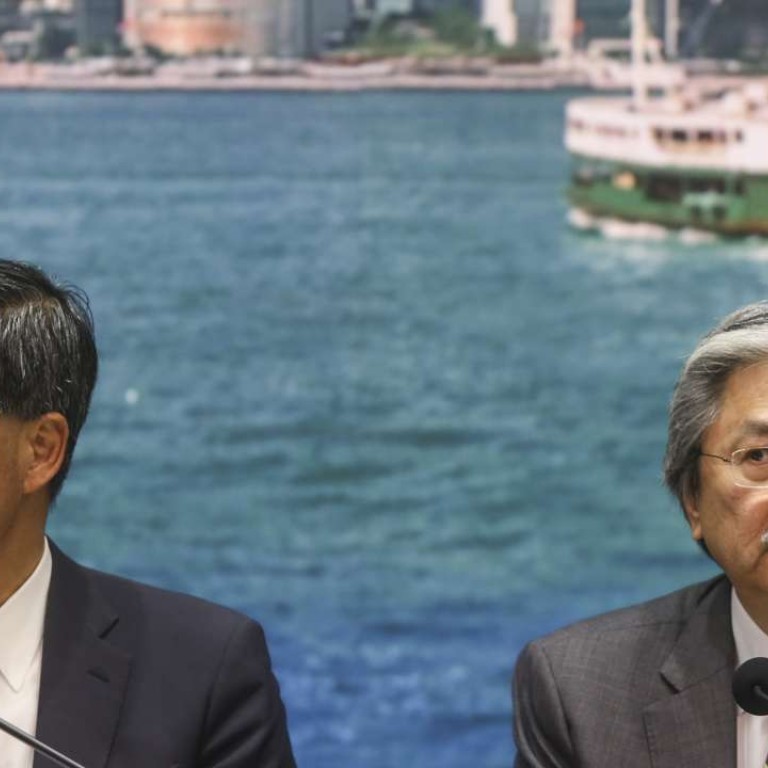 This was my decision: Hong Kong's chief executive takes responsibility for scaling back housing project
Leung Chun-ying made declaration over controversial handling of rural housing scheme in awkward press conference with financial secretary
Chief Executive Leung Chun-ying took direct responsibility for the partial suspension of a housing project at the centre of a political storm, facing the media yesterday with his finance minister by his side after signs of a rift between them.
In an awkward hour-long press conference, Leung and Financial Secretary John Tsang Chun-wah barely made eye contact. While Leung put on a brave face, observers noted, Tsang looked sullen in front of the cameras for the first time after distancing himself from the controversy.
Leung and his top officials took pains to explain their roles as they denied bowing to pressure from rural leaders with vested interests when they decided to phase the building of 17,000 public housing flats and defer a fat part of it in Wang Chau, Yuen Long.
Pan-democrat lawmakers and their newly elected localist allies were far from satisfied, and vowed to push for a formal investigation.
"This was my decision – the decision to carry out the development of the public housing programme in phases," Leung said. "Because as the chief executive of the government, I have to take charge."
After a media report forced him to confirm he had chaired a task force on Wang Chau in 2013, a month before officials started "soft lobbying" rural leaders for support, Leung brought Tsang into the controversy by identifying the financial secretary's Steering Committee on Land Supply as the body that followed up the ­details of the project.
Tsang, a potential rival to Leung if he seeks a second term as chief executive next year, countered that his panel did not make the decision to split it into phases.
Leung said yesterday the decision to suspend parts of the project was made in January 2014.
It was at a weekly meeting with Tsang, Chief Secretary Carrie Lam Cheng Yuet-ngor and Secretary for Justice Rimsky Yuen Kwok-keung that he decided to take the Housing Department's recommendation to defer the second and third phases, he explained. That would allow time to tackle the problem of the brownfield site – ruined farmland – being used by rural businessmen for car parks and open storage.
Leung's government has been accused of colluding with or folding to pressure from village strongmen in pushing ahead with the first phase of building an initial 4,000 flats at a nearby green-belt site that would displace three ­villages.
Neither Leung nor Tsang would say whether anyone at the meeting raised questions or objections, but the chief executive denied collusion between the government, businesses, landlords and triads, as alleged by newly elected lawmaker Eddie Chu Hoi-dick.
"We increase land supply and made property prices fall – will I be disliked? You know the answer."
Tsang, after initially declaring that he fully supported the government's efforts to find land for housing, appeared reluctant and even annoyed to be there, and mostly took a back seat as Leung and other officials detailed the decision-making process.
There was a moment of comic relief – but fully open to further interpretation – when he was asked whether he should also be held responsible for the controversial decision. "You always agree with your boss, no question about that," he replied.
"Are you two at odds with each other?" a Post reporter called out. Leung mouthed a "no" while Tsang smiled as he shrugged it off.
"I really want to thank my colleagues in the government," Leung said, appearing to choke and tear up. "Whether it's public housing or private housing, it's toiling for them, in every little achievement."
Leung then hurried off to meet Hong Kong's returning athletes from the Brazil Paralympics, while Tsang dallied before leaving the room with housing minister Professor Anthony Cheung Bing-leung good-naturedly pushing him from behind.