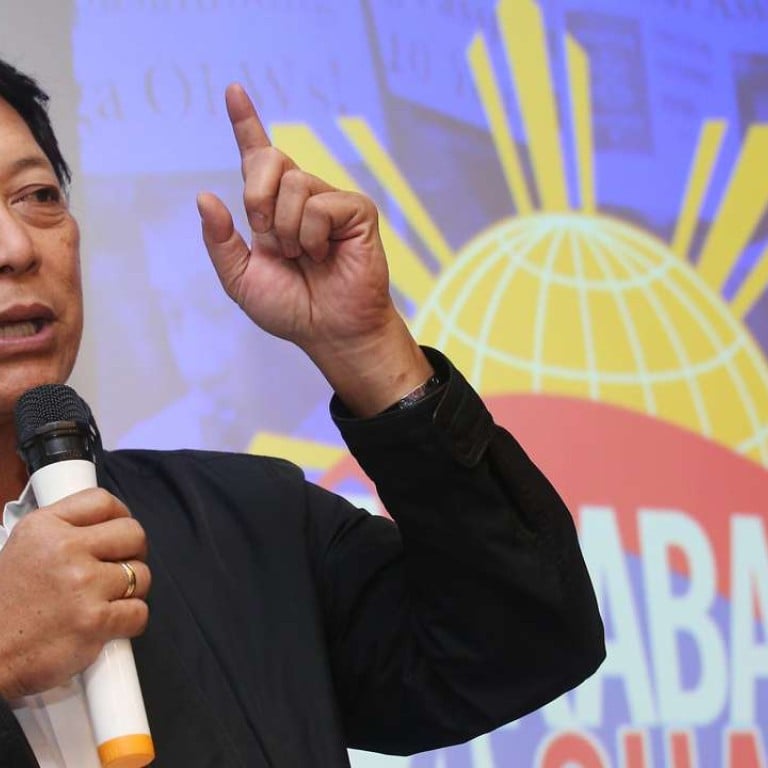 Manila to ask Beijing to legitimise status of up to 200,000 domestic workers illegally on mainland
Philippine labour minister also plans to ask authorities to allow more workers to come as demand grows for English-speaking environment at home
The Philippines' new labour and employment minister will visit China next month to push for allowing Filipinos to work legally as domestic workers on the mainland, revealing that up to 200,000 of them are currently working there illegally.
Speaking in Hong Kong on Sunday, Silvestre Bello described the number of Filipino domestic helpers working illegally across the border as "alarming", as he revealed plans to ask Beijing to legalise their status.
"I intend to pursue my plan to visit China, maybe Beijing, and talk to the authorities on how to legitimise the stay of our overseas workers and at the same time look at the possibilities of bringing in more workers under legitimate circumstances," the minister said.
"After my visit to Oslo, I may join our president [Rodrigo Duterte] who earlier intimated to me his intention to visit China," he added. "So it could be the end of October, unless he decides to go first to Saudi Arabia."
While the Hong Kong government has for many years fully opened the door to maids from the Philippines, Indonesia and other countries, the mainland has a different policy.
It was only in July last year that Shanghai started to allow foreign residents to legally hire domestic helpers from overseas – Chinese citizens are not permitted to employ them. Only five maids had reportedly been approved to work in Shanghai by the end of last year.
And it is only since last month that expatriates, including people from Hong Kong and Taiwan, have been allowed to hire foreign domestic workers in Guangdong.
With the mainland's affluent middle class and wealthy citizens seeking hired help at home, a worker at a Shanghai agency told the Post he had heard of cases of better-off mainlanders employing maids from overseas.
"Filipino maids are popular with some better-off mainland families because they want to give their children an English-speaking environment at home," he said. "Compared to local [mainland] babysitters, they are more hard-working and more stable. They won't need to take holidays during Lunar New Year."
It costs about 8,000 to 10,000 yuan a month to hire a foreign maid, he said.
Minister Bello said he believed the Chinese government was resistant to opening up the market because that would mean fewer job opportunities for mainlanders who work as domestic helpers. But he countered that the market in the mainland was big enough to accommodate the Filipino maids already working there.
He suspected that many of them were misled by employment agencies into thinking they could work as English teachers on the mainland.
Teresa Liu Tsui-lan, managing director of Technic Employment Service Centre, said Filipinos were able to work on the mainland through employment agencies engaging in the illegal business, foreign firms allowed to hire foreigners as staff, and some Hong Kong families who hire maids in the city and pass them on to relatives across the border.
"The agencies make more than HK$10,000 placing a maid for a mainland client," Liu said.
But Cheung said on Sunday: "A ban is not easy to implement, and also you have to remember, to look at the practical side of the issue. The more immediate thing to do is to educate, promote and remind everybody concerned, the employers and employees that you have to be careful."
This article appeared in the South China Morning Post print edition as: Bid to legalise Filipino maids on the mainland