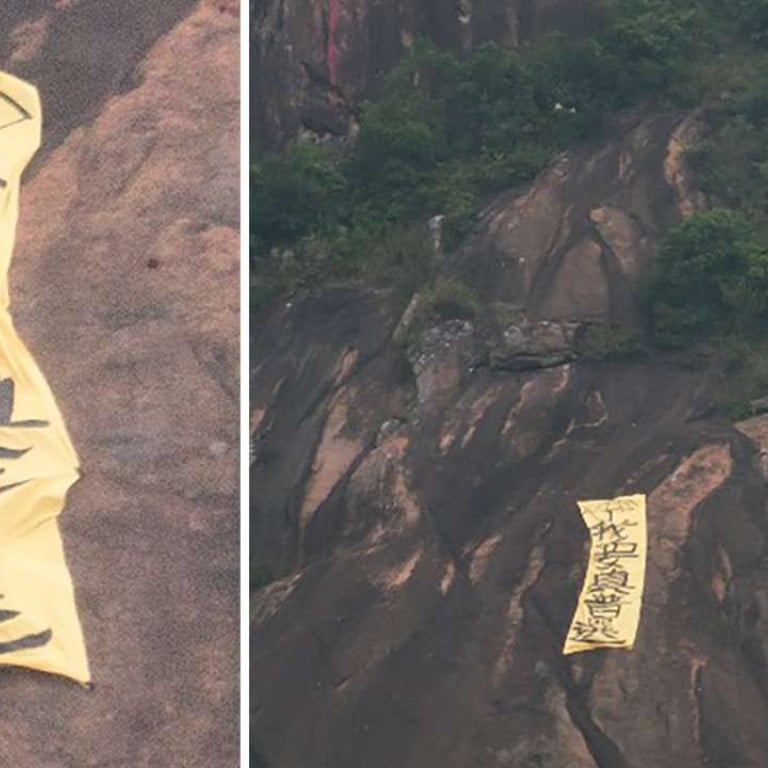 Giant pro-democracy banner draped on Hong Kong hillside to mark second anniversary of Occupy movement
Six-metre banner on Devil's Peak in Lei Yue Mun taken down 90 minutes after police notified
A giant pro-democracy banner was draped on Devil's Peak in Lei Yue Mun on the second anniversary of the Occupy movement.
The 6m-long yellow banner, bearing the familiar Hong Kong slogan "I want real universal suffrage", was hung on the hillside opposite Lei Ye House in Lei Yue Mun estate.
League of Social Democrats member Tsang Kin-shing said his group placed the banner there early Wednesday morning.
"We don't want people to forget about the cause," he said.
Hanging pro-democracy banners on mountains around the city first began during the Occupy movement in 2014.
Watch: Hong Kong artist keeps 'Umbrella Movement' alive
A police spokesman said the force received a report of the banner on Devil's Peak at around 9am Wednesday. A fire services spokesman said it was removed around 90 minutes later.
Around 40 civic organisations and political parties have planned to gather outside government headquarters on Wednesday evening to commemorate the second anniversary of the protest.