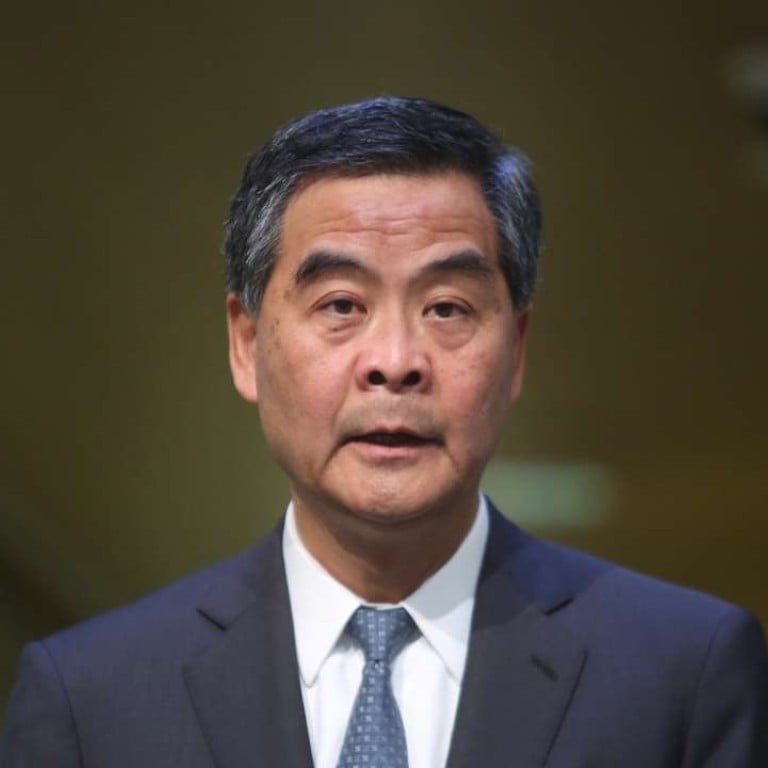 Hong Kong leader CY Leung piles pressure on Apple Daily newspaper over critical editorial
Paper refuses to retract article about HK$50 million deal between Leung and Australian engineering firm UGL, raising prospect of court battle with city's chief executive
Hong Kong's leader launched another broadside on Friday at Apple Daily for accusing him of corruption, with his lawyers pressing the popular Chinese-language newspaper for a proper explanation of its coverage.
Lawyers for Chief Executive Leung Chun-ying published in full a legal letter accusing the daily of defaming him with "malicious" intent to stop him from exercising his legal right to seek re-election – with further suggestions the paper had omitted crucial information from Britain's Serious Fraud Office.
The office had decided not to investigate a HK$50 million deal between Leung and Australian engineering firm UGL, Leung's lawyers pointed out in the letter.
The further disclosure came as legal experts doubted Leung would be able to successfully sue Apple Daily, saying it would be difficult to establish a case of libel in a city that protects press freedom.
Apple Daily again rejected Leung's demand for a retraction of the editorial that upset the chief executive, raising the possibility of a court battle and questions as to whether Leung's political opponents would be able to pursue the matter in the legislature.
"If you disagree, please let us have your explanation," Leung's lawyers wrote to the paper regarding their suggestion that it knew of British authorities' decision not to investigate his case.
Apple Daily chief editor Chan Pui-man replied that Hong Kong's anti-corruption watchdog was still carrying out its own investigation into the matter.
Leung has repeatedly denied wrongdoing over the deal with UGL in 2011, months before he became chief executive. The engineering firm had sought to buy out insolvent property firm DTZ, of which Leung was a director.
The deal – made two days before Leung resigned from DTZ and the completion of the takeover – stipulated he would ­receive the money in two instalments in 2012 and 2013. UGL and Leung said the money was to prevent him forming or joining a rival firm.
The legal letter suggested Apple Daily ought to have known that British authorities had no power to probe whether Leung's agreement with UGL violated British listing rules as DTZ was delisted.
Leung's move was questionable, especially as British legal authorities, whose judicial decisions are followed by Hong Kong, had ruled that the government was in no position to launch a libel case, according to Ronny Tong Ka-wah, former chairman of the Bar Association, and Professor Johannes Chan Man-mun, former law dean of the University of Hong Kong.
"The legal principle is that government officials ought to be subject to media scrutiny," Tong said. "And in Leung's case, there is in fact certain factual basis for Apple Daily to make its claim."
HKU media law expert Professor Doreen Weisenhaus added that while officials could launch a lawsuit in a personal capacity, "there is no tradition of that in recent years".
Last year the Court of Appeal ruled in support of Ming Pao's right to publish an editorial about possible corruption involving the Hong Kong Football Club, Weisenhaus noted.
This article appeared in the South China Morning Post print edition as: Leung piles pressure on Apple Daily over article