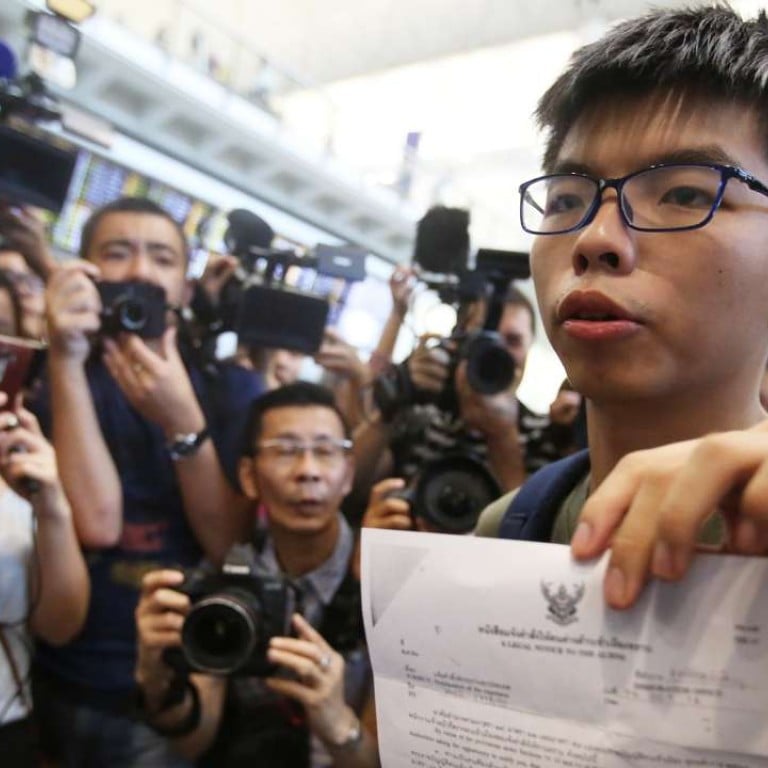 Blacklisted: Hong Kong democracy activist Joshua Wong deported from Thailand at Beijing's request
Thai Prime Minister Prayuth Chan-ocha says detention and expulsion of Demosisto activist from Bangkok is Beijing's business
Hong Kong student activist Joshua Wong Chi-fung was denied entry to Bangkok, detained for 12 hours and sent back home on Wednesday at Beijing's request, with Thailand's military leader declaring it was "China's business".
Wong, 19, had been invited to Bangkok's leading university to mark the 40th anniversary of a student massacre – a highly sensitive time for the junta which seized power in 2014.
"He already went back to China," junta leader Prayuth Chan-ocha told reporters. "Officials there have requested to take him back. It's Chinese officials' business. Don't get involved too much. They are all Chinese people no matter Hong Kong or mainland China."
Recounting his ordeal back in Hong Kong, Wong said he was surrounded by 20 police and immigration officers who confiscated his passport and detained him in a cell at Bangkok's Suvarnabhumi Airport.
"I never imagined any place other than China would lock me up," said the student activist who was one of the public faces of the 2014 Occupy protests. "Thai officers told me I was blacklisted."
He was barred from making phone calls to either Thai human rights lawyers or his family.
Prime Minister Prayuth's ­office said the junta was "aware that Mr Wong had been active in resistance movements against other foreign governments, and that if such actions were taken within Thailand, they could eventually affect Thailand's relations with other nations".
China's foreign ministry would only say it "respects Thailand's exercise of immigration control in accordance with law".
Amnesty International said the case "raises serious concerns about how China is using its influence over Thai authorities".
The controversy coincides with an official visit to Thailand by Hong Kong justice minister Rimsky Yuen Kwok-keung, who earlier brushed off suggestions about Beijing's involvement.
"I personally do not believe such a matter would ... require international pressure," he said.
All 30 lawmakers from the pan-democratic and localist camp demanded an official explanation from the Thai government. Some joined other activists in a protest outside the kingdom's consulate in Admiralty.
Thitinan Pongsudhirak, a political scientist at Bangkok's Chulalongkorn University, where Wong had been scheduled to speak, said the Thai government "has kowtowed to China to its own detriment as this case ­attracts the international ­spotlight".
Wong said he felt "very fortunate" that he had been able to ­return home, "especially in light of
the disappearance of Gui Minhai
", the Causeway Bay bookseller who vanished in the Thai resort city of Pattaya last year and later resurfaced on the mainland under detention.
Wong was similarly denied entry by Malaysian authorities last year, but on that occasion he was put on a flight back to Hong Kong almost immediately after arriving in Kuala Lumpur.
Additional reporting by Raquel Carvalho and Owen Fung
This article appeared in the South China Morning Post print edition as: Joshua Wong deported by thai junta at China's request