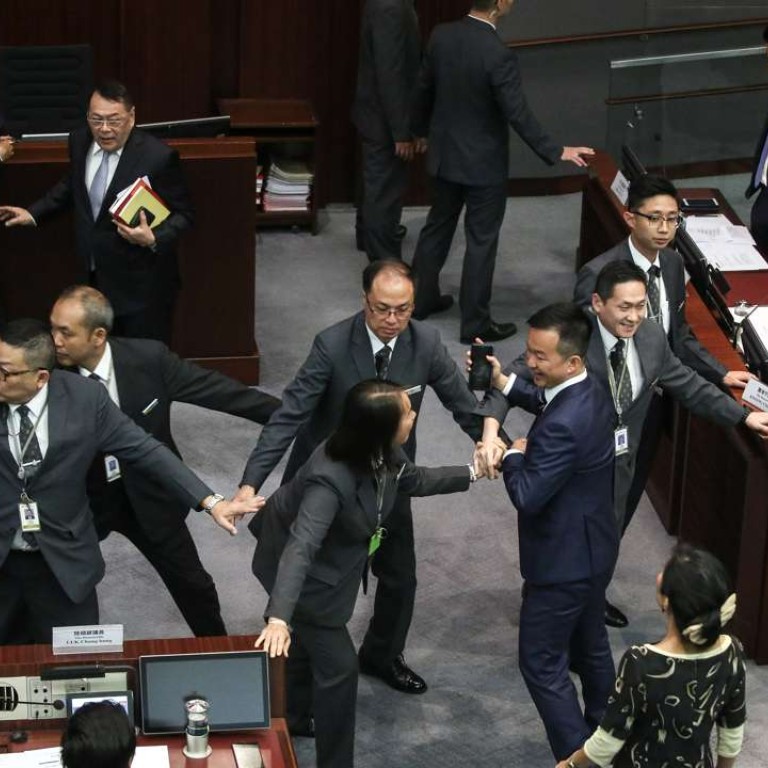 Declaration of war as Hong Kong's newly elected lawmakers plunge opening session into chaos
Protest banners, questions of nationality and modified oaths signal a turbulent start to the new term
Hong Kong's
newly elected legislature
descended into chaos and open war on Wednesday with localists brandishing "Hong Kong is not China" protest banners at their swearing-in ceremony while a pro-establishment stalwart was elected president after being taken to task over his British nationality.
Three localist and pan-democratic lawmakers' oaths were declared invalid after they modified the words and insulted China, plunging the Legislative Council into uncertainty and setting the stage for political acrimony that threatens the elected body that keeps a check on the city's government with unprecedented paralysis.
Wednesday's chaos signalled a tumultuous four-year term ahead for the new Legco, and the prospect of frequent clashes with the government, while the new president, with his credibility under attack, looked set to struggle to control
localist
lawmakers openly challenging China's sovereignty over Hong Kong.
The drama began with the oath-taking session of the 70 lawmakers turning into a platform for some of them to trumpet their aspirations, ranging from sustainable development to self-determination for the city.
Watch: three Hong Kong lawmakers have their oaths rejected
Youngspiration's Sixtus Baggio Leung Chung-hang and Yau Wai-ching, along with Edward Yiu Chung-yim of the Professionals Guild, had their oaths declared invalid by Legco secretary-general Kenneth Chen Wei-on, who ruled that the trio could not vote in the subsequent election of their president.
"There's a clear double standard," Leung complained, referring to Chen's decision in 2012 to allow a lawmaker to vote for the president despite problems with his oath taking.
The trio said they would seek legal advice on their next step, while Yiu planned to re-take his oath in the next council meeting.
The Business and Professionals Alliance lawmaker, who applied to renounce his British citizenship only after he was returned uncontested to his functional constituency seat, was forced to give a quick press briefing to explain himself. He said he had yet to receive the official certificate, which was being mailed to him by the UK Home Office.
At around 5pm Wednesday, as the council was still debating whether the election should be deferred, the industrial-sector legislator announced he had just received the "declaration of renunciation" and showed it to the press.
The debate was halted when pan-democratic veteran Leung Yiu-chung refused to chair the election proceedings as the senior most lawmaker next in line, saying even he himself was not convinced of Leung's eligibility.
He was replaced by real-sector representative Abraham Razack, who stopped the Youngspiration duo from participating as Andrew Leung was elected president 38-0 while the opposition camp walked out and two localists clashing with security guards.