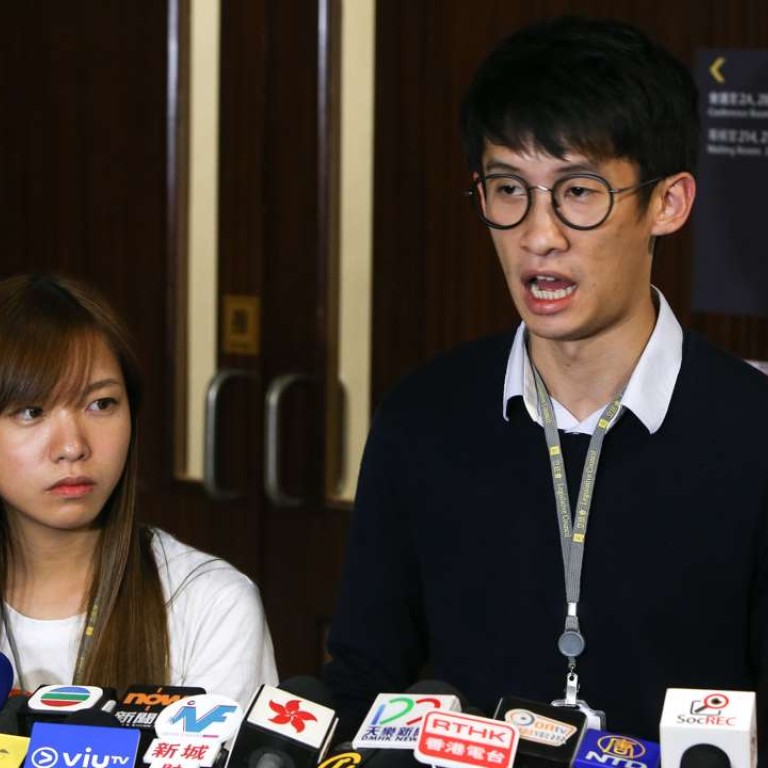 Hong Kong government accuses localist lawmakers of hurting feelings of Chinese with 'offensive' oath-taking
Youngspiration member refuses to say if will pronounce the word 'China' correctly at Legco ceremony next week
The Hong Kong government has denounced two localist lawmakers for modifying their oaths at Wednesday's swearing-in ceremony and hurting the feelings of Chinese people by displaying "Hong Kong is not China" banners and referring to the city as a "nation".
"The oath-taking by members when assuming office upon the commencement of the new Legislative Council term is not just to ensure compliance with the law, but also a solemn promise they make as public officers to the entire community," the government said in a written statement denouncing their behaviour.
"Some behaved in violation of the dignity expected of Legco members, or even spoke or acted in an offensive manner that harmed the feelings of our compatriots."
Watch: three Hong Kong lawmakers have oaths rejected
Asked to elaborate, Chief Secretary Carrie Lam Cheng Yuet-ngor said: "I think anyone with common sense would be very much saddened and disappointed when they heard the two lawmakers taking their oaths like that, right? Because oath-taking is a very serious and solemn procedure."
The government did not name any specific lawmaker, but it was understood to be referring to Younspiration's Sixtus "Baggio" Leung Chung-hang and Yau Wai-ching, who took their oaths separately on Wednesday.
Instead of sticking to the official wording, the pair first pledged allegiance to "the Hong Kong nation" in English. When Legco secretary general Kenneth Chen Wai-on asked them not to modify the script, they displayed blue banners bearing the words "Hong Kong is not China", and pronounced China as "Chee-na", a variation of the derogatory "Shina" used by Japan during wartime.
Yau took it further by mispronouncing "People's Republic of China" as "People's Re-f****** of Chee-na" three times. Their oaths were invalidated by Chen and they must take it again on October 19, along with pan-democrat Edward Yiu Chung-yim, who added phrases such as "universal suffrage" after his oath, and pro-government lawmaker Wong Ting-kwong, who accidentally omitted the phrase "Hong Kong" in his oath.
Leung and Yau blamed their own accents for the discrepancy.
On a radio show yesterday, Leung refused to say if he would pronounce the word "China" correctly next week. "I don't know if I could ... I am trying hard to correct my accent," he said.
Leung also argued that the derogatory pronunciation of "Chee-na" was only one of the more well-known interpretations.
"Dr Sun Yat-sen used the term 'Chee-na' when he was lobbying overseas," Leung said, referring to the founder of modern China who effectively ended imperial rule in China in 1911.
Leung also argued that the "Hong Kong is not China" slogan was a factual statement. "Just like 'apple is not orange'," he explained.
Academics said the localists were cutting a fine line between demonstrating their rejection of China and directly contravening the city's mini-constitution, the Basic Law.
Under the Oaths and Declarations Ordinance, any person "who declines or neglects to take an oath duly requested" shall vacate or be disqualified from office.
Newly-elected Legco president Andrew Leung Kwan-yuen, who will oversee the localists' oath-retaking next week, said that if the pair refused to take their vows properly next week, he would "discuss with Legco's legal adviser on what the law says".
"The law mentioned 'removal', but I don't want to take this step," Leung said. Asked how many times the lawmakers could retake the oath, Leung said it would not be unlimited.
Separately, former Legco president Jasper Tsang Yok-sing said he was "ashamed" of the localists' oath-taking conduct.
This article appeared in the South China Morning Post print edition as: localists 'hurt chinese feelings' at oath-taking