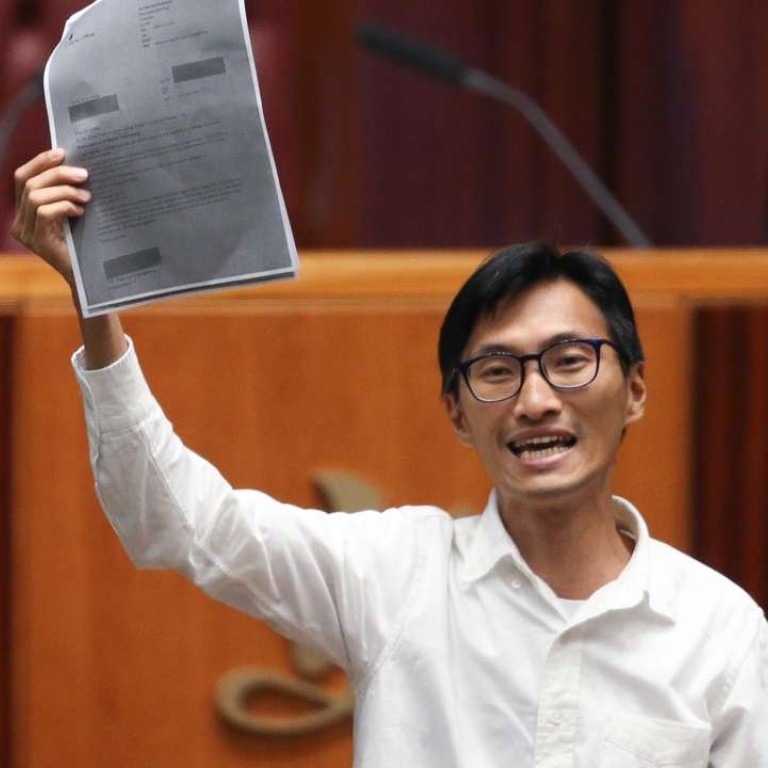 Hong Kong Legco newcomer Eddie Chu in UK to probe Andrew Leung nationality controversy
Lawmaker accuses British home secretary of 'kowtowing to Beijing'
Newly elected lawmaker Eddie Chu Hoi-dick was in London on Monday demanding answers from the UK government over the how the new Legislative Council president gave up British citizenship.
Chu's office said he wanted to meet Home Office officials, including Home Secretary Amber Rudd, for an explanation of why Andrew Leung Kwan-yuen, of the pro-Beijing Business and Professionals Alliance, had his renunciation of British nationality processed so quickly.
On departing late on Sunday, Chu said in a video posted on his Facebook page: "I have to fly to London to try to get more information because there is little hope that I can get much from Leung or the Legco secretariat. One important question I would raise is how long it would normally take for a nationality renunciation application to get processed."
Chu said he suspected the Conservative government might have given Leung quicker, preferential treatment under pressure from Beijing.
On the day of the election, he revealed papers that seemed to show he gave up the nationality.
In a letter, dated Monday, to Rudd, Chu criticised the UK for helping "in putting a puppet for Beijing on the presidential seat of Legco." He said that had disappointed Hongkongers.
"This incident casts doubts over the autonomy of the Hong Kong legislature and the UK's commitment to the 'Hong Kong people ruling Hong Kong' principle in the Sino-British Joint Declaration," Chu wrote, accusing Rudd of "kowtowing to Beijing".
Chu said he wanted the government to confirm the authenticity of Leung's documents, and to find out if the officer who signed Leung's papers had been "in contact with any [Chinese] officials".
Eddie Chu after his surprise election win
Leung said on Monday: "I have repeatedly explained the situation. But some people refuse to accept.
"I am very pleased to see someone take the trouble to clarify the matter for me."
A spokesman for Chu's office said he had paid for the trip on his own and had no plan to claim it on his office's expenses.
In a live interview on TV programme Impact by BBC World News on Monday night Hong Kong time, Chu said: "I want to question [British officials] in order to clarify what happened between the Home Office and Andrew Leung."
Chu queried why Leung applied so late for the renunciation, adding that he understood the process to be one which usually took 40 days.
The nomination for Legco president closed on October 5 and the election took place on October 12.
Chu said he suspected that Leung was so confident about his application because he might have secured a guarantee from either the British or Chinese government that the process would be sped up.
The lawmaker said on a radio programme on Tuesday morning that Catherine West of the Labour Party in the UK would file written questions in parliament on whether the UK was under pressure to speed up Leung's renunciation of his British citizenship.
"I will come back soon, for Wednesday's Legco meeting," Chu said.
This article appeared in the South China Morning Post print edition as: Eddie Chu in UK for president response