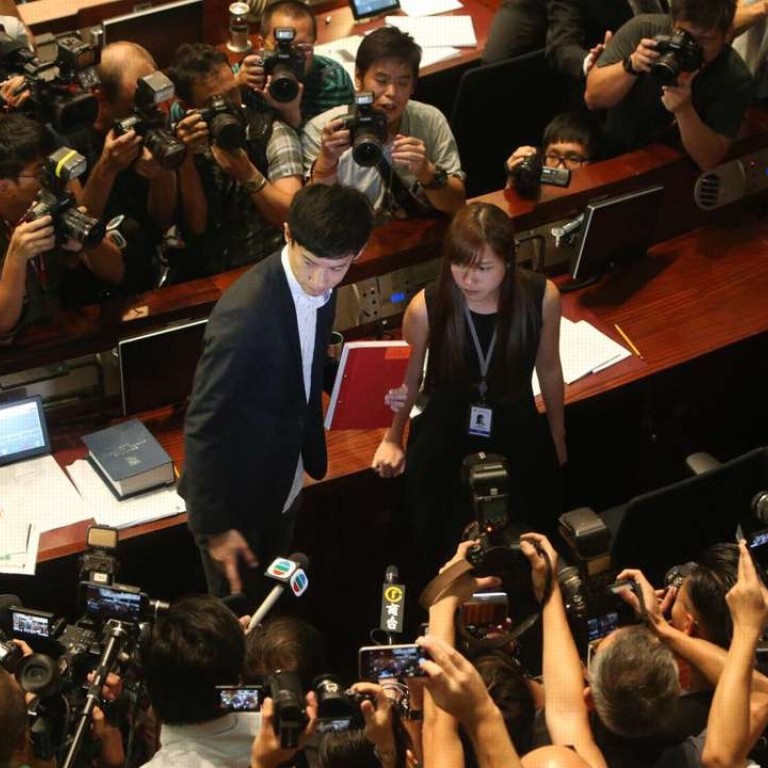 Legco drama rages on: meeting adjourned after Hong Kong localists enter to defy oaths ban
Legco president Andrew Leung adjourns meeting after Baggio Leung and Yau Wai-ching force way into chamber while protest organiser estimates 10,000 came to denounce the duo
Welcome to the SCMP's coverage of the third meeting of the newly elected Legislative Council, which remains embroiled in an oath-taking controversy involving localists at odds with mainland authorities.
Watch: Legco oath-taking crisis continues
1.25pm – But they're listed, no?
The oaths controversy notwithstanding, Legco apparently regards Baggio Leung and Yau Wai-ching as members, at least on its intranet.
12.35pm – Regrets over adjournment
Legco president Andrew Leung Kwan-yuen said he regretted the meeting's adjournment.
"I already announced the decision yesterday to delay the oath-taking process of the two lawmakers, and they have refused to leave even upon my order," he said. "I have no choice but to adjourn the meeting as its order could not be restored."
Leung defended his decision and reiterated the oath-taking process of the two localists would only happen when the Court of First Instance handed down its judgment on the issue.
When asked if he was capable of holding the meeting as leader of Legco, Leung said the meeting's orderliness depended on the collaboration of 69 lawmakers.
It would not make a difference no matter who the president was if lawmakers were not willing to work together, he added.
Leung said he did not consider changing the venue of the meeting before adjourning it as he did not want the security guards to "get hurt".
12.30pm – Distinctions drawn
The Civic Party and Democratic Party each emphasise that while they defend the right of Youngspiration's duly elected lawmakers to retake their oaths, they did not agree that their first oaths insulted China.
Democratic Party member Helena Wong Pik-wan went on to note that none of her party's seven lawmakers took part in escorting the duo.
"The Democratic Party's plan was that if [the pair] could enter the chamber in their own way, we would follow the rules and let them be sworn in as soon as possible."
Those making way for the duo were Civic Party's Jeremy Jansen Tam Man-ho, Claudia Mo Man-ching and Alvin Yeung Ngok-kiu, as well as Edward Yiu Chung-yim, Eddie Chu Hoi-dick, Nathan Law Kwun-chung, Shiu Ka-chun and Raymond Chan Chi-chuen.
12.25pm – Youngspiration pair speak
Baggio Leung and Yau Wai-ching thank pan-democrats for escorting them into the chamber and criticise pro-establishment camp for halting their plan for another oath-taking.
The pair call on all Hongkongers – even those who do not entirely support them – to join their rally outside Legco at 6pm tonight.
"Whether you support the two of us or not, please join us tonight if you want to safeguard our constitutional fundamentals," Leung said.
He said the situation today showed the Legco president could tarnish Hong Kong's constitutional integrity by barring the pair of democratically elected lawmakers from taking their oaths and carrying out their duties.
"Baggio Leung and I have never given up on retaking our oaths," Yau added. "I thank the pan-democrats for helping us enter the chamber."
12.15pm – Nathan Law's comments
Speaking alongside pan-democrats before the media, Demosisto lawmaker Nathan Law Kwun-chung called on Hongkongers to stand up to the "political struggle".
"We should stop the fight between different factions [within the democratic camp]," the former Occupy movement student leader said. "Those who want self-determination must now defend the rule of law. We must not let the [Legco] president and the pro-establishment evade all legal bases in their deeds."
Law was among pan-democratic lawmakers who escorted Baggio Leung and Yau Wai-ching as they entered Legco earlier in the day.
12.15pm – Organisers estimate 10,000 protested
Protest organiser Ng Chau-pei estimated over 10,000 people came out to Legco. "The big turnout is a bit unexpected," he said. "It showed many people do not support Leung and Yau."
"The last thing we want to see is for these two young people to become lawmakers," he added. "They should be thrown out of Legco. There is no place in Legco for those who insult Chinese people."
Ng confirmed many who participated in the protest were elderly. "Today is Wednesday, and many people need to go to work or go to school," he explained. "We have to appreciate this, and it should not be interpreted that those not joining us today do support Youngspiration's insulting Chinese."
12.10pm – Protesters thanked
DAB lawmakers Ann Chiang Lai-wan, Starry Lee Wai-king and Elizabeth Quat came to the rally to greet participants and asked for their continued support.
Organisers and the lawmakers wrapped up the rally with by singing a song in Putonghua whose title means "I'm Chinese".
12.07pm – 'Unfit to perform'
The pro-democracy camp call on Legco president Andrew Leung Kwan-yuen to resign.
"Andrew Leung is unfit to perform his role," the camp's convenor James To Kun-sun said. "The quorum was met, but he did not administer the oath [for the duo] in accordance with the law."
"In the face of the chaos, he did not know what to do but to adjourn the meeting. He has no basic competence to chair the meeting," he added.
Civic Party lawmaker Alvin Yeung Ngok-kiu said the chaos today stemmed from the rival camp's threat of a walkout in the first place.
12.05pm – A trail of placards, rubbish and disappointment
The crowds keep dispersing at Tamar. Many leave behind placards and rubbish for organisers to collect.
A man, who declined to be named, said he was disappointed with how the morning played out.
"They're just running away from the problem [by calling off the meeting]," he said. "These two young people shouldn't be allowed to be lawmakers in the first place."
11.50am – The crowds subside
More than half the pro-establishment protesters have left the rally, shortly after organisers announced the Legco meeting's adjournment.
11.48am – Basic Law heavyweight Maria Tam weighs in
Speaking outside Legco,
Basic Law
committee member Maria Tam Wai-chu praises Andrew Leung Kwan-yuen for his decision. She says Baggio Leung and Yau Wai-ching set a bad example.
11.40am – Expecting more gridlock
Executive councillor and New People's Party lawmaker Regina Ip Lau Suk-yee believes the Legco meeting next week will again be cut short as the conflict goes unresolved.
Ip blames the adjournment on the pan-democrats.
"People might have different interpretations of the rules of procedures, but they should respect the final ruling of the Legco president," she said, referring to Andrew Leung's earlier decision to ban the Youngspiration pair from entering the chamber.
Felix Chung Kwok-pan of the pro-establishment Liberal Party agreed, saying the city was in a "constitutional crisis" as the legislature could not function at all.
11.40am – Cheers and applause outside Legco
Cheers go up outside Legco as news circulates that Legco is adjourned.
But some protesters claim their fight has not ended.
Cheung Man-hoi, a clerk who took a day off work to protest, says of the Youngspiration duo: "We should not give up fighting until they are formally disqualified."
Organisers claim over 10,000 people have come out. Most of those in attendance appear to be middle-aged or elderly, and many were earlier spotted arriving at Tamar by bus.
11.38 – No concessions
Baggio Leung says after the adjournment: "I wanted to exercise my right to take the oath but failed."
This from Martin Liao Cheung-kong, convenor of the pro-establishment camp: "The pro-establishment camp condemns the verbal and physical violence [by the pan-democrats]."
Asked whether his camp would make concessions such as refraining from another Legco walkout, Liao was defiant.
"It's not about making concessions," he says. "It's about the dignity of our country."
The barrister criticises the localists for in his view wrongly citing the rules of procedure in insisting they have a right to take their oaths.
"The Basic Law says the president has the power to decide on the agenda," he says. "The Basic Law, a constitutional document, overrides all the Legco rules if there are conflicts."
11.31am – Meeting adjourned
Andrew Leung has had enough.
"Because order cannot be restored, I now adjourn the meeting," he says.
The meeting is adjourned until next Wednesday.
Watch: Legco chaos as localists enter chamber
11.27am – Solidarity from the pan-democratic camp
Civic Passion lawmaker Cheng Chung-tai shouts at Legco president Andrew Leung Kwan-yuen, asking him to explain why he did not allow the duo to take their oaths. He calls him a "totalitarian".
Leung asks Cheng to leave the premises with Baggio Leung and Yau Wai-ching. All three refuse.
Pan-democratic lawmakers join the chorus calling on the Legco president to allow the oath-taking.
Watch: pro-establishment lawmakers' walkout last week
11.22am – Legco president returns
Legco president Andrew Leung Kwan-yuen enters the meeting hall again.
11.20am – Rally against the government
League of Social Democrats chairman Avery Ng Man-yuen says Chief Executive
Leung Chun-ying
is setting a bad precedent by enlisting a court to intervene in Legco business.
"I also can't approve the two young members' behaviour," Ng said. "But that does not mean I would support the government's meddling in the legislature's business."
He notes large groups of people came to denounce the Youngspiration pair. "I respect people expressing their views," he says. "But they shouldn't take an overly simplistic view and target only these two young people."
11.16am – Youngspiration duo remain seated in Legco
Baggio Leung and Yau Wai-ching remain in their seats during the meeting's suspension, defying the president's order for them to leave. It is unclear if security guards will force them out once the meeting resumes.
11.07am – Meeting starts, meeting suspended
Legco president Andrew Leung Kwan-yuen enters the meeting hall and immediately asks the Youngspiration duo to leave. He announces the meeting will come to a halt and then leaves, with pan-democratic lawmakers shouting "Leung Kwan-yuen, shame on you!"
Baggio Leung walks out to the middle of the chamber asserting his right to take his oath. Several pan-democrats join him to express solidarity.
The president suspends the meeting.
Watch: Youngspiration pair inside the chamber
11am – League of Social Democrats enter fray
Outside Legco, a group of around 20 protesters from the League of Social Democrats burn a letter calling for Andrew Leung Kwan-yuen to step down.
They say they do not expect the government to come out to receive the letter, so they burn it as an offering, akin to the traditional Chinese ritual for the deceased.
Separately, a shouting match erupts between the league and a few people holding a China flag on the CITIC Tower footbridge
10.56am – Youngspiration pair on the premises
Escorted by at least eight pan-democratic lawmakers, Baggio Leung and Yau Wai-Ching slowly walk towards the chamber, surrounded by reporters.
The escorted duo make their way into the chamber. Reporters, who are usually not allowed in the chamber, also force their way in to watch the Youngspiration members take their seats.
Pan-democrats chant: "Convene the meeting now! Administer the oath following the law!"
Watch: SCMP reporter Jeffie Lam live outside Legco
10.33am – Thousands estimated at Tamar
Thousands have gathered at Tamar Park next to Legco. Many of them belong to groups in Hong Kong representing different Chinese cities and provinces.
Representatives from the Federation of Fujian Association shout slogans calling for the government to disqualify Sixtus Baggio Leung Chung-hang and Yau Wai-ching as lawmakers.
10.25am – Thou shall not pass
The Legislative Council clerk has erected a notice at the chamber entrance, which says Sixtus Baggio Leung Chung-hang and Yau Wai-ching shall not be permitted entry to the chamber today.
10.20am – 'They can't insult us'
Lam Chun, 81, a former squad member of the East River Column of Hong Kong Independent Battalion, says she
cannot forgive
the Youngspiration duo for using the term "Chee-na" to refer to China during their oaths on October 12.
"Even it they do not want to be Chinese, they can't insult us Chinese," she said.
"Do we want to be called by that term again ? We must stop them from becoming lawmakers," she adds while standing amidst a crowd blanketing the protest zone and pavement outside Legco.
10.04am – 'Not suitable to be lawmakers'
Hui Yan-ho and a man surnamed Leung who declines to give his full name both took a day off work to join the rally at the Legislative Council.
"Does it make sense that Chinese people insult China?" Hui asks. "Lawmakers are here to serve Hong Kong and society, not to make trouble."
Both claim Baggio Leung and Yau Wai-ching are not suitable to be lawmakers and should not be allowed to take oaths.
10am – Veterans make voices heard
About 20 representatives of the East River Column of Hong Kong Independent Battalion – a guerilla squad that fought the Japanese in Hong Kong during wartime – shout slogans demanding the Youngspiration duo be "kicked out of Legco".
Most are adult children of the former members.
Kevin Ng, whose grandfather was a squad member, says: "I think the two [localists] have gone too far. They insult Chinese. It is not democracy. It is 100 per cent anti China, anti-Chinese."
Ng, a transport company driver, says he applied for a day off to protest.
"My grandfather fought for Hong Kong against the Japanese," he says. "I can't allow anyone to use dirty words to insult Chinese and Hongkongers."
9.55am – Placards against Youngspiration
Protesters start holding up placards reading "Kick out Baggio Sixtus Leung Chung-hang and Yau Wai-ching" and "Hong Kong is part of China" as they head towards the Legislative Council.
9.53am – More crowded than Occupy?
Hundreds of people from various pro-Beijing associations are gathered at Admiralty Centre, with a protester heard saying it's even more crowded than during the city's pro-democracy
Occupy movement
in 2014.
Police urge protesters to not loiter at Admiralty Centre, where one of the MTR exits is located.
They also make an announcement directed at those heading towards the government headquarters and Legislative Council to take the overhead bridge for CITIC Tower instead of the footbridge over Harcourt Road.
9.35am – Protesters on the move
And it begins. One of the MTR exits at Admiralty is jam packed with protesters during morning rush hour to attend the rally at the Legislative Council.
The protesters, mostly middle aged and some spotted holding Chinese flags, tell the Post they're going to Legco. But all refuse to explain why and for what purpose.
The MTR makes announcements asking commuters to use other exits due to the crowds heading to Legco.
In a dramatic
twist yesterday
, Legislative Council president Andrew Leung Kwan-yuen delayed the swearing-in of two localists who had insulted China in their earlier oaths.
He has also banned the lawmakers-elect, Sixtus Baggio Leung Chung-hang and Yau Wai-ching, from chamber.
All eyes this morning will be on whether the legislature again descends into chaos. The Youngspiration pair have already vowed to storm the chamber despite Leung's ruling.
Calling the president's latest stance a "ridiculous" reversal of his earlier decision to let them take the oath again today, they said they would enter the chamber by "legal means" at 11am, and ask the president to let them retake the oath.
A number of pro-Beijing groups angered by Baggio Leung and Yau calling China "Shina" – a derogatory term used by Japan during its occupation of China – have vowed a 10,000-strong protest against the localists, urging them to apologise and quit the legislature.
Rival camps have also pointed fingers and hurled objects at each other in front of the cameras.