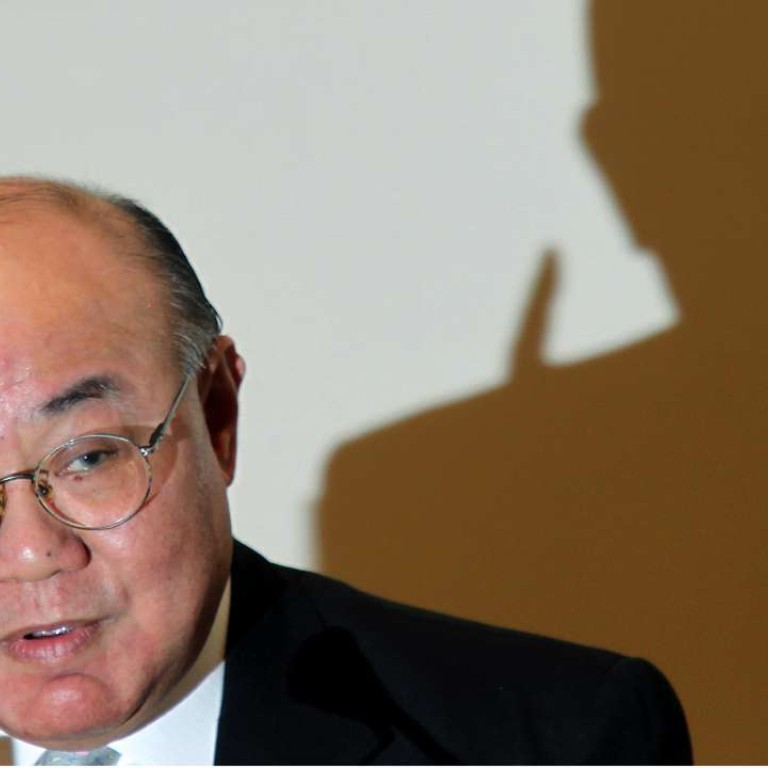 Retired judge Woo Kwok-hing first to officially throw hat in the ring for Hong Kong's 2017 chief executive election
Former vice-president of the Court of Appeal will roll out campaign plan on Thursday
A high-profile retired judge will on Thursday become the first person to formally declare their intention to run in the race to become the next leader of Hong Kong.
Woo Kwok-hing, chairman of the Electoral Affairs Commission from 1993 to 2006 and former vice-president of the Court of Appeal, will announce details of his bid to become chief executive – a move described by one senior legal figure as "brave".
The 70-year-old, who was also the city's first interception of communications and surveillance watchdog and has headed a series of high-profile commissions of ­inquiry, is understood to have ­decided to run because he feels the city has become riven with ­division under the incumbent leader, Leung Chun-ying.
Outside his election headquarters in the Lucky Building in Central last night, Woo declined to elaborate on his bid. However, it is understood low-profile ­barrister Ho Bing-kwan will be a core member of his team for the March 26 election.
It also emerged on Wednesday that as well as meeting lawmakers from the Democratic and Liberal parties in recent days, Woo has held discussions with former Civic Party legislator Ronny Tong Ka-wah.
The ex-judge also talked about political reform and labour and housing issues with former ­Labour Party lawmaker Lee Cheuk-yan on Wednesday.
According to those who have spoken to him, Woo backs restarting the stalled process of electoral reform and treads a careful path when it comes to criticism of the stringent framework Beijing laid down in 2014 for electing the chief executive by "one man, one vote".
He is the third judge to run for the top post. Ti-liang Yang, who was then chief justice, and Simon Li Fook-sean ran in 1996 but lost out to Tung Chee-hwa, who ­became the city's first chief executive on July 1, 1997.Other widely tipped candidates to run include Leung, Financial Secretary John Tsang Chun-wah and executive councillor Regina Ip Lau Suk-yee.
Bar Association chairwoman Winnie Tam Wan-chi described Woo's bid as "very brave" given the "hot potato" nature of the job.
"I have no reason not to have confidence in his willingness to safeguard Hong Kong's rule of law," Tam said.
Ip, a former secretary for security, said: "Mr Justice Woo is a well-respected judge of considerable standing. If he decides to run for chief executive, this says something about the hope Hong Kong people have for fair competition in the race for the top job."
Prospective candidates require nominations from at least 150 of the 1,200-member Election Committee which chooses the city's leader.
Woo was chairman of the Electoral Affairs Commission from 1993 to 2006 and commissioner on interception of communications and surveillance until 2012.
Additional reporting by Shirley Zhao
This article appeared in the South China Morning Post print edition as: Ex-judge is first to run for chief executive