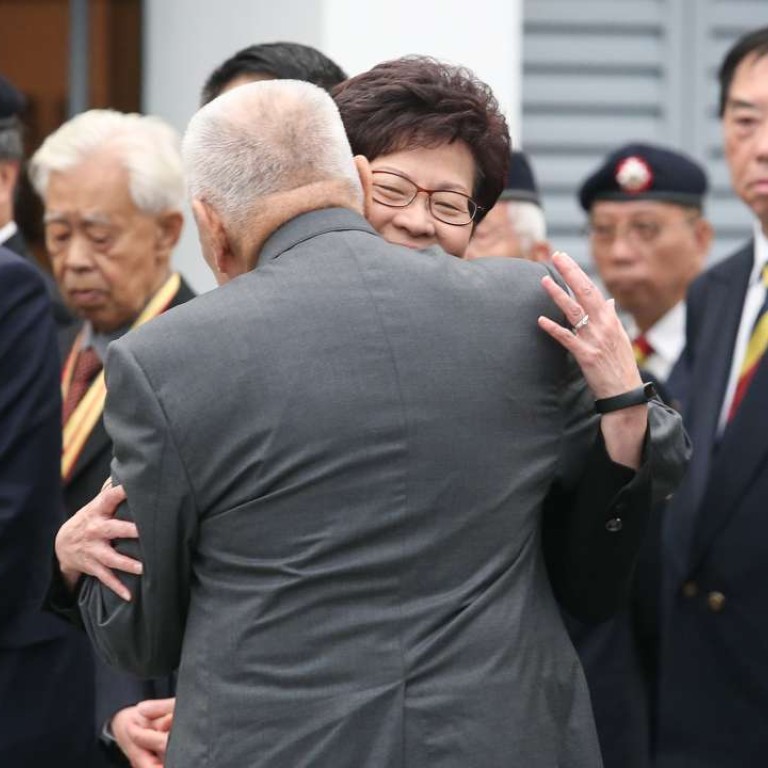 Hong Kong Chief Secretary Carrie Lam on the offensive as leadership race looms
Government's No 2 official criticises report by former financial secretary John Tsang amid expectations they will soon be rival candidates for chief executive role
Hong Kong's No 2 official on Tuesday attacked Financial Secretary John Tsang Chun-wah over ­government policy a day after he resigned, in a taste of the looming showdown ahead if they face off for the city's top job, as widely ­expected.
Chief Secretary Carrie Lam Cheng Yuet-ngor turned up the heat on Tsang over a report that was "unfair" to the elderly, even as Chief Executive Leung Chun-ying conceded that his finance minister's departure would have "a big impact" on the government's work, especially with the likelihood of his No 2 stepping down as well to join the leadership race.
Leung, who dropped a bombshell last week by announcing that he would not seek a second term due to family reasons, on Tuesday spoke of the impact as his cabinet prepared for January's policy address and February's budget.
Watch: Leung Chun-ying will not seek a second term
"Now is the government's busiest time of the year. Not to mention two ministers resigning, even the financial secretary's resignation itself will have quite a big impact on our work."
But Leung dismissed suggestions that there was any discord between himself and the finance chief, or that he would be leading a lame-duck administration until next June.
Tsang has stopped short of confirming his bid for the top job, saying he will make a decision soon, while Lam is "reconsidering" whether to throw her hat into the ring after Leung's pull-out.
Watch: John Tsang resigns
Amid fevered speculation as to whether Beijing has a preferred choice, former chief executive and now elder statesman Tung Chee-hwa on Tuesday made two public appearances with Lam, setting tongues wagging by giving her a hug in front of the cameras. Tung would not answer when asked whether he was conferring Beijing's blessing on Lam.
The only contender to officially declare his candidacy so far is retired judge Woo Kwok-hing.
Another contender, Executive councillor Regina Ip Lau Suk-yee, is expected to formally announce her election plan on Thursday.
For his part, Tsang vacated his official residence on Tuesday, as his election office started to take shape. A source familiar with the development said Tsang had identified Hopewell Centre in Wan Chai as his election office, adding that he could not sign the tenancy agreement at this stage as he was awaiting Beijing's approval of his resignation.
"The team cannot formally start the campaign until the approval is given," the source said.
It took Beijing two days to approve former chief secretary Henry Tang Ying-yen's resignation in 2011, and eight days for Donald Tsang Yam-kuen in 2005, before they ran for the top job.
John Tsang's campaign is said to be spearheaded by former permanent secretary for civil service Rebecca Lai Ko Wing-yee. Former permanent secretary for economic development and labour Sandra Lee Suk-yee, Tsang's former press secretary Patrick Wong Wing-kit and Tsang's former political assistant Julian Law Wing-chung are also helping.
Lam declined to elaborate on her possible run for office, but she fired what appeared to be her first salvo against Tsang at a forum on the city's ageing population.
Drawing attention to studies by the Long Term Fiscal Planning Working Group, which was formed in 2013 by Tsang, she criticised two passages describing ageing as a "threat" to economic growth that put pressure on government revenue.
"So the elderly somehow have been associated with threats, and pressure and dragging our economic growth, which is most unfair," Lam said, departing from the official speech transcript. Lam has increased her focus on helping the elderly and underprivileged, in what is being interpreted as campaign-style talk.
Lau Siu-kai, vice-chair of a top think tank on Hong Kong and Macau affairs, said Tsang's resignation and that of Lam which is expected to follow would turn Leung's administration into a "caretaking government", whether he admitted it or not.
"If Lam resigns, the impact would be even larger than Tsang's departure," Lau said. "Leung can only cope with it by appointing acting ministers to take up the daily administrative work ... Even Hongkongers might not expect them to achieve much on big and long-term policies."
This article appeared in the South China Morning Post print edition as: lam on THE offensive as leadership race loomsCarrie Lam on offensive against John Tsang as leadership race looms