Focus
Get more with myNEWS
A personalised news feed of stories that matter to you
Learn more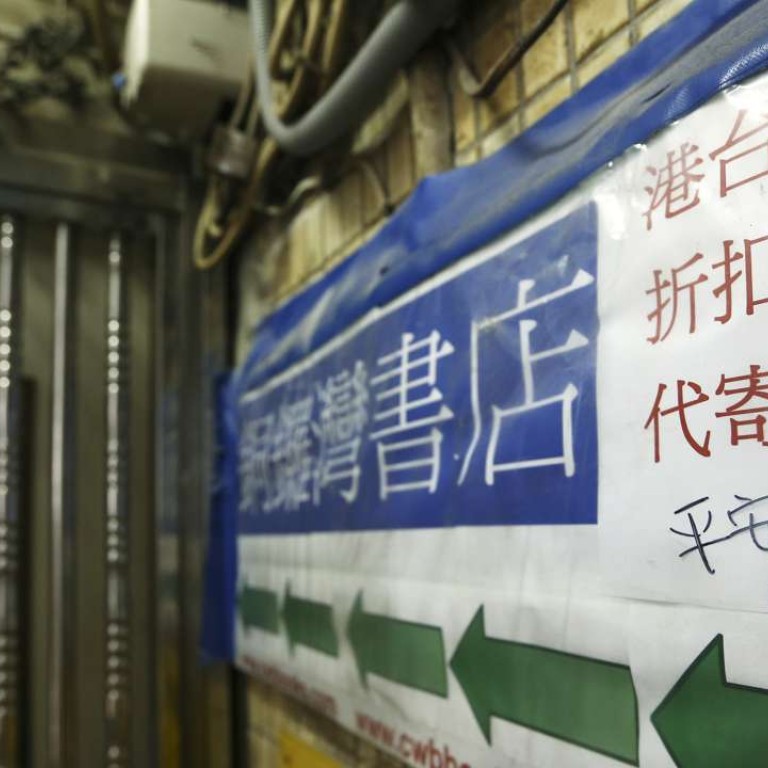 One year on: Hong Kong bookseller saga leaves too many questions unanswered
The disappearance of five booksellers shocked Hong Kong, bringing into question the city's freedoms and the value of a Hong Kong-mainland notification system
Even with the apparent return to normality for all but one of the five Hong Kong booksellers "abducted" by mainland agents a year ago, the reality of the hidden threat of repression lingers for many in the city.
The forced disappearance of the five from Causeway Bay Books climaxed exactly a year ago when Lee Po, its owner, was seen boarding a van at his Mighty Current publishing office in Chai Wan at around 6pm before he was taken across the border without any official record of his departure.
The incident raised fears for the city's autonomy and concerns over the potential loss of freedoms and the effectiveness of the notification mechanism, whereby Hong Kong and the mainland notify each other if a resident of one is detained by the other.
After Lee's disappearance, the city slowly woke to the realisation that the Hong Kong-born British national was in fact the last of five bookstore associates to go missing. The first was Gui Minhai, co-founder of Mighty Current and a Swedish national, who disappeared from his home in the Thai resort of Pattaya in October. He is the only one still being detained in the eastern city of Ningbo.
Watch: Bookseller Lam Wing-kee wants to live a normal life
"I think the objective of the move is to purposely tighten freedom of speech in Hong Kong, and to a certain extent it has succeeded," said Lam Wing-kee, the only one of the five Causeway Bay Books associates to speak about his kidnapping. The other four have stayed conspicuously silent.
An example of this success may be a newspaper stand that features banned books and magazines near Causeway Bay Books. It has registered a drop of 60 to 70 per cent in the sale of politically sensitive titles since the disappearances.
Political scientist Ma Ngok saw Lee Po's disappearance as having wider implications.
"It is an important date that signals the deterioration [of 'one country, two systems'] but whether it is an isolated case or a prelude to similar cases that we will get used to has yet to be seen," the Chinese University professor said.
The case, he said, breached the bottom line for freedoms in Hong Kong, and it would take a long time to restore trust in the mainland authorities.
"The lesson we learn from the case is whether we should speak out like Lam or shut up like the rest. I think we should make enough noise to defend our core values. Otherwise we'd be heading towards major calamity," he said.
Veteran journalist Ching Cheong lamented that nothing had been done to address the anxieties and fears of Hong Kong people over the case.
"The SAR administration has failed to condemn an outright violation of the basic rights enshrined in the 'one country, two systems' principle. That I think in itself is a major mistake," he said.
"The case has challenged two basic elements that concern all of us as we no longer feel safe on Hong Kong soil and with a foreign passport," he said, referring to the remark by Foreign Minister Wang Yi about Lee Po, a British passport holder, that "you are first and foremost a Chinese national".
Lau Tat-man, a veteran publisher of politically sensitive books through Ha Fai Yi Publication and the former employer of two of the missing booksellers, Lui Por and Cheung Chi-ping, before they joined Mighty Current, was concerned about Hong Kong's core values.
"We were already apprehensive during the 1997 handover, and this case only fuelled fears about upholding core values including freedom, the rule of law and safety," the publisher said.
Like Lam Wing-kee, Lau said the objective of clamping down on banned books had succeeded.
"We have published less, but it's also more because of the overall shrinking market than what happened to Lee Po as we still believe in freedom of speech here in Hong Kong. Realistically, why should we run the risk of publishing political books for an uncertain profit?" he said.
While book publishers and stakeholders generally agreed that the aim of the crackdown on Causeway Bay Books had been met, they differed over why the case had not been closed.
"They wanted something more from the bookstore and for that they have paid the rent up front for two years [from 2015 to 2017] That is why you can still see the store, albeit idle, and the large sign on Lockhart Road," said Lam, who founded Causeway Bay Books in 1994 and sold it to Lee and Gui in 2012. He was then re-employed as store manager.
Lam recalled one of the provisions he had to agree to before being set free was to run his old store again and to monitor mainland buyers of banned books and report them to the mainland authorities.
"
They wanted me to be their snitch
and turn the bookstore into some kind of outpost for intelligence gathering," he said, adding he had no choice but to say yes to all they asked for, including handing over the store's computer hardware containing customer data, so he could return home.
Lam said the mainland authorities lacked the wisdom to get the job done properly. "The whole saga could have been avoided if the mainland authorities had talked Lee Po into selling the entire publication network, and I'm quite sure Lee would not have said no.
"But they are too accustomed to resorting to their power and doing things the hard way," he said.
As a fugitive on the mainland's wanted list, Lam knew the price to pay by turning against the authorities there.
"Under Hong Kong law, I am not a wanted man, but I have got used to living on high alert at all times. Still that's a better deal than being locked up on the mainland," he said, referring to his detention from October 2015 until June 2016.
Lam admitted he had been given an option to settle in Taiwan, but chose to stay in Hong Kong until "the time comes when my dear ones are threatened, then I have no choice but to leave. That would also be the end of 'one country, two systems'."
The future enactment of Article 23 provisions on national security, he added, could be that moment.
While Lam could not see how the Causeway Bay Books saga would be settled, Lau looked at the source of the issue. "In the final analysis the stickiest issue at stake are China's cross-border operations, not once but twice, taking Gui from Thailand and Lee from Hong Kong," Lau said.
"The matter got even more complicated when Lee was a British national and Gui Swedish. Now that Lam has run away after behaving well, China will not be fooled a second time, and the whole thing turns into a waiting game, just like the case of [former New Evening Post chief editor]Luo Fu in the 1980s, who ended up staying in Beijing for a decade," he said.
Even as questions surrounding the booksellers remain unanswered, one stark reality is that not much appears to have changed with the notification mechanism involving the arrest of Hong Kong residents and their subsequent treatment.
One example of its failure is the case of Cheng Kit-faat and Cheng Kit-shun, who were taken away for attempting to block bulldozers from demolishing the factories run by their family in the Nanshan district of Shenzhen since 1999.
Their mother, Wong Lam-ying, said she remained in the dark about their fates.
"I have begged the mainland authorities to release my sons. I have begged the Hong Kong government to help. My sons are just in their 20s. Who wouldn't be heartbroken to see them getting beaten up by the mainland police?" Wong said.
The pair were arrested on suspicion of disrupting public officers in the execution of their duties.
While the mainland authorities have informed their Hong Kong counterparts that the Cheng brothers have been detained, no other information has been provided, according to Sham Shui Po district councillor Yuen Hoi-man, who has been helping the family.
"It's a slap in the face of the 'one country, two systems' principle. Both of them were injured and [Wong] has not been allowed to visit them," the Democratic Party member said. "This case is not as high profile as the case of the booksellers and the mainland authorities still want to keep everyone in the dark."
Shortly after bookseller Lam's explosive claim that he was kidnapped by a mainland central investigation team while on his way to Shenzhen, senior Hong Kong officials visited Beijing to discuss how to improve the notification mechanism.
After the first meeting, Chief Executive Leung Chun-ying announced that both sides had agreed to inform each other within 14 days if they detained the other's residents, provide more facts relating to investigations and give notice through additional channels.
Leung emphasised his administration would fight for the mechanism to cover all law enforcement agencies instead of just the mainland's public security and customs authorities, the people's procuratorates and the Ministry of State Security.
About three weeks later, both sides met again in Shenzhen.
Xinhua subsequently reported that the scope of the content, the time requirement and notification channels would be "modified and improved". No details have yet been revealed.
Pressed to state what, if any, changes have been made to the notification mechanism, the government's Security Bureau would only say that both sides had, during the two meetings in July, "exchanged views on revising and perfecting various aspects of the notification mechanism".
One year on, too many questions remain unanswered and the mystery of the booksellers remains unresolved.
THE STORY UNFOLDS
Watch: Hong Kong's missing booksellers: a timeline of events
October 2015
Mighty Current shareholder Gui Minhai disappears in Thailand. Shareholder and general manager Lui Por, assistant general manager Cheung Chi-ping, and Causeway Bay Books manager Lam Wing-kee disappear on the mainland.
December 30
Causeway Bay Books co-owner Lee Po last seen leaving Mighty Current's Chai Wan warehouse alone at about 6pm. He calls his wife, Sophie Choi Ka-ping, and tells her in Putonghua he is safe and assisting an investigation.
January 1, 2016
Choi finds Lee's home return permit at home. Police find no record of Lee leaving the city.
January 17
Gui appears on state television, saying he turned himself in for breaching conditions of a two-year suspended sentence for a drunk-driving death from 2003.
January 23
Lee meets his wife at a secret mainland location and gives her a letter urging Hong Kong police to drop their investigation.
February 4
Guangdong police confirm Cheung, Lui and Lam are being investigated on the mainland.
February 28
Lui, Cheung and Lam appear on Phoenix TV to admit distributing unlicensed books on the mainland.
February 29
Hong Kong police meet Lee at a guest house on the mainland.
March 25
Lee tells media he wants to start afresh and will never run a bookstore again. He is driven off in a car with cross-border plates, which then crosses the border.
June 17
Lam says he was taken away, blindfolded and handcuffed by mainland agents and put through eight months of "mental torture" across the border.
July 5
Senior Hong Kong officials meet their counterparts in Beijing and secure a preliminary agreement on the need to overhaul the notification mechanism.
July 28
Officials from both sides meet in Shenzhen to resume talks on improving the mechanism. Xinhua reports that the scope of the content, time requirement and notification channels would be "modified and improved".
December 23
Asked to state what changes, if any, have been made to the notification system, the Security Bureau only says Hong Kong and mainland officials have yielded "satisfactory progress".
THE NEXT CHAPTER – WHERE ARE THE FIVE NOW?
Lee Po, 65, Causeway Bay Books co-owner
Disappeared from Hong Kong in December 2015, returned in March 2016, and since then has lived in North Point with wife Sophie Choi Ka-ping, a columnist at Shanghai's popular Xinmin Evening News, and their autistic son. Lee is now said to commute between Hong Kong and Ningbo, south of Shanghai, where he must report regularly.
Gui Minhai, 51, Mighty Current shareholder
Disappeared from Pattaya, Thailand, in October 2015 and since then has been under investigation by the public security bureau in Ningbo, his hometown in Zhejiang province.
Cheung Chi-ping, 32, Mighty Current assistant general manager
Disappeared from the mainland in October 2015, returned to Hong Kong in March 2016 to close the case with police and went back to Dongguan in Guangdong, where he lives with his wife and child.
Lam Wing-kee, 61, Causeway Bay Books store manager
Disappeared from the mainland in October 2015, returned to Hong Kong in June 2016, where he lives while on the mainland police's wanted list.
Lui Por, 47, Mighty Current shareholder and general manager
Disappeared from the mainland in October 2015, returned to Hong Kong in March 2016 to close the case with the police, asking them to stop investigating his "missing person" file. Now lives with his wife in Shenzhen.