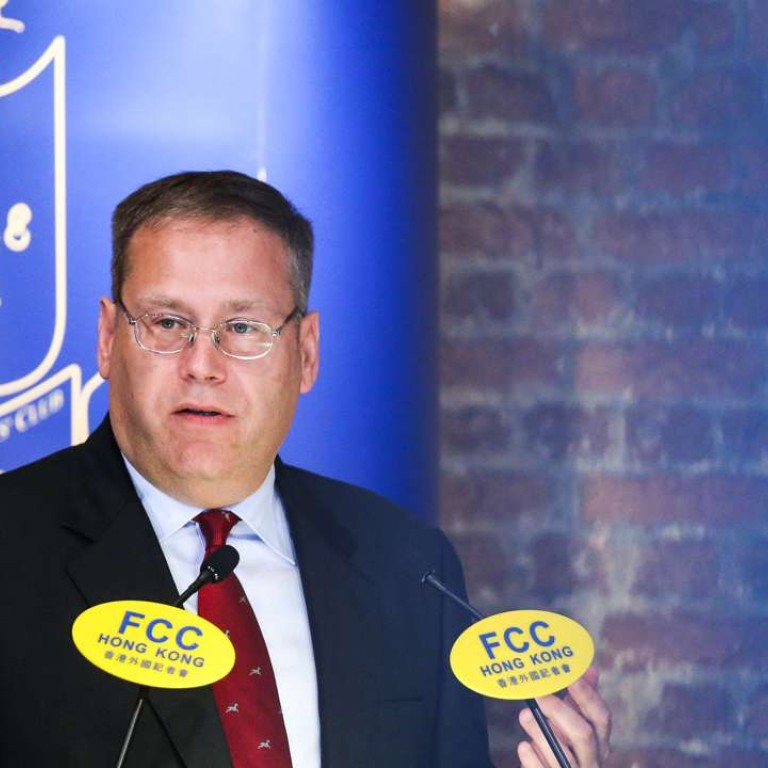 Anxiety high over Beijing's stance on Hong Kong, but 'two systems' should be respected: US consul general
Kurt Tong also calls for Hong Kong to tackle its own issues
Major recent controversies such as the missing booksellers case and interpretation of the Basic Law
to disqualify pro-independence lawmakers have left some Hongkongers anxious and doubtful about Beijing's respect for their autonomy, the United States' top envoy in the city has warned.
US Consul General to Hong Kong and Macau Kurt Tong said yesterday that he sensed a "palpable and persistent note of anxiety" in discussions with some locals.
Tong also attributed the anxious sentiment to factors such as income disparity, polarisation of the Legislative Council and a growing awareness of its limitations, and implementation of the "one country, two systems" policy.
"The
unwarranted disappearance of the booksellers
, as well as the unfortunate, pre-emptive interpretation of the Basic Law with respect to official oath-taking, have contributed to a sense among many in Hong Kong that Beijing may be losing sight of the importance of respecting Hong Kong's autonomy," he said in his speech at the Foreign Correspondents' Club titled "Anxiety and Confidence in Hong Kong".
He was referring to the disappearance of five Hong Kong booksellers involved in publications critical of the Communist Party in 2015, sparking concerns they were kidnapped by mainland agents.
"All these incidents have tended to feed Hongkongers' endless, unhealthy speculation about what Beijing wants, or does not want," Tong said.
He noted that his government agreed the recent interpretation, as suggested by the city's legal leaders, was "unnecessary", and gave the perception that Hong Kong could not handle the oath-taking dispute on its own when in fact it could have.
"But I remain hopeful that the central government really does understand that the 'two systems' part of 'one country, two systems' is critical to Hong Kong's success – as well as to Hong Kong's value to the rest of China," Tong said.
Tong also said Hong Kong would be better off if China respected its high degree of autonomy, while the city played within the constructs of the Basic Law.
He voiced hope that in future, Hongkongers would tackle their own issues and spend less time worrying about Beijing's thinking.
Tong, who succeeded
Clifford Hart
in the post last August, said he hoped the city's next leader would see the US as a key partner.
This article appeared in the South China Morning Post print edition as: US envoy urges HK to worry less about Beijing's intentions