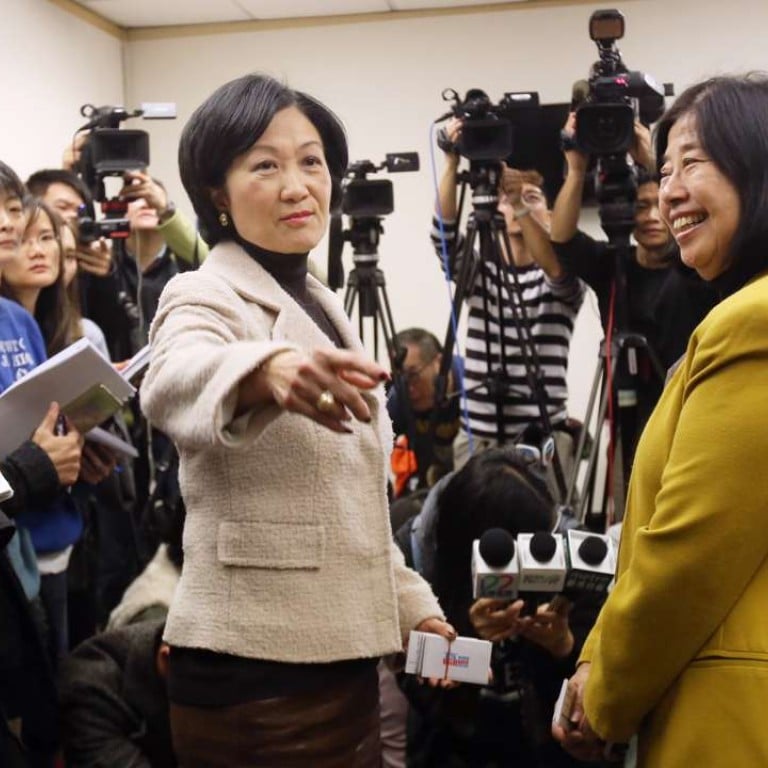 'Don't ask us to quit': Regina Ip stands firm on candidacy, demands equal treatment in chief executive race
With a shaky voice, Ip asks Election Committee to vote based on aspirants' manifestos, not Beijing's favour
Ip, a prominent pro-establishment lawmaker and chairwoman of the New People's Party, did not mince words a day after former chief secretary Carrie Lam Cheng Yuet-ngor announced her candidacy with a promise to bring "good governance" to Hong Kong.
Amid wide speculation about Lam's advantage over her rivals, Basic Law Committee vice-chairwoman Elsie Leung Oi-sie said on Saturday that there were too many candidates and some of them should consider their chances of winning before running.
"No one asked me to quit and I would not accept such a request," Ip said as she stressed the need for all candidates to get a fair shot at the top job.
Asked what message she wanted to convey to Beijing, Ip said: "I hope we can have a fair and open election. Only such an election would be good for Hong Kong in the long run … Let different candidates compete according to their strengthens; don't ask anyone to quit before the race has started."
Her Party's deputy chairman, Michael Tien Puk-sun, also spoke up for Ip on a radio show, but went further to lament that the election had "lost its shape" due to what he described as increasing interference by "an invisible hand".
He revealed that many of the 1,194 Election Committee members who will vote on March 26, himself included, had received phone calls asking them to nominate particular candidates – whom he did not name.
"It would be an extremely harmful factor for the administration's future governance if the next chief executive were selected without any competition," Tien warned.
Ip said she was confident about securing at least 150 votes needed to formally enter the race.
Asked by the Post if she believed she was more accountable and responsible than Lam, Ip recalled her resignation as a minister after failing to push the national security bill through the Legislative Council in 2003.
"I have certainly taken responsibility; I do acknowledge I did not perform entirely satisfactory in the past, I have apologised, I have taken responsibility under the accountability system ... I did not insist on clinging on to my power and position. I went overseas for further studies and returned to a [political] wilderness in the last 10 years, starting from a lowly position."
Her voice sounded shaky and she became teary eyed as she continued: "I devoted money, energy and my heart. Can you say that I am not accountable to Hong Kong society? I think people should leave it for society to decide if I am accountable ... I am fully accountable."
A new survey by the Democratic Party has identified John Tsang as the most popular candidate so far.
This article appeared in the South China Morning Post print edition as: Tearful Regina Ip demands equal treatment in CE race